In Part 1 of this two-part article, I explained how I've continued to evolve My Mad Method (or MMM) of picking stocks to either add to my portfolio, and/or expand on existing positions. At the end of Part 1 I revealed the top contenders that met my criteria that, with the right number of stocks in multiples of 5, would cost no more than $1,350 per position and yield at least $81, or 6% in dividends over the next 12 months. Here they are again so you can follow along here in Part 2: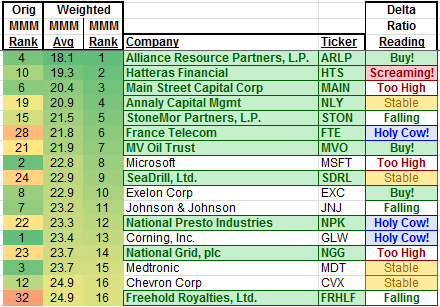 As I stated previously, this may have been the ultimate case of "the ends justifying the means" in terms of how I've manipulated the numbers to get to these results, but I needed to come to grips with really putting my money where my mouth is in terms of using My Mad Method to pick stocks to buy, keep and sell. Out of the 11 contenders in these top 17 of my most recent, Yield-weighted ranking efforts, here are the final results:
Alliance Resource Partners, L.P. (NASDAQ:ARLP)
This company just keeps coming out on top in My Mad Method. I acquired a 3.4% allocation of it through two purchases in May, which is far enough below my self-imposed threshold of 5% for any one position to have in my portfolio that going back to the well for a third time for $1,350 or less shouldn't result in an over-allocation in it. This is not only a high yield play (7%), but a speculative play in that coal stocks in general have been beaten down considerably this past year, and the coal debate between the bulls and the bears is raging. I still think that the global prospects for coal are good in the near to mid-term, but we need to see how things will play out. With a Delta Ratio Reading of "Buy!" and a Weighted MMM Average that is well ahead of the next company in the rankings, this looks like a pretty clear choice for me.


(Note that all orders assume a commission of $1.00, which is what I've calculated it should be based on my broker's fee chart.)
(Source: Yahoo! Finance)
Hatteras Financial Corp. (NYSE:HTS)
HTS is a mortgage-backed Real Estate Investment Trust, or mREIT. I already have a good position in one mREIT, Annaly Capital Management (NYSE:NLY), but would like some additional exposure to this asset class. I recognize the risks associated with mREITs and how they make their money, but with an impressive yield of 12.5%, HTS looks like a good choice to add to my portfolio to give my overall average yield a big boost. However, and this is important, the Delta Ratio Reading for HTS is "Screaming!", which is literally a big red flag. So I dug back into the MMM metrics to get a few key pieces of information. For one thing, I've been tracking HTS for some time now, and it's been either "Too High" or "Screaming!" ever since I first added it to my watchlist. Its P/E is right around 7.4, and I calculated its Graham Number to be $48.88, which is nearly double its recent price, so based on these valuation metrics I felt comfortable going ahead and placing an order for this one.

(Source: Yahoo! Finance)
Main Street Capital Corp. (NYSE:MAIN)
MAIN is a Business Development Corporation, or BDC, which is considered by some to be its own asset class and one in which I had no representation in my portfolio. It has come up in several recent Dividend Growth Investing articles from other Seeking Alpha authors as being either in their portfolios or highly recommended, so despite the "Too High" Delta Ratio Reading, I decided to add it to my holdings. I recently decided that I needed a bit more risk in my portfolio in order to make up for the lost time of all the years I wasn't actively saving towards my eventual retirement, which led to my interest in coal stocks as well as MAIN. I'll be placing a limit order for it, after all, so I should be able to pick it up at a decent cost basis.

(Source: Yahoo! Finance)
Annaly Capital Management
As I previously mentioned, I already have a considerable amount of my portfolio allocated to NLY, so despite its high ranking and "Stable" Delta Ratio Reading, I decided to pass on it this time, and let my purchase of HTS account for my additional exposure to mREITs for now.
(Source: Yahoo! Finance)
StoneMor Partners, L.P. (NYSE:STON)
STON is one of my favorite Dividend Monsters already in my portfolio, and I was glad to see it rank so highly in these results. This company is one of the premier owner and operator of cemeteries and other funeral-related operations in the county, and already has several centuries' worth of real estate under its control for future "clients". It's a little hard to get a good reading on where its money is going because so much of its business is from customers making advanced purchases, and a good chunk of that money has to go into a trust until it is eventually called upon to fulfill the contract and provide the pre-purchased services. But I've been sold on STON for a long time, and it has a very high ranking of 4th out of the 22 positions in my IRA portfolio in terms of its Overall Combined Rank, so it's been a good performer for me so far. Its recent price is lower than my current cost basis, so adding more to this position now at an additional almost 5% discount with a limit order was a no-brainer.

(Source: Yahoo! Finance)
France Telecom (FTE)
Well, it's about time! I've been tracking FTE ever since I took control of my IRA last October and learned about DGI-style investing, and now it's finally made the cut. Along with AT&T (NYSE:T), Verizon Communications (NYSE:VZ) and Vodafone (NASDAQ:VOD), I think this is one of the best telecoms one can invest in worldwide. FTE's price has been steadily declining in the last few months, but management has stood by its shareholders and kept the yield up at astronomical levels, currently around 14.5%. Despite the euro mess, I like that FTE is well diversified outside of The Continent and has a strong and growing presence in various Middle East and African nations, where subscriber growth has been showing decent gains recently. It's got a Delta Ratio Reading of "Holy Cow!", reflecting its beaten-down price, and I've decided that now is a good time to start averaging into it.

(Source: Yahoo! Finance)
MV Oil Trust (NYSE:MVO)
MVO is an oil and gas Master Limited Partnership, or MLP, and there are some things one needs to look out for in terms of tax consequences when holding MLPs in an IRA. As I understand it, the annual limit of distributions above which the tax preparation and paperwork gets tricky is $1,000, so with my relatively small position here I should be OK. With a strong "Buy!" Delta Ratio Reading, good numbers in terms of MMM Rank and Average, and a price that has taken a bit of a dip recently, I think it's time to broaden my asset class base and dive into this one.

(Source: Yahoo! Finance)
Microsoft Corporation (NASDAQ:MSFT)
While Microsoft ranked very well, coming in at 8th place just, and I mean just ahead of 9th place SeaDrill, it didn't make the cut in terms of how much yield I could get for what I was allowing myself to spend per new addition. I'm long MSFT, and wouldn't mind adding more to my position in it, but its current price is a bit high. Perhaps next time.
(Source: Yahoo! Finance)
SeaDrill, Ltd. (NYSE:SDRL)
I've written about SeaDrill in the past, but to sum it all up, we as a species are nowhere close to freeing ourselves from our petro-addiction; the current solution is to just keep looking for more oil, and that's turning out to be in the ultra-deep waters of our planet's oceans. SeaDrill leases its new and growing fleet of deep water drilling ships for phenomenal day rates to the oil and gas exploration companies, and management is on record as being very, very shareholder-friendly. SDRL has an Overall Combined Rank of 8th out of 22 in my portfolio, its recent price is down from my cost basis, and it's showing a Delta Ratio Reading of "Stable". At a recent yield of 9.5%, I'm glad to add to my position in this Dividend Monster.

(Source: Yahoo! Finance)
Wrap Up
With seven stocks selected I've exhausted my budgeted funds for this round of purchases. Making the cut in terms of price-to-yield but not ranking high enough to get in on this round of budgeted funding are National Presto Industries (NYSE:NPK), another one of my favorite Dividend Monsters already in my portfolio; National Grid, plc (NYSE:NGG), a UK-based utility company with interests in the USA that I'm interested in; and Freehold Royalties, Ltd (OTCPK:FRHLF), a Canadian oil and gas Dividend Monster that I wouldn't mind holding more of, either. For now, though, I've used up my available funds, at least in terms of commitments in the form of the following good-till-cancelled limit orders, which I've already placed before I submitted these articles to the Seeking Alpha Editors for consideration and publication:
Now I've done it! I've gone and put my money where my mouth is. Now I just need to sit back and let the Summer Doldrums kick in so that prices come down far enough for these orders to get filled. If any of them don't get filled by the end of June, I'll take a look at adjusting their limit prices so that I can get them added to my portfolio before too much more time passes.
As I reported in my May Recap of My Mad Method, I wrote two covered calls against my Cirrus Logic (NASDAQ:CRUS) shares, and the way things are going it looks like they've got a good chance of being called away after the close on Friday, June 15th. If that happens, I'm not sure that I'll use those funds to get back into CRUS right away, but instead I might try to add to some of these stocks that I've selected in this article. Since I'll probably be close to my 5% allocation threshold for ARLP, STON and SDRL, that means there's a good chance that I'll try to add more to HTS, MAIN, FTE and MVO with those potential CRUS funds, if I decide to go that route. In any event, I will continue to keep you all up to date on how My Mad Method is working out with future articles here on Seeking Alpha.
Disclosure: I am long ARLP, CRUS, OTCPK:FRHLF, FTE, HTS, MAIN, MSFT, MVO, NLY, NPK, SDRL, STON, T.
Disclaimer: am not a professional investment advisor or financial analyst; I'm just a guy who likes to crunch numbers and can make an Excel spreadsheet do pretty much whatever I want it to do, and I'm doing my best to manage my own portfolio. This article is in no way an endorsement of any of the stocks discussed in it, and as always, you need to do your own research and due diligence before you decide to trade any securities or other products.