Real Estate Investment Trusts, or REITs, are a type of business structure designed to hold an interest in real estate. REITs must distribute at least 90 percent of their taxable income in order to eliminate the need to pay income tax at the corporate level.
Under the current tax laws, most REIT dividends are taxed as ordinary income, and not at the lower corporate dividend rate. There are exceptions to this rule, such as timber REITs (whose dividends are treated as long-term capital gains), among others.
REITs have had a volatile last few years, much like the real estate markets. REITs are considered part of the financial sector, which has been depressed since 2008. Many REITs began to decline before the broader market and then subsequently along with it. Since 2007, the underlying real estate market suffered well-known problems, with some being widespread and others being regional and/or local.
Moreover, differences exist among the various real estate types, with some REITs holding residential properties while others hold commercial properties. There are also many sub-specialties, as some residential REITs restrict themselves to high-end suburban homes, with others holding apartments in dense urban locations, and many variations in between. Among commercial property, REITs may fall into categories such as retail/malls, hotel/lodging, office buildings, public storage and medical centers, among others, with each of these industries containing their own characteristics.
REITs are an interesting asset that should not be ignored by investors. Traditional corporations are not ignoring the asset class, with several high profile companies converting to REIT status since the crash. Notable large cap conversions include Weyerhaeuser (NYSE:WY), which converted to a timber REIT in 2010, and mobile phone American Tower Corporation (NYSE:AMT), which recently converted and started to pay a dividend after absorbing its wholly owned REIT subsidiary. Last week, mid cap Iron Mountain (NYSE:IRM) also announced plans to convert itself into a REIT. Each of these companies is in a different business, but all concluded that owners could benefit through the REIT structure.
Below, I have listed recent performance rates for several of the largest publicly traded REITs. I included American Tower, Annaly Capital Management (NYSE:NLY), AvalonBay Communities (NYSE:AVB), Boston Properties (NYSE:BXP), Equity Residential (NYSE:EQR), General Growth Properties (NYSE:GGP), Public Storage (NYSE:PSA), HCP (NYSE:HCP), Prologis (NYSE:PLD), Simon Property Group (NYSE:SPG), Ventas (NYSE:VTR) and Vornado Realty Trust (NYSE:VNO). For each, the table provides their 1-month, 3-month and 2012-to-date performance rates, as well as their present yields.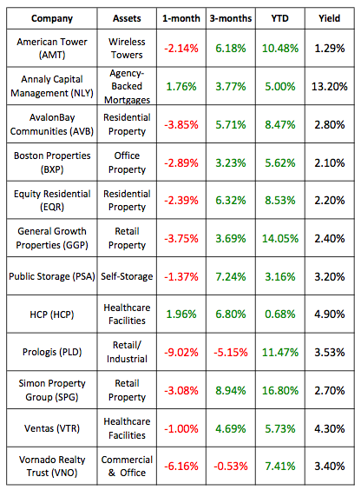 Since the financial crisis started, REITs have become more heavily correlated to the broader equity market than they previously were. This trend could eventually come to an end. So far this year, many REITs have outperformed the market, mostly due to greater resistance to the recent broad selling within the second quarter. Several REITs have been able to make new highs, while the broader market did not.
In the last few years, a large number of investors have become reluctant to allocate into real estate, reducing the liquidity and increasing their volatility. Over time, a growing number of investors are likely to re-familiarize themselves with the asset class.
These REITs offer many real and understandable property-related benefits and risks. Exposure to REITs should be limited to a reasonable percentage of a portfolio, based upon factors including age, income, risk-tolerance, objectives and other investments.
Disclosure: I am long NLY, WY.
Disclaimer: This article is intended to be informative and should not be construed as personalized advice as it does not take into account your specific situation or objectives.