If you're looking for an established biotech company with a number of FDA approved drugs already on the market, then Celgene Corporation (NASDAQ:CELG) is one to consider. This $28.6 billion large-cap company has five established drugs for the treatment of various cancers currently being marketed. This takes the guesswork out of investing as compared to younger biotech companies which don't yet have any FDA approved drugs on the market.
Celgene's five FDA approved drugs include: Revlimid for the treatment of multiple myeloma and MDS; Vidaza for the treatment of MDS and acute myeloid leukemia; Thalomid for the treatment of multiple myeloma; Abraxane for the treatment of metastatic breast cancer; and Isodax for the treatment of T-cell lymphoma. These are the drugs that have contributed to Celgene's 15% growth in revenue for Q1 2012.
The company's extensive pipeline is another area of strength. Celgene has over 20 new compounds in the development stages for the treatment of various diseases and ailments in hematology, oncology, and immune-inflammatory. Celgene is also developing its current FDA approved drugs for the treatment of other yet to be approved conditions.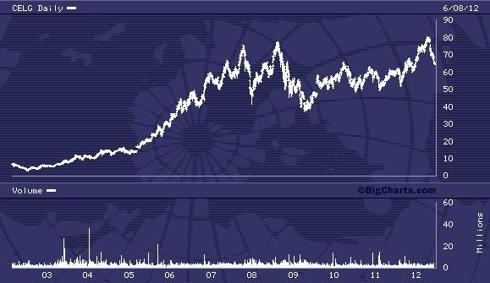 The recent sell-off in the market has brought the stock down to a low valuation. The forward PE ratio is now 11.59 and the PEG ratio is 0.54. The stock fell from the $80 level down to its current price of $65. This sell-off has created a 19% off sale on the stock.
Celgene's financials are strong placing them among the best in the market. The profit margin is 29.34% and the operating margin is 33.53%. It has an operating cash flow of $1.84 billion and free cash flow of $1.39 billion.
The balance sheet looks really solid as well with $2.27 billion in total cash and $1.42 billion in total debt. The current ratio is 3.71, which indicates that the company has no problems paying off its short-term debt. The total debt to equity ratio of 23.4 is also in good shape.
What is really compelling about Celgene is its earnings growth. Earnings growth is what drives stocks higher and Celgene has growth that is well above average. The company's 5-year expected annual earnings growth rate is 24.95%. If these estimates are achieved, Celgene's stock price of $65 should grow to around $200 in five years.
An investment in Celgene is a contribution to improving the lives of others throughout the world. It looks like it will remain a leader in the industry for many years as it sells its already approved drugs and brings new ones to market. Celgene works diligently to help solve serious life-threatening problems and that's something that investors can feel good about.
Disclosure: I have no positions in any stocks mentioned, and no plans to initiate any positions within the next 72 hours.