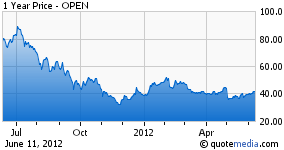 OpenTable (NASDAQ:OPEN) is down significantly from its highs above $120 per share and even more so after it reported Q1 2012 results, but has a sustainable business with a positive near term catalyst.
Business Overview
OpenTable, for those who have never used its service, allows a person to make online restaurant reservations, mostly at higher end non-chain restaurants. It is a great tool for travelers but is also used extensively by locals who are trying to decide where to dine. OpenTable makes money when a person shows up for a reservation made using its system. In the US they receive revenue of $1 per diner for a reservation made through its website and $0.25 per diner for reservations made through a customer restaurant's website. For instance, a family of 4 making a reservation through opentable.com would generate $4 of revenue. Providing a venue for making online reservations is on the surface something that should be replicable. However, OpenTable has a second stream of income that gives its business a wide moat. It installs its table management and reservation systems at restaurants in exchange for subscription fees of about $200/month in the US. In addition it realizes installation fees for providing the technology needed to support the OpenTable software. That is a big capital investment for a restaurant, not to mention the time that goes into training staff to use the system and the capital and opportunity costs associated with making a change to another system. OpenTable has grown its reservation revenue from 42% of revenue in 2009 to 53% of revenue in 2011. Reservation revenue will continue to grow as a percent to total revenue in the years ahead. A full financial analysis is beyond the scope of this article, but suffice to say, with a market cap of $950 MM, trailing P/E of 45, and Price/Book of 8, OpenTable isn't a deep value play.
Competition
OpenTable is not without competition, especially overseas. There are many private and non-US listed companies such as Eveve, Livebookings, UrbanSpoon, etc all vying for a piece of OpenTable's business or to attract new restaurants. Virtually all of the competitors use price as their main selling feature. For instance, Livebookings offers the same per diner terms, but charges a lower subscription fee.
The main complaint from restaurants about OpenTable is their fee structure. Some restaurateurs feel it is unfair for OpenTable to charge for reservations made through a restaurant's website. Others feel the subscription fees are too high. Others complain about the $10,000 monthly checks they are writing to OpenTable for reservations. At the end of the day most are still OpenTable customers because they realize the value that OpenTable brings to them in filling tables and managing the restaurant's front end. They will keep paying OpenTable's fees just like they pay American Express (NYSE:AXP) despite the fact AmEx usually charges more than Visa (NYSE:V) or Mastercard (NYSE:MA). It is marginal revenue and in a business where most of your costs are fixed, marginal revenue flows straight to the bottom line.
The reason why OpenTable continues to grow is that it brings what the competition can't: customers. It sat 30 million diners across the globe in Q1 2012 alone. OpenTable is synonymous with online reservations. Every diner wants choices. OpenTable dominates the US market and has more than a hundred customers in its home market of San Francisco alone. When I go to OpenTable to make a reservation I know when I want to eat and perhaps what I want to eat, however, there are a number of restaurants that would suit my purposes. OpenTable tells me which one can accommodate me at my chosen time and I book a reservation. No calling, no showing up and waiting, no need to browse the sites of 4-5 restaurants to see if my time is available, it is all on OpenTable. When I travel, I use OpenTable because I know the restaurants on OpenTable will be quality establishments. I don't ask the hotel concierge, I don't look at the Yellow Pages, I use OpenTable. If the restaurant in a foreign city is not on OpenTable, I will most likely never know it exists and if I pass it in the street I am unlikely to walk in because I have already made a reservation elsewhere.
OpenTable is to online reservations what iTunes (NASDAQ:AAPL) is music or Priceline (PCLN) is to airline reservations. The music industry complied with iTunes, kicking and screaming the entire way and in the face of competition from Amazon (NASDAQ:AMZN), Wal-Mart (NYSE:WMT), etc. At the end of the day, people use iTunes because it is trustworthy, convenient, and has the music they want. Priceline and to a lesser extent Orbitz (NYSE:OWW), Expedia (NASDAQ:EXPE), etc have done the same thing for travel. Most people don't go to 5-6 different airline sites or 5-6 different hotel sites to make a reservation. They go to one of the aggregator sites. Southwest Airlines (NYSE:LUV) is an exception to this rule, but this is largely due to their loyal, nationwide following, something that doesn't exist in the restaurant industry where local multi-site entrepreneurs and single location establishments are the norm. It is also interesting to note that many of the higher-end nationwide chains are also OpenTable customers.
The Catalyst
The London summer Olympics are around the corner and with its 2010 acquisition of toptable, OpenTable is set to benefit. According to the toptable website, reservations can be made at 1,954 different restaurants in London. That number should only grow prior to the London Olympics as restaurants in London realize that keeping the tables full of travelers will make their year, especially now that toptable has been re-launched. Additionally, those worldwide travelers, many who will be coming from the U.S., are experienced using OpenTable to make reservations at high end restaurants and trust reviews they find on the site. OpenTable realizes this and, according to their Q1 2012 conference call, has dedicated most of their technical development staff to the re-launch of the TopTable website. In addition, they have spent significant resources on getting restaurants that account for 90% of TopTable's bookings on the OpenTable software platform to get them ready for the re-launch. Management has delivered on this key initiative as of May 31 and now has more than a month to correct bugs before the Olympic Games start on July 27 (the Paralympics, while not a TV ratings juggernaut, also attract a lot of travelers and begin August 29). Given most athletes and many spectators arrive at least a week prior to the games the on time launch of toptable delivers on OpenTable's biggest event of the year.
For the year ended 2011, OpenTable had U.S. revenue of $111 MM, U.K. revenue of $17 MM (up from $6.5 MM of revenue in 2010 mainly as a result of acquiring TopTable), and $11 MM of revenue from other international markets. The U.K. only accounted for 12% of overall revenue (as opposed to 80% for the U.S.), but the Olympics should provide significant revenue growth in the U.K. segment in Q3. Additionally travelers will return to their homelands with more OpenTable experience can make OpenTable the go-to source for the jet setting crowd the world over, not to mention catalyzing local reservation growth in the 3rd and 4th quarters. Advertising has never been a priority at OpenTable, spending only $3.5 MM on advertising in 2011, but a well executed marketing campaign in conjunction with the Olympics can catalyze significant growth and cement the brand as the go-to source for the worldwide travelers' dining needs.
Disclosure: I am long OPEN.