February has not been too bad so far for the markets, after what was a horrific start to the year. The market continues to show tremendous amounts of volatility, something we could expect for probably the next 3-6 months at the minimum. On the macro side, I still stand by big-ticket financials. Citi (NYSE:C) has dropped back to the 25-26 range after reaching 29+ in the post-January rally - January options look attractive. GS at 175 looks interesting too. Considering the uncertainty associated with further write-offs triggered by potential bond insurer rating cuts, I would not be overly aggressive though – and not bet on mid-year calls.
Looking across the market in stocks I love to track, a couple of picks look interesting:
CROX
An interesting product line with a focus on the 'young' casual/beach/action footwear market, Crocs has enough ongoing traction in US and European markets to continue its growth story for a while. They sell through over 11,000 retail stores in the US and ~2000 stores internationally – a commendable distribution coverage. Its diversification into extension product lines including t-shirts, sweat shirts, hats etc also potentially offers continued revenue expansion possibilities beyond footwear.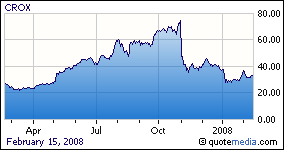 Currently trading at the 33 level as compared to its 52-week high of 75. Despite increased 2007 revenue guidance provided in early November, the stock simply hasn't picked up enough steam so far. The revised full-year 2007 EPS projection of 1.94-1.98 puts it at a current P/E of round 17; with a forward P/E of around 12 on estimated 2008 earnings. Revenue guidance for 2007 is at USD 820-820 mn while 2008 revenue projection is close to USD 1.1bn+. Add to that an Operating margin of over 29% and a net margin of 20%, there's enough of a fundamental strength in this stock to warrant better valuations. On the Insider trading side, the last sale has been way back in November at 51 levels; there has been some consistent buying activity by the CEO over the past 3 months or so.
I would bet on this prior to earnings – which is post-market closing Feb 19!
HANS
With both Coke (NYSE:
KO
) and Pepsi (NYSE:
PEP
) beating estimates this past quarter, there's very little reason to expect HANS to do anything different. HANS has a product portfolio focusing on the sweet spot of the beverage business – energy drinks [MONSTER], fruit-based health drinks, vitamin/enriched water. This segment would continue to beat the traditional carbonated beverage segment by a wide margin in the near future.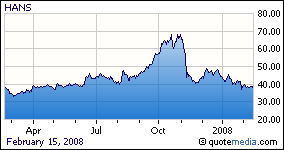 HANS did have its share of irrational exuberance with its stock more than quadrupling to its 200s in a short span of 9-12 months prior to the last stock split. However, the stock has taken a major beating and has tumbled from high 60s to the high 30s over the past 3 months. It did so for a reason – 2 earnings misses, in Q1 and Q3 2007 respectively. At a current P/E of around 31 and a forward P/E of low 20 based on 2008 estimates, the stock looks pretty attractive now – considering earnings growth of over 50% in the next few quarters. HANS' operating margins at 25% and net margins at 16% are also above-par with industry average. Again, enough fundamental strength in this stock to demand a higher valuation! Interestingly, HANS was added to the NASDAQ 100 on Feb. 15. With Q4 earnings (estimated at 0.38) expected the week of Feb 25, it's an interesting bet. If not too bullish on Q4 numbers, you could do September calls which also look reasonably attractive at current levels.
Disclosure: Author is long CROX and HANS