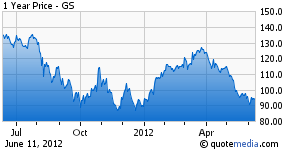 Goldman Sachs (NYSE:GS) thinks the current crises will end, leading to higher demand, and a big run in commodity prices over the next year.
If that's just a broker's call, that's one thing. If that's what Goldman is doing with its own money, in the world's financial casinos, it's a bet that could break the bank.
After J.P. Morgan Chase's (NYSE:JPM) London Whale disaster, which was also a bet on an improving economy, investors need to track calls made by big banks far more closely.
Goldman isn't alone in feeling bullish. Some of the world's biggest name traders, including Byron Wien, Jonathan Golub and Laszlo Birinyi, also think the economy is oversold and stocks are due for a rebound.
But it's one thing for traders with private accounts to make such calls, and even place some bets. Goldman Sachs is now a Bank Holding Company, and while the company chafes under the regulations, it is supposed to act like a bank, not a trader.
The fact that Goldman is expected to continue acting as a trader is causing their paper to be treated like junk. Proposed rules raising capital requirements also limit the ability of these banks to make money from trading.
The chains are in place.
The question is whether Goldman, whose revenues and margins have been on the rebound the last few quarters, but is still trading at a 33% discount to book value, is going to take its medicine or go back to acting like Gulliver, which is its history.
While trading GS at book value would leave you with a stock trading at nearly $150/share, it's hard to see when it could trade near there without the trust of the investment community and regulators.
Which brings us, finally, to the news of the day, Goldman's decision to sell its hedge fund administration unit to State Street. The move takes some risk out of the equation - Goldman will no longer be both the broker and administrator on hedge fund deals as it is now.
But is this part of a deliberate program of reducing risk, or is Goldman selling so it can loosen the chains now binding it?
Disclosure: I have no positions in any stocks mentioned, and no plans to initiate any positions within the next 72 hours.