By: Joey Vazquez
We continue our search for the most attractive companies to buy and sell right now. We started the day off strong on hopes of Spain's banks receiving ECB funds to help them stay afloat. But we slowly started to slip as the focus returned to Greece and their up and coming elections this weekend. Today, I strive to find attractive companies with strong or weak fundamentals and technicals that will outperform or underperform the markets. Should you buy or sell these companies?
State Street Corp. (NYSE:STT):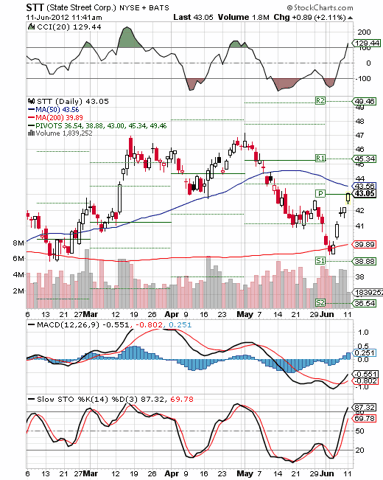 State Street was rewarded today on Wall Street after news came out that Goldman Sachs Group Inc. (NYSE:GS) is on the verge of selling its hedge fund administration business to STT. Upon completion of the deal, the combined business would have $700 billion worth of hedge funds under control. STT recently bounced of its 200 day MA, showing great support. It`s MACD crossed over its signal line giving us a great bullish indicator. STT CCI indicator just entered the +100 are, confirming our bullishness and its stochastics are headed straight upwards.
Trade Idea: Go Long STT
Entry Range: 42.95- 43.17
Targets: 43.43, 43.86
Stop: 42.14
Our Entry: 43.00
Time Warner Cable Inc. (TWC):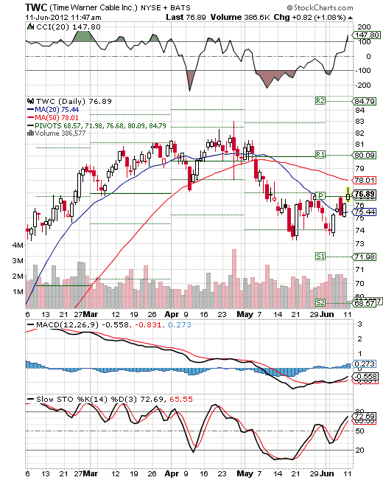 Time Warner Cable and most media stocks, such as Comcast Corp. (NASDAQ:CMCSA), Charter Communications Inc. (NASDAQ:CHTR) and CBS Corp. (NYSE:CBS) have performed quite well during this time of weakness. These companies will continue to perform well as they have strong inelasticity of demand. TWC was faced with selling pressure in May, but has recently rallied. TWC was able to break through the 20-day MA and pivot point, creating new support lines. It`s CCI indicator confirms our bullishness as it just entered the +100 area today, indicating the start of a new bullish trend. TWC MACD indicator and stochastics are both racing upwards, showing strength in TWC.
Trade Idea: Go Long TWC
Entry Range: 76.85- 77.25
Targets: 77.03, 78.57
Stop: 75.48
Our Entry: 77.03
CarMax Inc. (NYSE:KMX):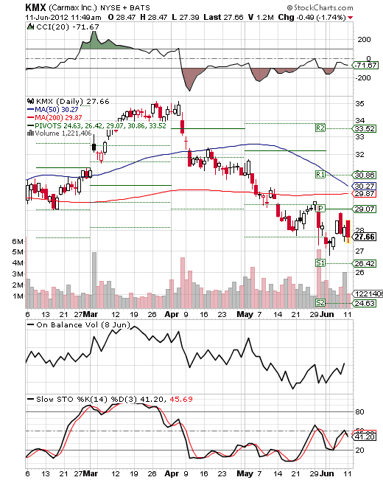 CarMax has been performing poorly since early April, breaking down through many key support lines on the way down. CarMax was downgraded by The Street from Buy to Hold on May 28th. This weakness has been extending since their last earnings report, and we would expect it to linger into their next report. KMX recently had an unsuccessful run at trying to retake their pivot point, showing the strong resistance there. There is also a looming death cross on KMX chart, if this cross successfully forms which we think it will it will only drag KMX lower. It`s stochastics have already turned and are ready to head lower. Its OBV indicator is in a downward channel, showing the buyers have started to leave the stock.
Trade Idea: Go short KMX
Entry Range: 27.60 - 27.75
Targets: 27.43, 27.15
Stop: 28.25
Our Entry: 27.70
Nucor Corp. (NYSE:NUE):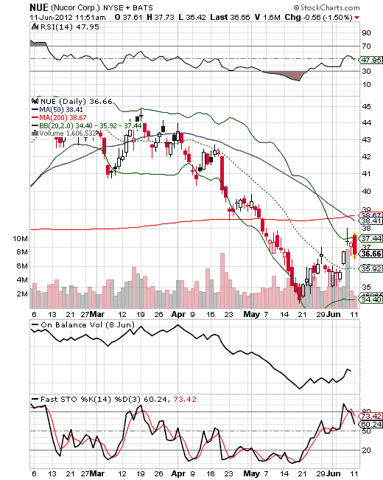 Nucor was downgraded to Hold from Buy by The Street on the 16th of May due to poor profit margins and disappointing performance in the stock. We continue to believe that NUE is weak due to its placement in the steel industry. That industry is cyclically weak, and that weakness will not change until the economy rebounds. Just when NUE tried to rally, it hit its top BB and the stock shot back down. We believe NUE will continue to go lower from here since a death cross has just finished forming on its chart and this gives us a very bearish indicator. It`s stochastics have turned down and are headed lower. Its OBV indicator is in a very strong downward channel, showing no positive momentum in sight. All these bearish indicators lead us to believe NUE has no were to go but back down.
Trade Idea: Go short NUE
Entry Range: 36. 30 - 36.50
Targets: 36.08, 35.71
Stop: 37.17
Our Entry: 36.44
Disclosure:
I have no positions in any stocks mentioned, and no plans to initiate any positions within the next 72 hours.