This is the final installment of the series of searching for stocks with the above listed attributes, suitable for an income portfolio. This time I will focus on stocks not covered by the prior articles in the series. I have dubbed this group "miscellaneous industrials". As will be seen, in addition to industrials and materials stocks, I have slipped in a couple of insurance stocks as well.
To elaborate upon the characteristics that dividend investors are looking for, as per the article title, I offer the following summary:
Yield - This must be at least 3%, based on the current market price and dividend. This is the easiest of the three criteria to evaluate. Yield is either 3% or more, or it isn't. I am not overly dogmatic about this; a great stock yielding 2.90% could be considered, but no matter how great the company, a stock yielding 1.90% is not going to make the cut. On the other hand, while I do not eliminate a stock solely because the yield is "too high", I get suspicious if the yield is much above 5%, and the level of suspicion rises proportionately as the yield rises.
Value - I am a firm believer in the dictum that the price paid matters, the lower the better. That is why I always buy in increments, and I usually only buy more when I can lower my average cost basis. I pay close attention to the traditional valuation metrics, along with the price history, to determine whether the price available represents a good value or not. See Table 5 in the data presentation for specifics on the valuation metrics I am referring to, and the ranges that are considered to present a good value. Further, one should consider the larger issue regarding value, the strength of the enterprise, as defined by various considerations; the earnings history, viewed from both the standpoint of growth and stability, the levels of debt carried, the returns earned, the presence or lack thereof of an economic "moat", to ward off ruinous competition, accountability and reasonableness of management compensation and board governance, and many other factors. If the metrics indicate the present market price represents a great value, based on the applicable metrics, I react similarly to my reaction to a high yield; I become suspicious. My analysis is then focused on whether I have found a true value stock, or a "value trap". The latter case is when a company presents great valuation metrics as it continues on a downward spiral.
Safety - For dividend investors, safety boils down to the answer to one question - how safe is the dividend? Of course, the value criteria of earnings growth and stability, debt levels, the overall health of the business, and the presence or lack thereof of barriers to competition dictate the safety of the dividend over the long haul. Two more immediate indicators to check are the current dividend payout ratio, and the recent dividend history. The payout ratio for a typical dividend-paying industrial company should not exceed 60%. Most will be under 50%. As for history, I consider the last five years as very recent, and even the last ten as recent enough to be relevant. Ideally, the dividend has been paid on a regular schedule, usually quarterly, has never been cut or suspended, and has steadily increased over time, at least by enough to keep up with inflation. While the oft-repeated adage about prior results not necessarily indicative of the future certainly applies, it is probably the best information available to evaluate the safety of a dividend.
I evaluated thirteen dividend stocks in this final exercise, three of which I have eliminated from my recommended list of stocks, based on the review. All of the firms are listed below, with the closing price as of 06/08/2012, the current yield, the size, per market cap, and the type of business, as per the GICS classification system. All are U.S. based, and all pay dividends quarterly.
Emerson Electric Company (NYSE:EMR) - $46.69, 3.43%, Large, Industrials - Electrical Components and Equipment.
Eaton Corp (NYSE:ETN) - $41.24, 3.69%, Large, Industrials - Industrial Machinery.
3M Company (NYSE:MMM) - $86.00, 2.74%, Large, Industrials - Industrial Conglomerate.
General Electric Co (NYSE:GE) - $19.20, 3.54%, Mega, Industrials - Industrial Conglomerate.
Lockheed Martin Corp (NYSE:LMT) - $83.29, 4.80%, Large, Industrials - Aerospace and Defense.
Northrop Grumman Corp (NYSE:NOC) - $59.77, 3.68%, Large, Industrials - Aerospace and Defense.
Raytheon Company (NYSE:RTN) - $51.58, 3.88%, Large, Industrials - Aerospace and Defense.
Nucor Corp (NYSE:NUE) - $37.22, 3.92%, Large, Materials - Steel.
Du Pont E I De Nemours & Co (DD) - $49.50, 3.47%, Large, Materials - Diversified Chemicals.
Greif Inc Class B (NYSE:GEF.B) - $47.00, 5.36%, Small, Materials - Metal and Glass Containers.
Cincinnati Financial Corp (NASDAQ:CINF) - $36.71, 4.39%, Mid, Financials - Property and Casualty Insurance.
Mercury General Corp (NYSE:MCY) - $43.99, 5.55%, Mid, Financials - Property and Casualty Insurance.
Safety Insurance Group Inc (NASDAQ:SAFT) - $41.67, 4.80%, Small, Financials - Property and Casualty Insurance.
Data is presented for all thirteen of the firms in seven tables, defined as follows:
Table 1 - Dividends
Table 2 - Earnings
Table 3 - Debt
Table 4 - Returns
Table 5 - Valuation
Table 6 - Ratings
Table 7 - Additional Ratings
Note that most of the data presented was taken from the MSN Money website, which is the primary source for most of the financial data. In addition, I have used the TD Ameritrade website available to me as an account holder for dividend history. Another website referenced was the Financial Industry Regulatory Authority (FINRA), for corporate bond ratings. Most of the analyst ratings data shown came from resources available to me as an account holder with E*Trade, TD Ameritrade, Schwab, and Fidelity. Morningstar ratings came from their website, available without charge, although a subscription is required to receive the detailed reports. The Weiss corporate debt ratings are available to me as a subscriber to one of the Weiss newsletters, Income SuperStars. (Links provided for resources not requiring an account.)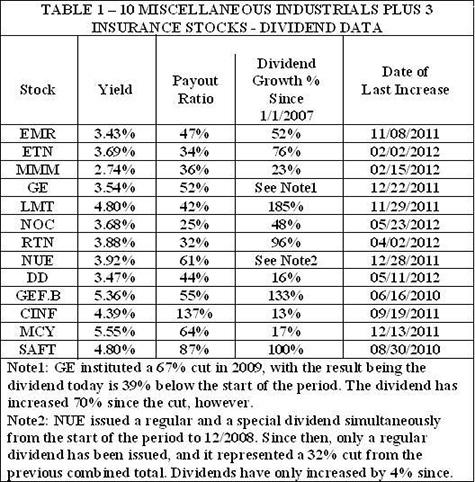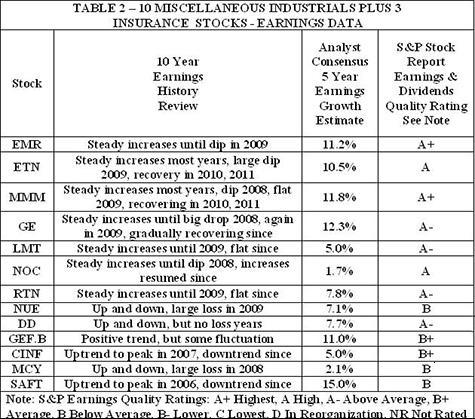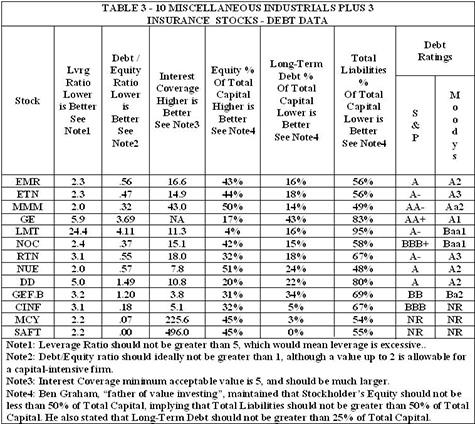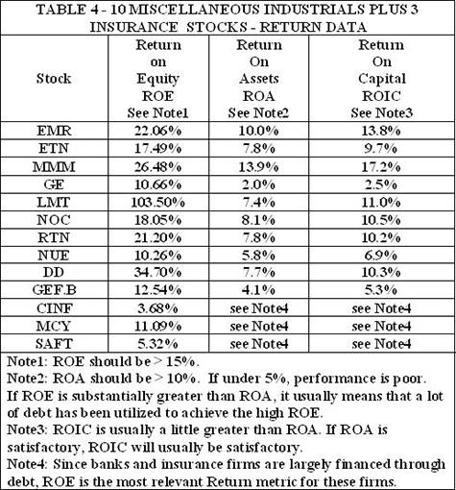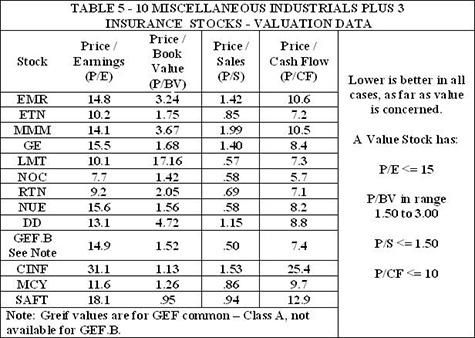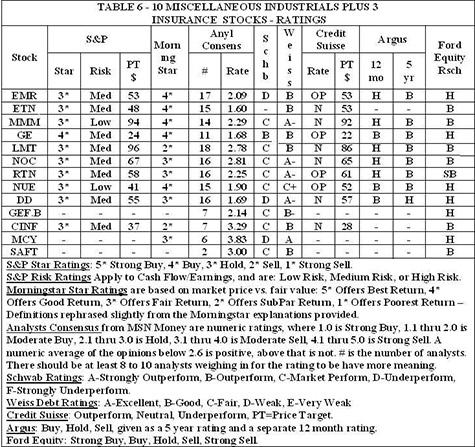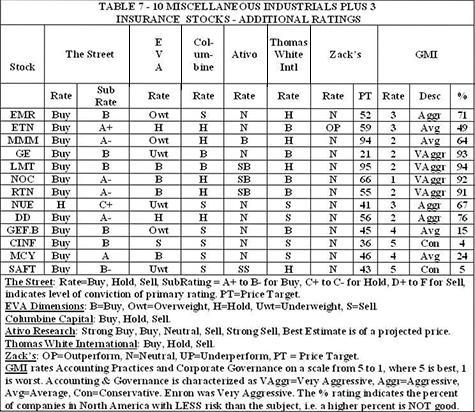 Before I continue, in the interest of full disclosure, note that I am not a financial professional, nor am I certified in any way as a financial advisor. I am an independent, individual investor, focusing on dividend-paying stocks exclusively.
A brief synopsis of the findings and recommendations will now be presented for each firm.
Emerson Electric Co - Emerson has excellent metrics across the board, with only two minor blemishes, in that the ratio of shareholder's equity to total capitalization is only 43%, vs. 50% or more desired, and the total liabilities to total capitalization is 56%, vs. a 50% maximum desired. At the current price, Emerson is not a value stock, but it is not seriously overvalued, either. I can wholeheartedly recommend this stock at $45 and change, and I would be even more enthusiastic in the $42 range. In fact, while I almost missed it, I did start a new position this week (on 6/6/2012) at $45.85, on the strength of the positive findings of this analysis.
Eaton Corp - Eaton likewise has excellent metrics across all categories, only slightly less impressive than Emerson, in most cases. Eaton does match Emerson almost exactly in the two capitalization shortfalls, as described above. Valuation metrics indicate Eaton is a better value than Emerson, approaching or meeting the criteria for a value stock on these measurements. Eaton dropped below $39 briefly just this past Monday (6/4/2012), but unfortunately, it was not yet on my radar, so I missed it. I recommend Eaton at $39 or close to it, and would add more in the $37 to $38 range.
3M Company - Even with a yield under 3%, this outstanding firm needs to be on the watch list, and bought if it comes into range as part of a general market decline. All performance metrics are outstanding, especially the returns on equity, assets, and invested capital. The capitalization ratios are better than the preceding two firms, coming right in at the 50% levels. 3M is widely recognized as a top tier firm, and the valuation metrics reflect that sentiment. It is sensitive to market swings, however, and sometimes becomes available at a discount, such as in October 2011, when it briefly fell below $75. If that happens again, buy the stock, the yield will be over 3%.
General Electric Company - The record of how this sole remaining original Dow stock navigated the financial crisis is well known - when a record of 1000 years of uninterrupted dividend increases was broken, with a 67% cut, in 2009. Maybe I exaggerated the length of the string a bit, it was more like 100 years, but the shock was such that it seemed like 1000 years. Further tarnishing the GE image was an acceptance of bailout funds and loss of the coveted AAA debt rating, not to mention a stock price drop to the single digits for a brief time. But that's all in the past, hopefully, as the turnaround has been well under way for a couple of years now. While the dividend is still down 39% from where it stood on 1/1/2007, it has been increased by 70% since the cut. While most evaluation metrics are under whelming, GE's industrial components are performing well, as the firm returns to its industrial roots, and tries to de-emphasize dependence upon GE Capital for profits. The debt and capitalization numbers are a concern, although they may be skewed to be more like a bank because of the existence of GE capital - at least, I hope that is the reason. GE is highly rated by just about all of the ratings firms, and with an apparent commitment to shareholders to grow the dividend, I rate it a keeper. For new money, I would hold off on purchases until a pullback to $18 and change becomes available, and I would hold funds in reserve to add more if it should dip down into the $16 to $17 range.
Lockheed Martin Corp - When I think about this firm, I have to erase my visions of P-38 Lightening fighters, B-26 Marauder bombers, and SR-71 Blackbird reconnaissance planes, and focus on the cold, hard facts; leverage ratio 24.4, debt/equity ratio 4.1, equity per cent of total capitalization of 4%, total liabilities per cent of same of 95% - this is a highly leveraged firm. Also, like all defense firms, it is at risk of being impacted by the looming Federal budget crisis. To me, this is a classic case of a situation where an investor should not be swayed by a high yield. I concur that the firm is unlikely to go out of business, but I don't believe the governmental support extends to maintaining the dividend for shareholders. I am dropping Lockheed from my recommended stock lists.
Northrop Grumman Corp - In this case, it is OK to conjure up visions of Hellcat fighters and Avenger torpedo bombers; Northrop is a much better choice in the defense sphere, with reasonable performance and debt metrics, and a decent yield. Valuation is reasonable as well, and if it should dip below $50, which occurred in August of 2011, it would be a definite buy at that price. That assumes that one is prepared to accept the risk of the number one customer (perhaps the only customer) being in financial distress.
Raytheon Company - The third and final defense stock being reviewed, Raytheon has very similar metrics to Northrop. Interestingly, the firm has higher debt ratios than Northrop, yet still has a better debt rating from the ratings firms. The risk of defense cutbacks hangs over Raytheon, same as for the prior two stocks, but if one is willing to accept that risk, I believe Raytheon is the best choice of the three defense stocks reviewed. If it could be bought under $40, which was possible in October 2011, it would be a terrific pick-up. I would hold off on new buys until a pullback to at least the $45 or so level.
Nucor Corp - The dividend policy changed in 2008, from a simultaneous issuance of a regular and a special dividend, to just a regular dividend. The result was a 32% drop in total dividends being paid, and increases have been minimal since then. Nucor is a cyclical company, no doubt, posting a loss in 2009. At this point, all metrics are within acceptable ranges, and the dividend should be safe from all but the most extreme macro environments. I believe Nucor could be a buy at cyclical lows, say around $30. A decent dividend provides benefits until things improve, and when profitability soars again, so should the stock price, into the $50 to $60 range. Then, one should take profits. If that is not how you want to play it, I would say pass on Nucor, or at least wait for a trough to buy, paying not much over $30. Then, if the scenario as envisioned occurs, you can be prepared to handle the tough decision of whether to cash out with a nice gain, or hold and continue to collect dividends.
Du Pont E I De Nemours & Co - This famous name is likewise a cyclical company, with not much in the way of a 'moat', at the mercy of feedstock costs on the input side, product prices on the output side, and not much control over either. While earnings have been decent in recent years, valuation metrics indicate Du Pont is no bargain, and the debt metrics are a concern, especially for a cyclical stock. Leverage ratio is right at 5.0, debt to equity is 1.49, equity as a per cent of total capitalization is only 20%, and total liabilities as a per cent of same is a whopping 80%. I cannot recommend the stock to dividend investors with these kinds of numbers, and I am dropping Du Pont from my buy lists.
Greif Inc Class B - Greif is definitely not a household name. I first learned of the stock when I noticed it had passed the rigorous screen imposed by Investment Quality Trends, another dividend-oriented newsletter I subscribe to. With an enticing 5% plus yield, reasonable metrics across the board, and a dividend history which indicates the firm can maintain payouts in good times and bad, I can recommend Greif. Just be sure to buy the 'B' shares, to receive the high yield. The stock has not been below $40 since early in 2009, and has been above $50 for much of the time since. It came close to $40 during last October's (2011) market swoon, but never went below that level. A position could advantageously be initiated at the current market price of $47, and if a pullback below $45 occurs, as it did last Monday, buying at that level would be even better.
Cincinnati Financial Corp - This is the first of three insurance stocks I have included in this review. Earnings and performance metrics are not particularly inspiring, and the debt levels are higher than the other two insurance stocks I looked at. But the real deal-killers for me are the payout ratio of 137% and the valuation metrics, which suggest the stock is overvalued, with a P/E over 30. I actually owned this stock until 5/25/2012, at which time I sold it for just that reason, plus I was concerned about the payout ratio. Nothing I have found in the review has convinced me otherwise, and I am dropping Cincinnati Financial from my stock lists.
Mercury General Corp - This California-based auto insurer sports an enticing 5% yield, and has excellent metrics across all categories, including debt, with only a 2.2 leverage ratio. Valuation is not too high at the current market, and was actually under $34 during the market swoon last August (2011). I bought then and sold as the stock rebounded, probably a mistake. I would buy again for sure under $40, and would add more under $38.
Safety Insurance Group Inc - Moving to the opposite coast, this Boston-based home and auto insurer has a yield almost as high as Mercury General, and very comparable metrics. One caveat is the payout ratio is a little high at 87%, even though the dividend has not been increased since 2010. Frankly, I like Mercury better. Safety Insurance would have to pull back to the $36 to $37 range as part of a general market decline to tempt me, which it did last September (2011), and I would only buy then if I wanted to diversify my insurance holdings to more than one firm. I will keep the stock on my watch list, at least for now.
Final Conclusions - Selections from the categories covered in this article should be included in a diversified dividend stock portfolio, with some caution being appropriate when sizing the positions, especially when considering cyclical or defense stocks.
In this series, I have reviewed most of the major dividend-paying stock groups; Utilities, Consumer Staples, Tobacco, Beverages and Snack Foods, Master Limited Partnerships (MLPs), Pharmaceauticals, Real Estate Investment Trusts (REITs), Integrated Oils, and Industrials. Prior to the series, I wrote on Business Development Companies (BDCs), Mortgage REITs (MREITs), Foreign Stocks, and Preferreds. I have purposely skipped banks, which, while recovering, are not yet today anywhere near where they were in the dividend stock spectrum prior to the financial crisis. Telecom stocks are another high-yield group I have mostly passed over, although I will say, without much concern that I am overlooking any diamonds lying around, that I would avoid all domestic telecoms besides AT&T (NYSE:T) and Verizon (NYSE:VZ). Closed-end funds are another high-yield category that I have purposely skipped, as I do not believe that I have any ability as an individual investor to evaluate these, at least not in the same sense as an individual stock can be evaluated. So, having covered all of the major groups of interest, in my universe at least, I am considering this exercise completed.