For the last 7 quarters Advanced Micro Devices' (NASDAQ:AMD) GAAP earnings have been hit or miss depending on where they were in the divestiture of their stake in Global Foundries. Non-GAAP earnings have been more consistent, but the top line revenue has been stuck around the $1.6B level.
Click to enlarge.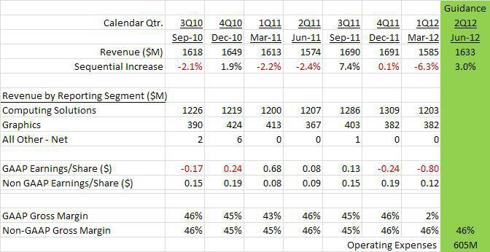 AMD's sequential quarterly revenue guidance is up 3%. According to Data on Yahoo from Capital IQ AMD's forward PE for year ending Dec. 31st 2013 is 6.72, does not pay a dividend, total cash is $1.54B, and total debt is $2.02B.
AMD has the unenviable position of competing against Intel (NASDAQ:INTC) in X86 microprocessors and Nvidia (NASDAQ:NVDA) in discrete graphics. The following graphs compare AMD's computing solutions and graphics revenue with their respective competitors.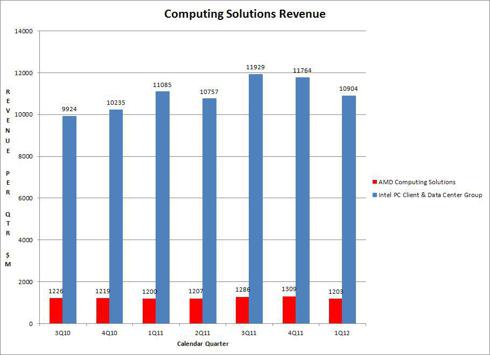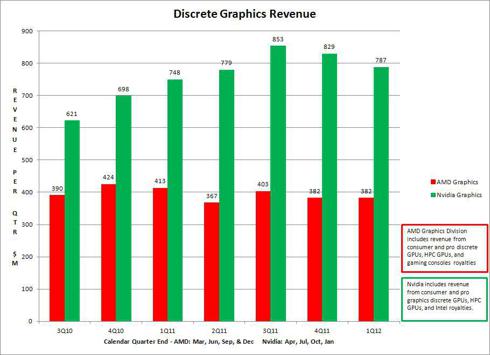 Note: Nvidia's Discrete Graphics Revenue is the sum of their Geforce and Professional Services Business units minus the discontinued integrated graphics chipset revenue.
The trends in AMD's Computing Solutions and Graphics revenue are flat, yet AMD has accomplished a great deal in the last couple of years by becoming a fabless company. No longer do we hear about AMD going bankrupt at the low of every semi cycle by trying to keep up with Intel's relentless investment in wafer fabs. AMD currently uses both Global Foundries and Taiwan Semiconductor (NYSE:TSM) as foundries.
Clearly AMD is focusing in the PC market on mobility at lower price points than Intel. At Computex last week AMD announced two new APUs. APUs are chips with the CPU and GPU on the same die. In Trinity over 50% of the die size is dedicated to the GPU. AMD stated that compared to their Llano first generation A series APU, Trinity has 2X performance/watt, 29% in productivity application, and 56% increase in graphics performance with even more battery life. This product is aimed at the mainstream market. They also announced a successor to Brazos 2.0 value segment E series APU with longer battery life. Note: AMD sold 30 million Brazos chips in 2011.
On February 29th of this year AMD acquired SeaMicro a pioneer in energy efficient, high bandwidth micro servers for $334M. Cloud data centers are projected to be the fastest growing segment of the server market through 2015, according to IDC. Note: From AMD's PR Release
According to the Linley Group "AMD will continue to support SeaMicro's existing system customers but will exit the system business to avoid competing with its own customers. By the end of this year, AMD plans to offer platforms that combine its Opteron processors with SeaMicro's fabric technology. OEMs will be able to develop and sell servers using this platform."
Comparing AMD's stock price history vs. Intel's one can readily see the volatility of the stock. Beta is 2.65 according to Capital IQ.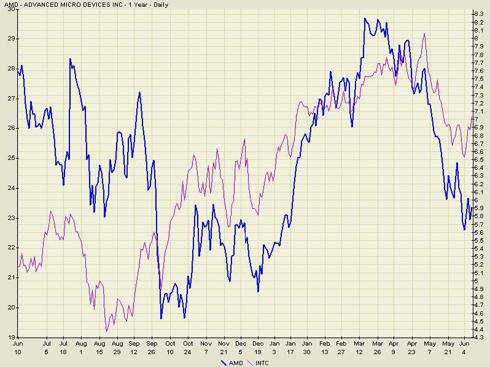 Conclusion
AMD is a semiconductor company that has completed its transition from an IDM to fabless semiconductor company and is stronger financially for it. It is one of only two X86 microprocessor companies along with Intel, both of which are working mightily to adapt to the mobile revolution led by ARM Holdings (NASDAQ:ARMH) chip vendors. AMD's big bet on APUs does provide it with a chance to survive and perhaps thrive in the lower cost notebook/hybrid segment, but is not without risk. Its purchase of SeaMicro with the associated technology for the fast growing lower power micro server market looks like a good entry for AMD to increase their low percentage (5.5%) in the microprocessor server market. If inclined to buy I would exercise caution and not establish a full position all at once due to overall market volatility and the high Beta of the stock.
Disclosure: I am long NVDA. I may initiate a long position in AMD in the next 72 hours.