By now, most investors have come to understand how critical the liquidity situation at Chesapeake Energy (NYSE:CHK) is. In previous "bearish" observations on CHK, many bulls disagreed vehemently with our analysis of the financial statements, concerns about earnings quality and the numerous off-balance sheet obligations.
One commenter on the Seeking Alpha website was quite vocal in his/her disagreement to an article we published last year. Excerpts of this individual's comments are below:
This is one of the dumbest evaluations of a company that I have ever seen. Chesapeake's Marcellus holdings alone are worth more than current market cap and if sold, would wipe out all debt and leave several billion left over. This article smacks of desperation from a short position that is getting squeezed. (March 23, 2011)

By the way, Chesapeake's balance sheet is in fine shape ... all they would have to do is sell off a small portion of their assets and they could pay off every cent. (March 23, 2011)
In a follow-up story published on July 19, 2011, the same commenter writes:
You clearly do not understand CHK's business model. The JV's are not a sign of weakness, but are rather a tremendous value-creating mechanism. They are effectively getting world class oil and gas properties for Zero dollars. In the long run, shareholders will reap massive rewards from this strategy. Aubrey's actions in the past two years will go down in history as some of the best business decisions in history.
Another commenter to the March 2011 story offered this response regarding our concerns of significant use of accrual accounting by CHK in the previous quarters leading up to our analysis:
Thanks for the laugh; I especially like the 'accrual accounting' part. What does that have to do with anything? All companies book accruals to pay for when incurred instead of waiting for the invoice to show up, it's called GAAP accounting. This stock is so undervalued it's amazing that someone doesn't come in and buy them outright. Suppose the price tag would be huge. I've been long for some time and am up over 100% on my position. (March 23, 2011)
Opposing points of view are what makes a market. In the case of CHK, the financial statements were telling us for some time that the company's finances were likely engineered to the hilt. Granted depressed natural gas prices didn't help matters, but it is now crystal clear that Chesapeake was and is in dire straits regarding liquidity.
Will asset sales improve long-term prospects? Not necessarily, and below are several issues that could possibly exacerbate matters for CHK and its subsidiary operations going forward.
CHK announced a deal to sell its stake in Chesapeake Midstream Partners LP (CHKM), spun off from CHK two years ago. While some analysts view sale of CHKM to its P-E partner Global Infrastructure Partners as constructive, others have doubts.
Pipelines offer a tariff or fee-based revenue model and in most cases there is limited contractual-related volume risk. However, CHKM is the spawn of CHK and still (as of this writing) tied to the parent's hip.
CHKM derives approximately 75% of its revenue (currently) from the parent company. While CHK's cash-flow from the partnership would likely increase if it were to have kept the midstream assets, disposition of these assets would further strangle the cash-starved CHK, eliminating an expected $68-$190 million per year of CHKM profits.
On the flip side, unit holders of CHKM could possibly get caught in the crossfire of a so-called "pipeline independence." Although Chesapeake Midstream wants to reduce CHKM's revenue from CHK to 50%, CHK's sale of pipeline assets might also impact long-term fee-based agreements with customers such as MarkWest and Antero related to their midstream Marcellus Shale activities. CHKM CEO Strice said the pipeline deal was "transformational" for CHKM, but to who's benefit and how many potholes lie ahead?
According to a press release issued by CHKM regarding the pipeline transaction, CHKM claims to benefit from a "contractual structure that contains fixed fee revenue terms, long-term acreage dedications, minimum volume commitments, fee redeterminations and annual fee escalations, each of which contributes to generating predictable, stable and growing cash flows."
The pipeline assets themselves are not sensitive to the empirical price changes of natural gas or oil, but the model is dependent on volume and demand to grow cash flows. Another concern for CHKM unit holders might be a possible reduction of distributions going forward. Since coming public in 2010, the LP has increased its payout by some 20% during the previous five quarters. Not too shabby for a nascent resource LP, but there is no guarantee this will continue.
Additionally, private equity interests are not always aligned with those of other "partners" and changes in complex LP and GP structures have been known to be messy at times. Some of you may recall Borden Chemical, an example how the little guy can get hung out to dry.
Also, CHKM's financial statements for the most recent quarterly period (ending March 31, 2012) suggest that net income, profits and cash flows might be somewhat strained in the near term. One quarter does not make a trend, but we have highlighted several line-items on the income statement and balance sheet that catch our eye.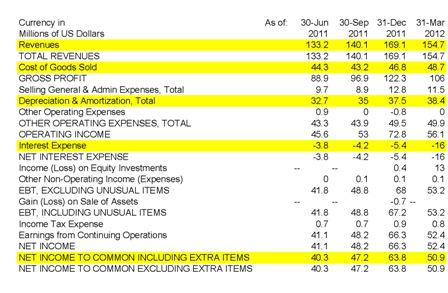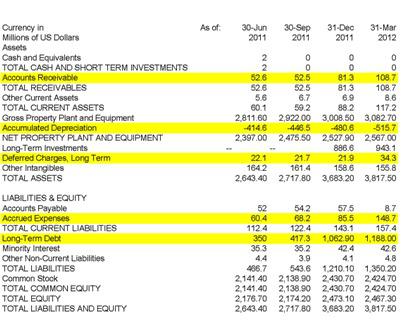 CHK's announcement of the asset sale includes the customary disclosure and "forward looking statements." We do note the following information included in the disclosure statement:
Although we believe the expectations and forecasts reflected in our forward-looking statements are reasonable, we can give no assurance they will prove to have been correct. They can be affected by inaccurate assumptions or by known or unknown risks and uncertainties, and actual results may differ from the expectation expressed. The terms of the transactions covered by the letter agreements are subject to negotiation and may not be completed in the time frame anticipated or at all. We caution you not to place undue reliance on our forward-looking statements, which speak only as of the date of this news release, and we undertake no obligation to update this information.
The inclusion of "inaccurate assumptions" and "known or unknown risks" offer language, which investors should pay attention to and closely. Why? CHK has one of the most complicated financial strategies in the industry.
And, given the recent escalation of surprises surfacing regarding corporate governance issues, credibility of management and the board's fiduciary/oversight capabilities are arguably lacking at best.
Take Chesapeake's use of Volume Production Payments (VPP) in recent years as an example. According to Maclyn Clouse, professor of finance at the University of Denver (Daniels College of Business):
One of the things true about any oil and gas company is their balance sheets are incredibly nontransparent. Chesapeake Energy's balance sheet is much more complex than the rest of the industry. They are using off-balance sheet debt and every type of derivative product available. It is very hard to understand from their statements for an average investor or anyone not incredibly well-versed in oil and gas accounting.
Other analysts believe these fears are unfounded and that VPPs are widely used tools of the trade. However, leverage and buying-binges are not always synonymous with liquidity and real profits. Thus, the magnitude of CHK's exposure and reliance on VPPs would demand closer scrutiny.
It is notable that some investors either ignored the issues of off balance sheet arrangements employed by CHK entirely or did not take the time to review the 10-Q (page 66) filing in more detail. On the matter of OB arrangements, one commenter responded to our July 2011 story with this perspective:
What 'off balance sheet arrangements' are you talking about? Your last article on CHK was terrible, and anyone who went short based on it got creamed. This one seems like more of the same. Why don't you put your money where your mouth is and try and short this company. I will be laughing all the way to the bank when it hits $100 within the next few years. Their Marcellus holdings alone exceed current market cap, and there will be a little announcement regarding their Utica holdings (I hear the economics in the Utica surpass that of the Bakken and Eagle Ford) in the next few weeks that should send this thing into the 40's. But go ahead, short it. Go ahead, and lose your shirt. (July 19, 2011)
For the record, we have never been short this name, clearly stated in our disclosures. Past clients of the Merriam Report who have used our research on CHK have indicated to us that it aided largely to support a short thesis on the stock.
Clearly, the above reader comment reveals the passion of a bullish perspective. Indeed, asset sales have been the funding mechanism du jour for CHK in recent years. We don't doubt the opportunity in Marcellus prospects, but the difference between want and need is likely why we don't hear much chortling from the bull camp these days.
The downside of CHK's massive land grab is that it is forcing the company to sell chunks of these "assets" to avoid violating debt covenants, prevent a potential credit rating downgrade and narrow a staggering liquidity gap. In doing so, the company is disgorging potential future profits and cash-flow opportunities these properties and assets would or might provide going forward.
Asset sales when you have a gun to your head do not create value for shareholders. And, given CHK management's history of exploring complex and controversial funding conduits (via its JV and subsidiary operations, leasehold, etc.), there is every reason to believe these "asset sales" might be nothing more than reverse financing schemes.
With GIP's personal banking ties to CEO McClendon only recently revealed, a back-door deleveraging objective would not come as any surprise. Asset rich and cash poor during a lousy operating environment is not constructive to building shareholder equity or value.
As for the "new" ownership structure of CHKM's midstream operations, we would remain cautious to jumping on this LP bandwagon until said proposed deals are in fact realized and completed. On the surface, an independent mid-stream operation is appealing, but "detail risk" would be our primary concern.
Investors also will want to keep an eye on potential asset-value write downs or impairment risks associated with possible "inaccurate assumptions." Monetizing proven reserve assets is one thing but estimating unproven reserves are chock full of variables and "unknown risks." Slipping out of a headlock can be difficult and one large unknown might be with long-term acreage dedications mentioned in CHKM's press release.
Ultimately, investors are entitled to their opinions. We are not in the business of stealing the thunder of any CHK fan, but the bullish opinions expressed by some readers does underscore the importance and value of information provided in a company's reported statements.
The financial statements tell a story. CHK's financials have been providing clues of a weary and cash-starved company running out of levers to pull for quite a while now. It is ludicrous to shoulder all the blame on weak commodity prices. Every E&P outfit feels the impact of weak pricing, but the operational contrast between CHK and its peers is glaring.
In this business one man's pipe dream could be another man's nightmare. At the end of the day, CHK might emerge from the wreckage intact. Barring any near-term catalyst to lift natural gas and oil prices higher, the future CHK will probably not resemble anything like its current self.
Sources: Merriamreport.com, Reuters (financial statements), Seeking Alpha, BusinessWeek, CNBC, and NewsOK.
Disclosure: I have no positions in any stocks mentioned, and no plans to initiate any positions within the next 72 hours.