I saw something interesting, although not necessarily bullish for palladium, in Johnson Matthey's latest analysis of the palladium and platinum markets.
Investment demand for palladium turned negative in 2011, returning 565,000 ounces to the market. Deep liquidations in exchange traded funds, especially in the final quarter of the year when prices were falling, left physical investment demand in starkly negative territory by the year-end. This was in contrast to the high level of net investment in 2010.
This return of palladium to the market is why Johnson Matthey is estimating that the palladium market now shows a surplus of 1.26 million ounces, even though autocatalyst demand "reached record levels in 2011 of 6.03 million ounces."
Higher vehicle output in all regions apart from Japan as well as the greater use of palladium in light duty diesel autocatalyst formulations helped spur demand for palladium in emissions control.
Note that the investment demand, broken down by categories, shows that ETF investments fell sharply even though non-ETF investment in large bars of the physical metal itself actually grew.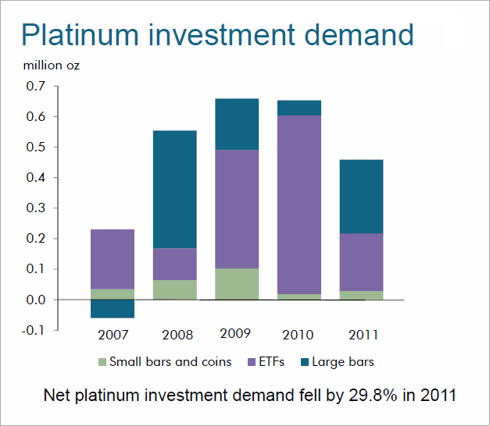 In their analyst presentation, Johnson Matthey noted that ETF investment in the palladium market had grown for the first few months of 2012 - and that "If the ETF investment in the first four months of this year holds its ground, the palladium market is likely to swing back into deficit," which would be bullish for palladium.
I downloaded data on the ETF Securities Physical Palladium Shares ETF (NYSEARCA:PALL) showing the number of ounces in the trust.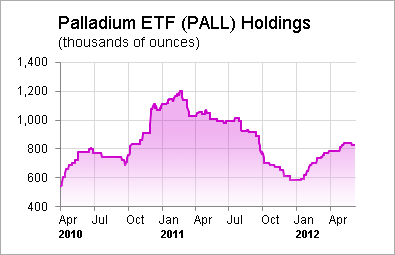 As you can see, there were about 200,000 ounces added to the trust since the year began. It's nowhere close to the 1.2 million ounce level we saw in early 2011, but this 33% increase to 800,000 ounces may help palladium prices stabilize or increase in the months ahead.
In my view, palladium represents an excellent investment opportunity, but it's also clear that it's a much smaller market than many investors realize, where a few hundred thousand ounces here and there can really make a big difference.
Disclosure: I am long PALL.