This won't be long. Back in January 24, Chesapeake (NYSE:CHK) announced natural gas (NYSEARCA:UNG) production curtailments that, for that day, resulted in a small natural gas rally. Some time afterwards, in its February 2012 Investor Presentation, these curtailments could clearly be seen in the production estimates, slide 16, which I reproduce below.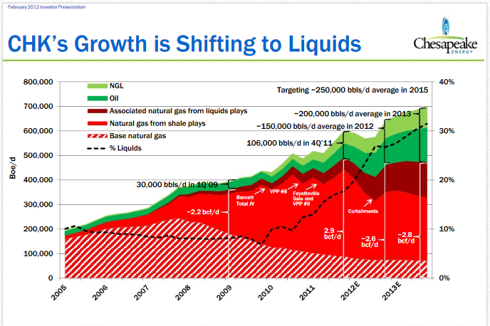 Fast forward to June 2012. Chesapeake has another Investor Presentation. Take a good look at slide 6 …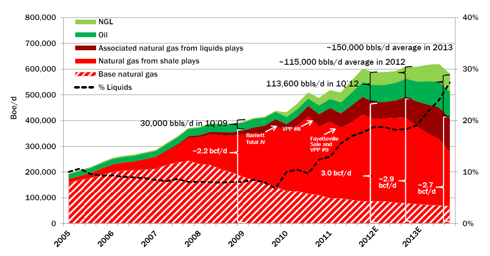 Yes, those production curtailments are now completely gone! For some reason, probably the need to produce as much cash flow as possible, Chesapeake seems to have reneged on its own words.
That's not the only thing that's different in Chesapeake's projections, either. As Chesapeake shifts its focus more and more to wet plays, another effect becomes evident. While in the first chart projected natural gas production hardly falls from 2012 to 2013, going just from 2.9 Bcf/d at its peak to 2.8 Bcf/d at 2013 year-end, in the most recent presentation the production loss is more pronounced, going from a un-curtailed 3.0 Bcf/d to 2.7 Bcf/d at the end of 2013, for a 10% production loss.
Conclusion
Chesapeake reneging on curtailing near-term production probably made it harder for natural gas to rally in the short term. However, simultaneously this option together with the focus on wet plays made a natural gas rally even more likely in the mid to long term.
Natural gas production is already on a downswing, and actions such as those taken by Chesapeake only make this downswing more certain. Indeed, at this point there might be reason to believe the market will witness a natural gas shortage during 2013. Even 2012 should start seeing production numbers down year-on-year in about 2 months' time.
A way to play this emerging trend might be going long natural gas or companies that will gain from natural gas rallying, such as Exelon (NYSE:EXC), Public Service Enterprise Group (NYSE:PEG) or coal producers like Peabody Energy (NYSE:BTU), Arch Coal (ACI) or Alpha Natural Resources (ANR).
P.S.
Thanks to dingojoe for having originally noticed this discrepancy one week or so ago. I only had time to come around to presenting it today.