If presented with the choice of investing in a Spanish 10-year bond yielding over 6.50%, the S&P 500 (NYSEARCA:SPY), or U.S. focused high-yield corporate bonds (NYSEARCA:HYG), which would you choose? I know there are some readers who will immediately say, "None of the above," and while there are days I might be tempted to agree, I do think there is a clear favorite among the three at today's prices: high-yield corporate bonds.
As I mentioned in my recent article, "On The Spanish Bailout and European Football," Spanish bondholders are well aware of the fate Greek bondholders met. Until investors can be reasonably certain that Greek-style write-downs won't spread through Europe, fixed income investors should err on the side of caution and stay away from European sovereign debt. Furthermore, the Spanish economy is in disarray with no signs of anything on the horizon to fix the massive problems it faces. Not only is the banking system a mess (we'll see whether the bailout actually fixes anything), but the unemployment rate is just a hair under 25%, and retail sales are falling off a cliff, down 9.8% in April alone compared to the previous year. April marked the 22nd consecutive month of declining retail sales in Spain. In my opinion, Spanish debt, despite being sovereign debt that many view as too-big-to-fail, is just too risky given the horrific state of Spain's economy and the lessons learned from Greece.
Next on the list is the S&P 500 (NYSEARCA:IVV). At the moment, the S&P 500 has a forward (2012) P/E of 12.52, a current indicated dividend yield of 2.37% versus a trailing dividend yield of 2.15%, and 2012 earnings growth projected at 8.40%. Moreover, as I mentioned in a previous article, beginning in Q4 2012, analysts become quite bullish. But, given all the policy uncertainty in the United States, the European crisis, and growth concerns out of China, investors should seriously question whether the earnings expectations analysts have built into estimates are achievable. Not surprisingly, in recent weeks, analysts have already begun ratcheting down forward expectations. Just a little more than five weeks ago, 2012 earnings estimates were projected to grow 9.20%. That number now stands at 8.40%. When it comes to 2013, however, I think the analysts still have some work to do, as growth estimates have only pulled back 6 basis points over the past five weeks or so, from 13.42% to 13.36%, versus the 80 basis points pullback for 2012.
I know it's tempting to say that a 12.52 forward P/E for 2012 and an 11.04 forward P/E for 2013 is too good to pass up, but investors should consider the following: if you believe the world has entered a stage of slower growth than investors have been accustomed to in recent decades, what will prevent market-wide multiples from continuing the downward trend experienced in recent years? If numerous quarters of solid earnings beats haven't been enough to change the direction of the market's multiple, what will?
There's a very real possibility that the perpetual uncertainty the world cannot seem to escape, along with slower growth, could pressure forward P/Es down another point or two. Even if analysts turn out to be correct and the S&P 500 can reach its $118.51 earnings target for 2013, should the forward P/E of 11.04 become the current P/E, we will have a market that ends up virtually unchanged from today's level when it prices in 2013 earnings. Looking beyond 2013, investors must ask themselves whether an era of lower P/Es accompanying slower growth is in our future. Consider this possibility: Using the current 2013 estimate of $118.51, S&P 500 earnings could compound at 6% per year over the subsequent five years (through 2018) and reach $158.59. But, if you can make a case that 6% growth and markets propped up by monetary easing only deserve a 10 multiple, the S&P would still be sitting right around its 2000 and 2007 highs six years from now. That's only a little more than 20% above current levels. In the meantime, you could have been investing in high-yield debt.
Earlier in June, I wrote the article, "This Part Of The Bond Market Has Real Value." In it, I spent some time addressing the role that spreads play in creating value in corporate bonds and why, at that time, there was enough value in high-yield corporate bonds to begin scaling into a position. I also noted the importance of leaving enough fire power to purchase high-yield debt should spreads widen further than they have in recent weeks. If you are a long only investor who typically invests in stocks but are concerned about slower growth, lower P/E multiples, and the possibility of less-than-impressive equity returns going forward, high-yield debt might be the alternative you desire. Yes, it is true that in an equity bear market, high-yield corporate bonds should also experience price declines. But remember that buying the dip is not just for equity investors. Bond investors can do the same. Furthermore, if spreads widen because of a recession, they should narrow post-recession, causing prices to head higher once again. Moreover, as I explained in the article linked above, spreads can also act as an embedded hedge against rising benchmark Treasury yields. So, if you purchase corporate bonds when spreads are wide, you can feel more confident about making it through a period of Fed tightening.
I've mentioned the following before, but it's worth repeating in this article. High-yield bonds are currently yielding more than they did in 2006 and 2007 when the Fed Funds Rate was more than 500 basis points higher than it is today and when benchmark Treasury yields were at levels multiple percentage points higher than today's yields.
I recognize investors can come up with all sorts of earnings growth projections for the S&P 500 over the coming years. With the 6% hypothetical growth rate mentioned above, I am attempting to take the middle ground. However, no matter what you believe that growth rate will be, you must ask yourself the question of whether the S&P 500's total returns over the coming years will beat a diversified high-yield corporate bond allocation (see chart below for yields broken down by ratings). Also, don't forget that should the broader equity market go higher, given where spreads to Treasuries currently are, there is a good chance high-yield corporate bonds (NYSEARCA:JNK) will also move higher in price, adding to the their total returns.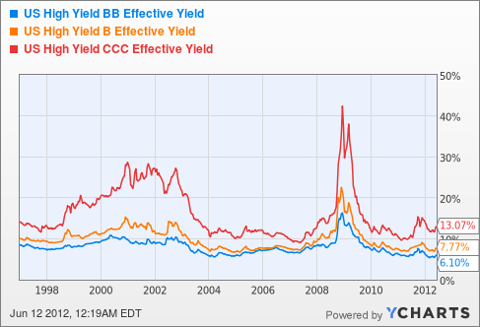 US High Yield BB Effective Yield data by YCharts
At the moment, when choosing between Spanish debt at 6.50% (or other European sovereign debt), the S&P 500, or high-yield corporate bonds, I prefer going with high-yield corporate bonds (NYSEARCA:PHB) and scaling into that part of the fixed income market on dips.
Disclosure: I am long HYG.
Additional disclosure: I am also long numerous individual bonds with non-investment grade ratings.