It was an ugly day on Monday.
In what was supposed to be an event that caused markets to rip, the news over the weekend that Spain had accepted a $125 billion bailout for its banking system had stocks rallying only at the open before fading increasingly deep into negative territory for the rest of the day. This performance sends a disconcerting message to stocks for a variety of reasons.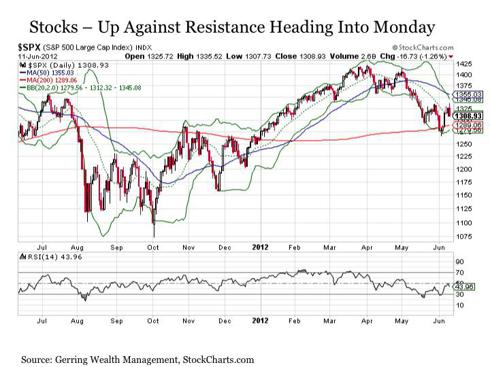 Admittedly, it was not necessarily a surprise to see stocks correct on Monday at least from a technical perspective. Stocks as measured by the S&P 500 Index (NYSEARCA:SPY) remain pressed against resistance at its 20-day moving average that has been in place since the beginning of May. In addition, stocks at the end of last week had just arrived at a Relative Strength Index (RSI) of 50, which is the bullish/bearish crossover inflection point where markets will either break out higher or hit resistance and retreat. Despite these technical forces, other fundamental factors were likely at work in pressuring stocks on Monday.
First, the duration of stock rallies following European bailout announcements continue to shrink at a rapid rate. While stocks managed to rally for nine trading days following the Greek default announcement back in early March 2012, they were unable to rally for more than 30 minutes on the Spain bailout news. Of course, some of the most critical events of the year in the Greece and French elections and the June Fed meeting lie ahead in the next few days, but the lack of any strength in Monday's trade was still notable.
The greater dilemma for the stock markets on Monday may have been the increasing realization that the Euro Zone as we know it is increasingly crumbling to dust. Not only were the details of the Spanish bank bailout uncertain including the source of funding, but also many quickly understood that their position in the capital structure had been knocked lower as a result of the deal. In addition, many recognized that the moment the attention shifted away from Spain it would quickly migrate to another sovereign, with Italy leading among those in the crosshairs.
It remains likely that global central bankers include the European Central Bank and the U.S. Federal Reserve will continue to provide stimulus to keep the system flowing, but at some point we will reach a day of reckoning where either the stimulus no longer works or the capability to apply additional stimulus has been shut down. And this day may be approaching sooner rather than later at this stage.
With this descent toward potential crisis at some point down the road, the risks are also becoming greater for investment markets.
This is due in part to the fact that the problems in the Euro Zone stretch well beyond Greece and Spain. Before Greece defaulted back in March 2012, investors had a high level of uncertainty as to exactly how European leaders would handle the situation. But once Greece actually defaulted, a precedent was then defined for how the Euro Zone would proceed in the future.
Until recently, the idea that Spain or Italy would require emergency assistance was unspeakable. But after this weekend, it has actually happened in the case of Spain. Once again, this is a point of information and clarity for investment markets on how such situations may be handled the next time around.
Thus, with each passing event in Europe, investors are gaining knowledge and precedent on how any comparable situation may be handled going forward. This is critically important, for the more that an investor knows about how a security may be handled during a crisis event, the more these same investors can exploit it. And if they feel so compelled, the may have sufficient resources to carve apart or break the back of a fragile market place for their own gain.
So for those trying to topple in the Portugal or Ireland, they continue to have a template in Greece to follow to potentially capitalize. And for those interested in attempting to break down the likes of Italy or even France, they now have a precedent to follow. We now know the thresholds that induce European leaders to action and the timing in which they carry out these rescue measures.
At some point, investors will either force it or the market will relent to a major corrective phase to wash out the excesses built up in these countries. And this may ultimately result in the meaningful downsizing of the currency union along the way. This could happen as soon as this upcoming weekend depending on how the situation plays out.
So what are the implications and what are investors to do to capitalize on these developments. The most important strategy remains staying hedged against unexpected and divergent outcomes in the current environment. This includes maintaining selected positions in stocks such as McDonald's (NYSE:MCD) and Tootsie Roll (NYSE:TR) in case the market rallies higher. But more importantly, it also includes allocations to those positions that are either uncorrelated or negatively correlated to stocks but have the potential to rise regardless of broader market movements. These include Long-Term U.S. Treasuries (NYSEARCA:TLT) that have demonstrated the trend of rising strongly when stocks are falling sharply lower. Other steadily rising fixed income positions include U.S. TIPS (NYSEARCA:TIP), Build America Bonds (NYSEARCA:BAB) and Agency MBS (NYSEARCA:MBB), the latter of which is likely to be the focus of any future Fed stimulus program. Lastly, allocations to Gold (NYSEARCA:GLD) and Silver (NYSEARCA:SLV) also make sense given their hard asset protection during times of crisis and their inflation protection during times of heavy stimulus.
At this point, it is only a matter of time before major structural changes finally come to the Euro Zone. It will be a healthy and necessarily cleansing process in the end, although it may get fairly tense and sometimes deeply unpleasant along the way. But by taking action today and allowing the system to begin cleansing itself instead of entering in yet another round of bailout support, the problem will remain smaller and more manageable. The longer we wait to finally resolve the problem, however, the more unruly the problem and the collateral damages are likely to be in the end.
This post is for information purposes only. There are risks involved with investing including loss of principal. Gerring Wealth Management (GWM) makes no explicit or implicit guarantee with respect to performance or the outcome of any investment or projections made by GWM. There is no guarantee that the goals of the strategies discussed by GWM will be met.
Disclosure: I am long MCD, TR, TLT, GLD, SLV, MBB, TIP, BAB.