I believe this is one market extreme that might work, although I only have data going back to 1986. The figure below is a weekly chart of the S&P 500; the indicator in the lower panel looks at the number of NYSE issues trading above their 40 week moving average.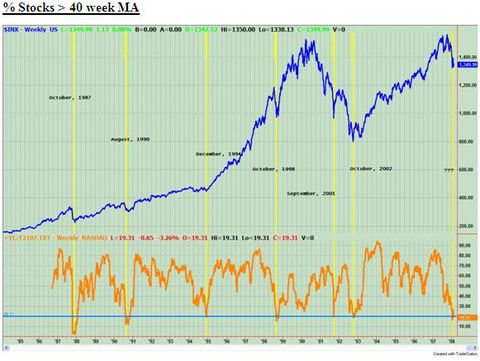 Currently, only 19.31% of stocks on the NYSE are above their 40 week moving average, and this low number has been seen only 6 times in the last 21 years:

1) October, 1987
2) September, 1990
3) December, 1994
4) October, 1998
5) September, 2001
6) October, 2002
While the data only extends back 22 years, the extreme lows in this indicator clearly highlight significant market lows that are part of market lore. Despite its limited history, I like this indicator because it has been selective at identifying the most significant low points of the last 22 years.
Can you think of any better time to buy in the last 22 years than the 6 dates listed above?