It appears the bad news may be over for Telus (NYSE:TU). After getting off to a shaky start in 2007, Canada's second largest telecom company rebounded to meet analysts' profit estimates when it reported its 2007 results last week.
TD Newcrest analyst Vince Valentini is quite bullish on Telus, suggesting that some of the headwinds it had faced in the past will ease and will meet its guidance for 2008.
In a research note to clients he said:
The year-over-year comparisons for EBITDA growth should be relatively easy in 2008 owing to wireless issues in 2007 ... plus the one-time costs related to the $37-million billing system conversion in Alberta.
However, the upcoming wireless spectrum auction in May has the opportunity to create a "short-term pain but long-term gain" situation, added Mr. Valentini.
"The risk and uncertainty surrounding potential new wireless competitors could get worse before it gets better," Mr. Valentini wrote.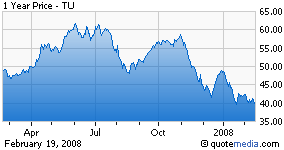 A number of key positive catalysts including the elimination of foreign-ownership rules in late June, and increased opportunities for share buybacks or dividend payments could take some of the attention of the damage the auction could do, he concluded.
Mr. Valentini maintains a "buy" on Telus with a C$60 price target.