We have held a long position in Philip Morris International (NYSE:PM) since March 31, 1999, when it and Kraft Foods (KFT) were both part of the Philip Morris Companies (NYSE:MO) and we have been pleased with the results of the company and its spin-offs during this time. We believe that Philip Morris International is a great investment for investors seeking income, particularly dividend payments. Philip Morris International is one of those rare-breed of companies that offers an above-average dividend yield of 3.7% (as of June 8th, 2012) and is a dividend growth champion (Dividends have increased at a compounded annual growth rate of 13.75% since it was spun off from Altria Group).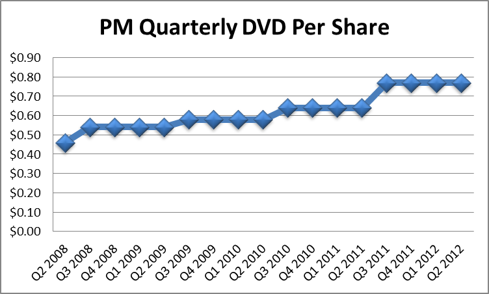 Source: Philip Morris International's Dividend Schedule and History
COMPANY OVERVIEW
Philip Morris International is the world's largest non-government owned Tobacco Company. It generated $76.3B in revenue in 2011 and paid $45.2B in adjusted taxes, resulting in net adjusted revenue of $31.1B. Philip Morris International was established as a separate subsidiary of the Philip Morris Companies (renamed Altria in 2003) in 1987 and spun-off as a separate company on March 31st, 2008. Like its former parent, Philip Morris International's leading brand is the Marlboro cigarette, which is the world's best-selling cigarette. The Marlboro did not always generate such smoking sales volumes with cigarette smokers. In 1924, it was launched as a lady's cigarette without much success. In the 1950s, it was repositioned as a "man's cigarette." Philip Morris introduced the Marlboro Man cowboy and the new campaign helped Marlboros move from a less than 1% market share to the fourth bestselling cigarette brand. The Philip Morris Companies (Altria) passed RJ Reynolds as the leading U.S. tobacco company in 1976, a position it has held since. Philip Morris International sells product in ~180 countries and many of its products hold the number one or two market share position.
We already established that Philip Morris International has shown solid dividend growth since it was spun-off from Altria. We should examine whether its dividend growth is sustainable by examining its dividend payout ratio: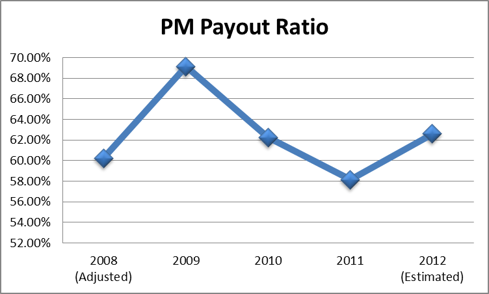 Source: Morningstar Direct and Saibus Research estimates
With the exception of a brief spike up in the payout ratio in 2009 due to the sluggish global economy, Philip Morris International's annual payout ratio has been about 60% ± 2%. Considering that Philip Morris International generated a return on beginning period shareholders' equity well in excess of 200%, we can see that PM can certainly afford to pay 60% of its annual profits to shareholders and leave plenty of available cash for marketing, research and development, growth CapEx, acquisitions, debt reduction and share repurchases.
Now let's look at Philip Morris International's Revenue, Net Income and EPS Growth. Our thesis is that Philip Morris International has a strong consumer franchise and a wide economic moat. In our opinion, this gives it the ability to generate above-average revenue growth, which translates into solid net income growth. Furthermore, this is magnified by the ability to repurchase shares, which is another tailwind toward EPS growth.
In conclusion we are pleased with the performance from Philip Morris International. Philip Morris International has shown itself to be a solid high-dividend yielding company and a dividend growth champion. One of the reasons why we are interested in the tobacco industry is a quote from Warren Buffett of Berkshire Hathaway. Buffett said "I like the tobacco business. It costs a penny to make. You sell it for a dollar. It's addictive and there's fantastic brand loyalty." We agree with Buffett wholeheartedly there. He got right to the point about why the tobacco business is a happy-hunting ground for investors who desire immediate income, particularly dividends. There's not a lot of gray area in that quote. We can certainly see that the Philip Morris Companies and its successors Altria Group, Kraft Foods and most of all Philip Morris International can certainly generate superior returns in excess of the S&P 500 (NYSEARCA:SPY) and use those mammoth cash flows to return cash to shareholders.
Disclosure: I am long PM, KFT, MO.
Additional disclosure: Saibus Research has not received compensation directly or indirectly for expressing the recommendation in this report. Under no circumstances must this report be considered an offer to buy, sell, subscribe for or trade securities or other instruments.