As everyone knows, The Blackstone Group L.P. (NYSE:BX) was the second private equity firm to seek a public listing of its stock. Blackstone filed to go public in March 2007; one month after Fortress Investment Group (NYSE:FIG) listed its stock on the NYSE. Blackstone went public on June 22nd, 2007, three months after it filed to go public.
Blackstone is an industry leading private equity firm and has $190B in Total Assets under Management in all of its strategies as of Q1 2012. It was founded in 1985 as a merger and acquisitions boutique by Peter Peterson and Steve Schwarzmann. It established Blackstone Financial Management in 1988 with the addition of Larry Fink, Robert Kapito and six other partners. BFM focused on asset management services from a risk-management perspective. As BFM and Blackstone grew, Blackstone spun BFM off and BFM changed its name to BlackRock (NYSE:BLK). 82% of Blackstone's AUM generates fees for the company and private equity assets represent almost 20% of total firm AUM.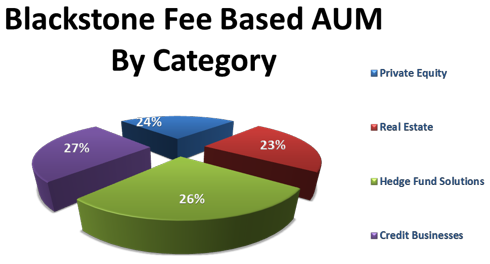 Source: Blackstone Q1 2012 10-Q
In addition to managing private equity assets, Blackstone also provides advisory and management services through four other business segments.
Real Estate-Blackstone manages opportunistic real estate ownership and debt investment funds
Hedge Fund Solutions-Utilizes diverse hedge fund strategies for institutional clients
Credit Businesses-Managed credit-oriented CLOs, SMAs and other investment products
Financial Advisory-Provides financial advisory, restructuring and reorganization advisory services and Park Hill Group (fund placement services for alternative investment funds).
The performance of Blackstone's IPO was good or bad, depending on what side of the trade you were on. Blackstone's IPO was great for the company and the management, since Blackstone's management was able to sell a portion of the company at the top of the market. For investors who bought shares, hoping to cash in on Blackstone's track record of private equity buyouts, the trade wasn't as good. An investment in Blackstone at the IPO with dividends reinvested would have incurred a total loss of investment of 55%.
BlackRock is the worldwide leader in asset management. BlackRock was founded as Blackstone Financial Management in 1988 and was spun-off from Blackstone in 1992. Blackstone Financial Management changed its name to BlackRock Financial Management. BlackRock primarily manages traditional investment securities for clients, but it has $110B in alternative AUM. BlackRock's alternative AUM is over 55% of Blackstone's total AUM yet it only represents 3% of BlackRock's total Q1 2012 AUM of $3.68T. BlackRock grew through organic growth as well as five key acquisitions:
State Street Research & Management Company ($50B in AUM from MetLife (NYSE:MET))
Merrill Lynch Investment Managers ($592B in AUM from Merrill Lynch (NYSE:BAC))
Quellos Fund of Funds ($21.9B in AUM from Quellos Group LLC)
Barclays Global Investors ($1.85T in AUM from Barclays PLC (NYSE:BCS))
Claymore Investments, Inc.( $7.58B from Guggenheim Partners LLC)
After BlackRock separated from Blackstone in 1992, it grew its assets under management from $17B in 1992 to $69B in 1995, when it accepted a $240M buyout from The PNC Financial Services Group (NYSE:PNC). PNC merged BlackRock with the PNC Funds and the Compass Funds in order to create a unified asset management organization and to get the benefits of scale from a bigger organization. BlackRock's management owned 18% of the combined organization and PNC took it public in October 1999. PNC sold 9 million shares of BlackRock at $14 per share. BlackRock's management retained 16% of the remaining stock and PNC retained a 70% interest in the company. BlackRock flirted with an acquisition proposal from Morgan Stanley in early 2006 before acquiring Merrill Lynch Investment Managers two weeks later. While PNC is now a minority shareholder with 21% of BlackRock's stock and reentered the asset management business with the bailout acquisition of National City, PNC treats its holding of BlackRock as its own strategic business reporting unit. We will run a pro forma scenario in which instead of Blackstone spinning off BlackRock, Blackstone bought out PNC's investment management businesses for $240M in 1995. We then assume that BX takes a minority interest of BLK public the way PNC did in 1999 and held on to its original stake, we find that $240M would be worth nearly $9.3B today.
BlackRock's stock has performed much better than Blackstone's after its IPO.
In conclusion, we believe that Blackstone made a $9B mistake in disposing of BlackRock. BlackRock has since gone on to become the worldwide leader in asset management through strong organic growth and timely acquisitions of leading asset management firms in order to fill in gaps in the firm's product lineup. We believe that BlackRock offers greater risk/adjusted return prospects versus Blackstone, especially due to the fact that BlackRock is less exposed to downside risk in the capital markets, based on the following three factors:
BlackRock has fewer proprietary investments on its balance sheet than Blackstone
BlackRock's heritage as a fixed income investment manager, particularly high-grade debt
BlackRock derives a lower proportion of its revenue from performance fees
Disclosure: I am long BLK.
Additional disclosure: Saibus Research has not received compensation directly or indirectly for expressing the recommendation in this report. Under no circumstances must this report be considered an offer to buy, sell, subscribe for or trade securities or other instruments.