As investors in opportunity, we have our tentacles to the ground (to mix metaphors) to see how world events affect our portfolio companies. Israel Opportunity Investor's Aaron Katsman recently wrote about how trouble in Pakistan could spell good things for NICE Systems (NASDAQ:NICE).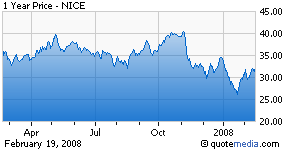 Now, we have an upgrade coming from UBS (NYSE:UBS) for NICE on the back of the scandal at Societe Generale (OTCPK:SCGLY). Below is an excerpt from the research note:
In particular, we view the current regulatory environment as conducive to the sale of recording systems and fraud/compliance solutions. With nearly 50% of 2008 management guidance already in the backlog, and given the strong booking momentum in hand, we see limited downside risk to consensus numbers.
We also read about a new deal that was signed with Go Daddy on Tuesday morning to deploy a call center solution for Go Daddy's 1000+ reps for better insight and metrics into service calls.
It's hard to say, (although NICE recently did ), that a global slowdown would actually benefit the firm. In a global slowdown, this firm, like many service providers would most likely get hit as well. The nice thing about NICE though is that its focus on compliance and risk management should help it to weather the storm.
Disclosure: The author's fund has a position in NICE as of February 18, 2008.