The casinos/gambling industry group is composed of many very good companies. I have selected just three of the biggest for this article. Valuation analytics is fun because the cream always rises to the top. In this case, my focus is on Las Vegas Sands (NYSE:LVS), Wynn Resorts (NASDAQ:WYNN) and MGM Resorts (NYSE:MGM).
I always split my lists into first- and second-tier companies. The reason is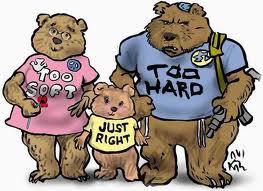 that most often, the second-tier companies produce better valuations and have higher profit potential. When the risk/reward ratio is the same, I naturally recommend the best to my clients.
These three companies are currently the leaders of the casinos/gambling industry group. There are well over 200 such industry groups. Like their component companies, industry groups rotate in and out of favor. (Please read my Instablog article "My Rotation Model" for more.) LVS is the current largest cap and the weakest company in this grouping. I believe MGM and WYNN could be big winners in the coming bullish cycle. Just for the record, that could be quite some time coming at this stage in the marketplace.
The following chart of LVS, its industry group, and the SPDR S&P 500 (NYSEARCA:SPY) support my position very well.
Click to enlarge all images.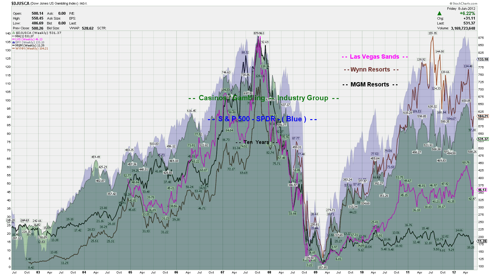 Report Card
| | | | | |
| --- | --- | --- | --- | --- |
| Company Symbol | Fundamental - weighting (40%) | Technical - weighting (35%) | Consensus Opinion - weighting (25%) | Report Card -Grade: ( 0 - 100 / A - F ) - (ascending / status quo / descending) |
| LVS | Good | Poor | Good | 71 / C- -- descending |
| WYNN | Very Good | Good | Good | 79 / C+ -- descending |
| MGM | Very Good | Good | Good | 79 / C= -- descending |

My weighted fundamental, technical and consensus opinion ratings range from Excellent to Very Poor. Grades below 90/A are not current (they never are) candidates for buying. Grades above 60/F are not current (they never are) candidates for short selling. Information and data are ever changing, so be alert. Every company's "grade" can go from a neutral (60 to 90/D to B) to a buy (greater than 90) or short sale (less than 60) in a very short time.
My methodology for grading all securities is by comparative analytics using my weighted fundamental, technical and consensus opinion date. If you were to go to MSN Scouter, you would find a very similar methodology for rating any given company. It uses several more criteria but give each receives a letter grade of A through F. For example: Apple (NASDAQ:AAPL) has, for several years, received a very high grade fundamentally as well as for its consensus opinion. When the technical weighting falls, so does the technical "grade" it will receive. An example of a negative company would be Research In Motion (RIMM). Here, the company has very poor grades in all three of my criteria. The difference between MSN Scouter and my work/analytics is the methodology used to arrive at the appropriate "grade" for a given company. (Note: AAPL and RIMM are used as examples because of the large divergence in both valuations and performance.)
Additional support for the above notes can be found in my Instablog article, "My Rotation Model."


My criteria for taking a bullish position is that the company must have the prospect within its fundamental valuation and technical chart to outperform the general market, its sector, and industry group.
Market Status
I use several indices in my focus to identify the ongoing bullish and bearish inflection points. The New York Composite Index is represented well by the SPY. The Nasdaq Composite is represented well by PowerShares QQQ Trust (NASDAQ:QQQ). In my work, the identification of bullish and bearish inflection points is of critical importance. Because this is so critical, I also emphasize and use market "breadth" indices. Breadth does not have a tracking ETF; therefore, it was necessary to create my own Excel charts.
These two indices, backed up with breadth, are the foundation for my technical analysis. An axiom for the general market says that "the direction (trend) of the general market has a 60% influence on security's profits or losses." The following two charts (long and short term) include SPY, QQQ and two of the companies presented in this article.
My opinion of the general market is that the fundamentals are overvalued, the technicals are overbought, and the consensus opinion is way too bullish. I am currently a bear because my valuations are convincingly negative, and we are in a bearish cycle -- it's just that simple!
Additional support for my guidance with regard to the general market can be read in my weekly article "Wednesday - General Market Update And Commentary."
Professor's Opinion
Currently, the above tables and charts present a clear and not-so-positive account of these companies and the overall market indicators. The stock market cycles endlessly, both fundamentally and technically, from bullish to bearish and then back to bullish again. Unfortunately, this is a pattern that is not well understood or taken advantage of by most investors.
Within this present bearish time frame, there is nothing wrong with these companies longer term. It is simply what happens when they turn bearish, and is just the ongoing "cycling effect" of the way the stock market works. It shouldn't be long before I can offer you a bullish and upbeat forecast once again.
Readers should take a few minutes to study my five- and 10-year charts. When buying or selling, taking a longer-term view of a security's price history is often the difference between profits and losses.
Conclusion
I am bearish on both the world economies and the general market. My more recent Instablog postings are focused on securities that should not be currently held in your portfolio. I suggest that it is vitally important for you to understand that holding cash during questionable time frames in the marketplace is a much wiser choice than holding your present positions. I can assure you that this is definitely a "questionable" time frame.
Disclosure: I have no positions in any stocks mentioned, and no plans to initiate any positions within the next 72 hours.