Cisco (NASDAQ:CSCO), a stock that at its peak was as overvalued as Facebook (NASDAQ:FB), has drifted down to a more reasonable value over the years. Today, it appears to present a good value for several reasons.
Despite these facts, many investors are hesitant to invest in the Cisco turnaround, with good reason - returns are not guaranteed. A quick look at the graph over the past year shows that Cisco stock has been unable to sustain a rally, often returning to support levels.
. Source: FreeStockCharts.com)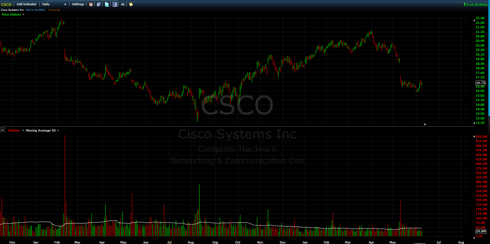 While I believe Cisco has the tremendous growth potential over the long term, investors looking for short term returns can take advantage of two options plays to generate guaranteed returns even if the stock continues to stay range bound.
Options Strategy 1: Covered Calls
Because of the significant bias toward the call side, investors willing to buy the underlying stock can pocket decent premiums for writing calls.
. Source: NASDAQ)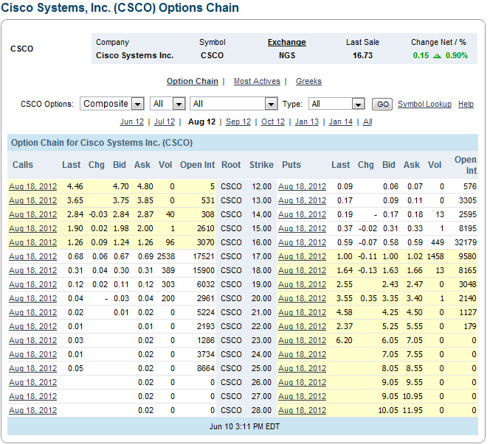 Holding the underlying long allows you to collect dividends (currently a 2% yield) and invest via DRIP and additionally receive a significant yield from the option. For example, writing a August $18 call option guarantees a 1.8% option yield over the next two months (annualized ~ 10%). This, combined with the dividend yield, gives a nice return on invested capital. Using this strategy, you can invest in Cisco and still profit even if the stock goes sideways for the rest of the year.
Options Strategy 2: Cash Covered Put Writing
As established earlier, there isn't much downside risk in Cisco. Therefore, put writing can provide yield and possibly an attractive entry point to the stock.
October $16 puts sell for 0.87, and October $15 puts for 0.56. This works out to a four month yield of 5.4% and 3.7% respectively - quite a respectable yield even before it is annualized. Entry points in case of assignment would be $15.13 and $14.44 respectively, which are both very attractive in the context of the 52-week range ($13.30 - $21.30).
Either of these strategies (or, in fact, both in conjunction) can be used to build a position in Cisco with guaranteed current yield and the potential for future returns. The yields are quite nice, especially in context of the dismal yields to be found elsewhere.
Disclosure: I am long CSCO.
Additional disclosure: I am also short January '13 $15 puts.