Microsoft Corp. (NASDAQ:MSFT) is by far the king of the application software industry group. There are four other peer companies that I rank and offer direction for below. Like so many super big companies, Microsoft is once again starting to slow its earnings growth. Second- and third-tier companies will most often outperform the older giants within an industry group. Surprise, the risk / reward ratio is also often superior for lower-tier companies.
Microsoft talks much about its financial plans and its successes. In reality, for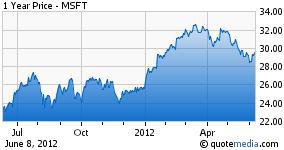 several years the "talk" has not measured up. I share my assessment of Microsoft in order to help investor expectations conform to reality. In my practice, a reality check is quite similar to my process of comparative analytics. Nowadays, companies either have or do not have clear valuation support for future price appreciation. Microsoft is not measuring up to reasonable corporate expectations and will again pay the price. Shareholders will also pay the price during bearish time frames.
April was a banner month with earnings and revenue reaching highs across the board. New product launches are now more frequent than in the past. Windows 8 and the new version of Office are supposed to stimulate the price per share. This launch news hype caused analysts to raise their price estimates to approximately $38. Microsoft's price rallied from $30. to $32.68, but did not reach or exceed a new high. Since April, the price has dropped to $28. and looks very anemic. So much for hype, it always has and it always will take positive results! Believe it or not, Microsoft does have its problems. The most alarming concerns are the inability to accelerate its share price. You might ask me, just how is accelerating price accomplished? My answer is simple and should be obvious to all investors. First, Apple, Inc. (NASDAQ:AAPL) is a wonderful and comparative example on how to accelerate its price per share. Second, in less than one hour's time you can gain a perspective on why company industry leaders in all industries are, or are not successful. Do some valuations of these company leaders and then compare the numbers with companies like Microsoft? Lastly, Microsoft's problems are well described in the charts below. What the charts don't share, is that the root problem is always management. And, what investors don't understand is that few companies have good management anymore.
Microsoft is currently selling for about $30. and has a recent high of $32. It pays a 2.73% dividend, which is not all that generous for a large company. It is not likely that investors will be rewarded with much upside price appreciation in the coming months. The recent price decline from the March and April highs convinces me that, a lower price per share is a good forecast.
Price History
Did you know that Microsoft's shares sold for over $46. in late 1999? The highest it has been since was in 2007 when it reached $33. per share. The 2009 to date rally has only returned the price per share to $32. That is unacceptable price performance for me and should be for you too. The 20-year chart (see below) tells this story best. You may want to ponder before taking new positions. This chart compares Microsoft with the SPDR S&P 500 ETF (NYSEARCA:SPY). I use this ETF to provide an important perspective about a company that I am valuating. The first thing is how Microsoft tracks the index in bullish and bearish market time frames. The second thing is a statistical measure of percentage gain and loss during bullish and bearish market time frames. Trends are a very helpful tool when investing wisely.
Current Valuation of Microsoft, MSFT
| | |
| --- | --- |
| Current Price: | $29.00 |
| Target Price: (from the high) | plus 6% / minus 20+% |
| Trailing P/E | 10.7 |
| Forward P/E (fye 12/31/13) | 9.6 |
| PEG Ratio | 1.21 - good |
| Price to Sales: | 3.38 - not so good |
| Price to Book: | 3.59 - not so good |
| Dividend (yield) | 2.73% |
| Valuation Divergence: | (minus) - 22% |
Source: Raw data taken from Finviz.
Notes for the above table: Target price is calculated and produces a probable range of the current price over the coming one to three months. Valuation divergence is calculated and produces a plus or minus percent of price over the following one to three months after a given bullish or bearish inflection point.
Comments for the above table: These are not strong Valuations and Target Price Projections. When I do further fundamental studies, the valuation does not improve. Projected earnings growth for Microsoft will fall off for a couple years or more. Good technical and consensus opinion analysis suggests that Microsoft will continue to be a modest performer. Investing in Microsoft at this time, or even holding, definitely is not investing wisely.
(Click charts to enlarge)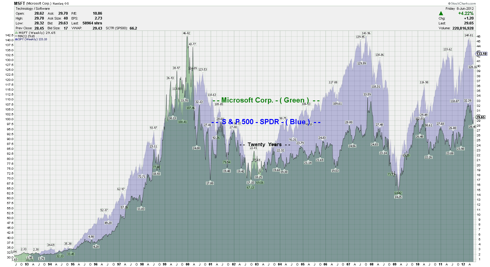 Earnings Graphic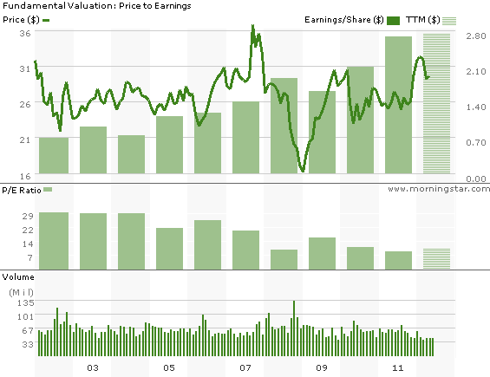 Regarding the above chart, please note the following: The earnings per share have grown nicely while the price per share has not. The P/E ratio is flat-to-down, which is a positive. The volume is diminishing over the years. These are not supportive facts to foster holding Microsoft in your portfolio.
Financial Statements
I have reviewed the company's income statement and balance sheet. I do not find anything to take issue with. There are many other companies with financials that present a better outlook.
Technical Opinion
It is clear from the above price charts that there are some longer-term problems with Microsoft. Technical indicators are in the process of breaking down. This is my initial warning that prices will be falling in the coming weeks and perhaps beyond.
Rating of Four Industry Peers
| | |
| --- | --- |
| Company Symbol | Rating & Direction: (ascending / status quo / descending) |
| Oracle Corp. (NYSE:ORCL) | Poor - - descending |
| Salesforce.com (NYSE:CRM) | Good - - descending |
| F5 Networks, Inc. (NASDAQ:FFIV) | Very Good - - descending |
| Nuance Comm., Inc. (NASDAQ:NUAN) | Good - - descending |
My Ratings range from Excellent to Very Poor - - with Direction.
Market Status
I use several indices in my focus to identify the ongoing bullish and bearish inflection points. The New York Composite Index is represented well by the ETF, SPDR S&P 500 . The Nasdaq Composite Index is represented well by the ETF, PowerShares QQQ Trust (NASDAQ:QQQ). In my work the identification of bullish and bearish inflection points is of critical importance. Because this is so critical, I also emphasize and use market "breadth" indices. Breadth does not have a tracking ETF; therefore, it was necessary to create my own excel charts.
These two indices, backed up with 'breadth,' is the foundation for my technical analysis. An axiom for the general market says: "the direction (trend) of the general market has a 60% influence on security's profits or losses." The following two charts (long and short term) include SPY, QQQ and two of the companies presented in this article. I hope you can understand why this analytic exercise is so important to my way of managing assets.


My general market opinion is that the fundamentals are overvalued; the technicals are overbought, and the consensus opinion is way too bullish. I am currently a bear because my valuations are convincingly negative, and we are in a bearish cycle; it's just that simple!
Further support for my guidance for the general market can be read in my weekly Instablog article "Wednesday - General Market Update & Commentary."
Summary
Currently, the above tables and charts present a clear and not-so-positive account of these five companies and the overall market indicators. It is a fact that, the stock market cycles endlessly both fundamentally and technically from bullish to bearish and then back to bullish again. Unfortunately, this is a pattern that is not well-understood or taken advantage of by most investors.
Within this present bearish time frame, there is nothing (longer term) wrong with these companies. It is simple what happens when they turn bearish, and is just the ongoing "cycling effect" of the way the stock market works. I hope you understand and will continue to follow my work / analytics. It won't be long before I can offer you a bullish and upbeat forecast once again.
May I remind you to take a few minutes to study my 10 and 20-year charts? When buying or selling, taking a longer-term view of a security's price history is often the difference between profits and losses!
Conclusion
I am bearish on both the world economies and the general market. My more recent Instablog postings are focused on securities that should not be currently held in your portfolio. I suggest that it is vitally important for you to understand that holding cash during questionable time frames in the marketplace is a much wiser choice than holding your present positions. I can assure you that; this is definitely a "questionable" time frame!
Further and ongoing support for some of these companies' current status will be posted this coming Saturday. My "Saturday Update" can be read weekly in my Instablog article.
Disclosure: I have no positions in any stocks mentioned, and no plans to initiate any positions within the next 72 hours.