I believe that Avon Products (NYSE:AVP) is due for a 5%-10% pop to the upside. The stock has been badly beaten down. In addition, it has been the subject of many negative reports in the media from bad management to failed execution of their overall strategy.
The blocks in the matrix which I included are very important. Focus you attention on the blocks which traded on May 10 and May 11. I believe they are distribution and short selling because of the subsequent price consequences. Since the blocks on these two dates occurred at exactly the same price within seconds of each other they could be interpreted as two separate block trades instead of ten separate trades. The blocks on May 10 aggregated 12,168,974 shares at $20.89 with a value of $254,209,867 and the blocks on May 11 aggregated 15,534,783 shares at $20.19 with a value of $313,647,269. These are not standard garden variety blocks which transact in the ordinary course of business. They are indicative of a very significant merchandising stance being established by the Designated Market Maker in this issue.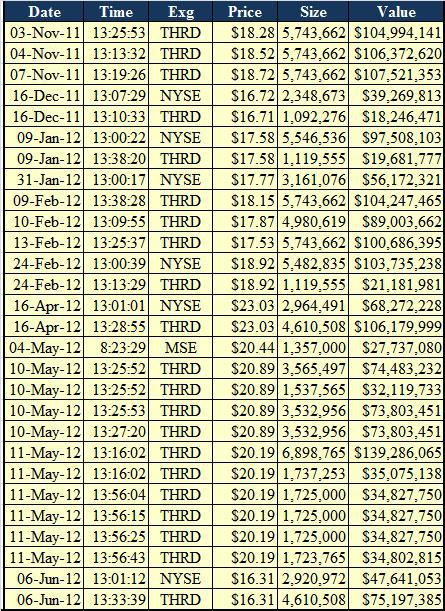 It is quite possible (but not certain) that the Designated Market Maker will be establishing a long term capital gains position. If such is the case Avon Products may linger at these levels for a bit longer than usual because he will attempt to keep public interest at a minimal for this issue. The old adage of patience being the virtue which conquers but is never conquered will most likely be put to the test.
I suspect that the two blocks on June 6 were short coverings and accumulations which will facilitate the "Dead Cat Bounce". In addition to the big blocks, aggregate volume was very heavy (over 800% on those two days individually). This is rather extreme and leads me to believe that a higher than usual percentage of the float has been captured. At this point the Designated Market Maker in this issue has the incentive to advance this issue.
Since he has accumulated so much stock during the selloff, he will need to distribute this stock. He will accomplish this by raising the price because it is rising prices that create demand. Surprisingly it is not that difficult to control investor behavior, inasmuch as investors are reactive beings. Presented with a stimulus such as rising prices or falling prices and investors will surly react; moreover, their reaction will usually be the same, time and time again. In addition, the same stimulus will usually produce the same reaction. This is why the stock exchange is able to predict with certainty, what investors will do when they raise and lower prices. Without exception they will buy on rising prices and sell in a decline.
This trade may require more patience than usual. Be prepared to watch Avon Products flat line for a few days or weeks. Sometimes longer term reversals do not occur for 3 - 6 weeks after the blocks. I suspect that Designate Market Makers believe investors lack patience and have short attention spans. We live in such an instant everything right now world; it is easy to see why. This trade requires: discipline to buy and sell at your predetermined price levels; proper position sizing to mitigate risk; and patience to allow the trade to work.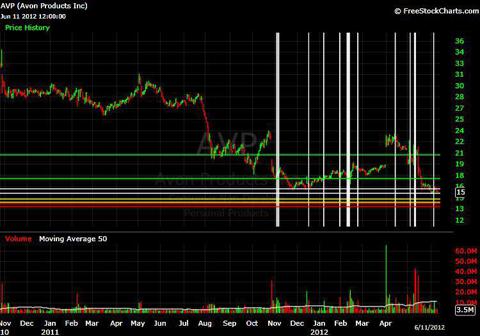 On the Basis of the foregoing these are my views and observations:
The Trade:
I recommend establishing a long position in Avon Products. Open your position with only 1/4 of whatever capital you intend to commit to Avon Products at $15.63. Purchase the remaining 3/4 of the position at $14.38 and stop out at $13.79. Do not post your stop out. I have said it before but it is so important that at the risk of being redundant and in an abundance of caution I will say it again. It is too easy for the Designated Market Maker to cash investors out by moving the price above or below your stop out and move the price right back down or up again. In addition, when a stop out is triggered it converts into a market order and that could be disastrous if the Designated Market Maker decides to really take advantage. Remember the "Flash Crash"? I would be looking to exit the trade at a upside price target of $17.54. Do not allow this position to exceed 5% of your overall portfolio
There is always the possibility that the trade may not work out.
There Is Never A Sure Thing (particularly on a short)
Investors must realize and recognize that there is never a sure thing. Sometimes events that have a low probability of occurring bring forth very serious consequences should they come into being. Investors must judiciously consider what the inherent practical limits are and how much they stand to gain in relation to the risks involved in establishing any position.
In addition, persistence can become desperate folly by allowing a losing position to become a viable argument for deciding on a new position. Rather, such decisions should be based on the current and soon-to-be circumstances.
Any position in which one unexpected factor has a significant impact on your portfolio is the result of poor planning. It is a fault most commonly associated with people who want to explain away their losses. SUN TZU -Art of War "Use an attack to exploit a victory, never use an attack to rescue a defeat."
If you follow the process recommended and the trade does not work, the overall loss in this model is $3,000.00. That amounts to .003 of the overall portfolio (theoretically valued at $1,000,000).
And finally, never be a brave and brainless investor because a fool and his money are soon parted.
A portfolio of $1,000,000 should position size in the following manner.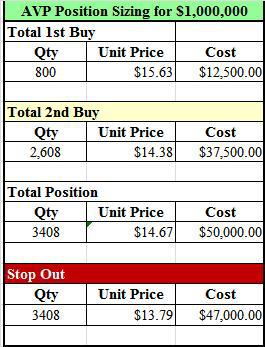 This is a trade, not an investment. Be ever vigilant.
That's it for now…. Have a nice day.
Disclosure: I have no positions in any stocks mentioned, but may initiate a long position in AVP over the next 72 hours.