Bank of America (NYSE:BAC) is everyone's favorite stock to hate. The 52-week low of $4.92 represents a decline of over 90% from the all-time high set in late 2006. While the stock has retraced some losses since setting the all time low, it's still sub-$10 -- a far cry from its mid-2000s heyday.
The Mainstream Viewpoint
There are plenty of reasons to rag on Bank of America:
. source: Fidelity (login required)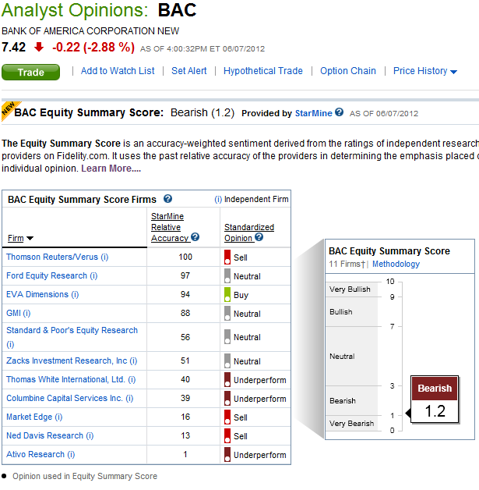 The conclusion here is that if you're interested in making a short to medium term investment in BAC, you might as well forget about it. The company's in what's colloquially known as a "world of hurt."
Even in the context of a world where financial stocks are generally unpopular, it seems nobody likes Bank of America. Most investors favor financial peers like Wells Fargo (NYSE:WFC), JPMorgan Chase (NYSE:JPM), Citigroup (NYSE:C), Morgan Stanley (NYSE:MS), Goldman Sachs (NYSE:GS), or even a financial sector ETF like XLF. Other popular plays include credit card companies like American Express (NYSE:AXP), Mastercard (NYSE:MA), Visa (NYSE:V), or Discover (NYSE:DFS).
Despite the overwhelmingly negative sentiment and seemingly endless stream of bad news clouding Bank of America, it turns out that there are still a few people holding out hope. These investors believe Bank of America has the potential to provide higher returns than any of the other financial sector stocks mentioned above.
The Contrarian Viewpoint
Despite all of the above facts, the company's depressed stock price has some investors thinking "buy." And by "investors," I don't mean your neighbor with the beer belly and that slightly insane conspiracy theorist down the street. Investors backing Bank of America include:
So why do these big name investors still like Bank of America?
Well, Bruce Berkowitz wrote an incredibly detailed case study about it back in April. You can read the whole thing here, but I'll sum up some of the main points:
Half of US households are Bank of America customers
BAC is essential to global economic security ("too big to fail")
BAC has an extremely low P/B (price to book) value: well under 0.4
BAC has improved liquidity and reserves post-2008
The financial sector fundamentals are improving
BAC has strong regulatory disclosure and improving transparency
The mortgage and housing market is improving
What Berkowitz sees in Bank of America is a business generating around $50 billion a year in income before accounting for taxes and special provisions (AKA, the write-offs of bad/toxic assets). To quote him:
Commercial credit issues are hiding everything else that is there at Bank America. They (the shares) are already priced for disaster.
Berkowitz has previous experience analyzing financial institutions in the midst of market uncertainty. As he recalls (italics mine):
I've studied these companies for decades. This is how I made my money in the 90's with at the time what was Wells Fargo. Wells Fargo was said to be going bust, everybody was shorting Wells Fargo. Well, it only was up seven or eight times in as many years. I don't know how the banks are going to work it out this time, but they're very cheap, they are priced to fail and we're going to make some good money.
After analyzing the company's fortress balance sheet and absurdly low pricing, Warren Buffett came to the same conclusion.
Bank of America is a strong, well-led company, and I called Brian (Monyihan, CEO) to tell him I wanted to invest in it. I am impressed with the profit-generating abilities of this franchise, and that they are acting aggressively to put their challenges behind them. Bank of America is focused on their customers and on serving them well. That's what customers want, and that's the company's strategy.
I think Mr. Buffett and Mr. Berkowitz sum up the case for Bank of America pretty well. There's really only one argument I can add: Bank of America is currently trading at a significant discount to its tangible book value of $12.95. Tangible book value (a non-GAAP metric obtained by subtracting patents, goodwill, and other non-tangible assets from the standard book value) is generally considered a floor for stock prices, and on that basis alone, I'd say BAC is undervalued.
Bank of America: I Think It's a Buy
. source: FreeStockCharts.com)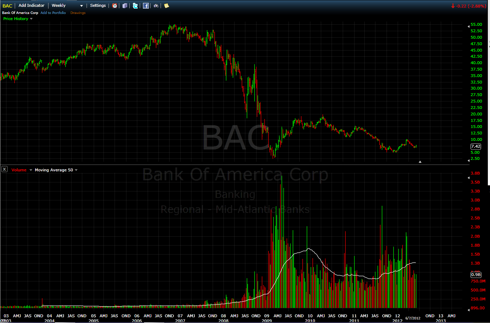 I personally hold BAC shares as part of my diversified equities portfolio. I'm sure I'll take a lot of flak for this statement, but: my "sell" price target is ~$25+. Even if Bank of America stock takes eight years to hit this price (and I have a feeling it'll happen sooner than 2020), the investment works out to an annualized pre-tax return of 15%. If the stock reaches $25 in five years, the annual return jumps to 25%. If it reaches $25 in three years, the annual return is 45%. Like Buffett and Berkowitz, I strongly believe BAC stock is poised for a comeback in the coming years -- the only unanswered question in my mind is "when."
Regardless of the exact timeframe, there are a few important points to keep in mind:
Just about all of the downside is priced in the stock already (there's nowhere to go but up)
Despite the asset write-offs, Bank of America is still a strong company
Bank of America is "too big to fail"
Bank of America has a financial relationship with 99% of Fortune 500 companies and 50% of American households
The financial sector is slowly but surely improving
I'm not an analyst, but if I was, I'd rate BAC a "conviction buy" for any long-term portfolio.
I'll leave you with one more quote from Bruce Berkowitz regarding the state of Bank of America. (From the case study presentation I referenced earlier.)
Its (Bank of America's) earnings power has been disguised by the intense provisioning for loan losses. But when the provisioning gets back to a normal level, you'll start to see that incredible earnings power come down to the bottom line. And it's as simple as that.
Disclosure: I am long BAC.