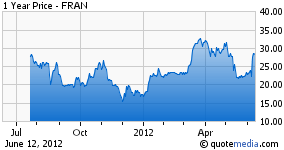 Shares of Francesca's Holdings (NASDAQ:FRAN) jumped up 23% on Friday. The owner of specialty clothing boutiques reported strong first quarter results which took away the worries some investors had ahead of the report.
First Quarter Results
Francesca's reported strong first quarter results. Net sales increased 49% to $61.3 million. Comparable store sales growth came in at 15.5% and gross margins improved by 70 basis points to 53.1%. Net income more than doubled, increasing 123% to $8.7 million, resulting in earnings per share of $0.20 vs. $0.10 in the first quarter last year. The company operated 327 boutiques compared to 249 boutiques at the end of the first quarter of 2011.
CEO De Meritt commented: "Our fiscal year 2012 is off to a strong start as we continue to execute on our differentiated business model. We attribute our continued success to our highly effective broad and shallow merchandising strategy that enables a nimble response to changes in customer demand."
Outlook
For the second quarter the company guides for revenues between $69 million and $71 million. The guidance reflects the expected opening of 29 new stores and low double digit same store sales growth. Francesca's expects earnings per share to come in between $0.22-$0.23 vs. $0.13 last year. For the full year of 2012 sales are expected to come in between $280 million and $283 million, assuming 75 new store openings and a high double-digit same store sales growth. Earnings per share for 2012 are expected to come in between $0.87 - $0.89
Valuation
Francesca's ended its first quarter with $8.2 million in cash and equivalents with borrowings coming in at $12 million for a net debt position of $4 million. The market values the firm at 6 times annual revenues and 53 times 2011s annual earnings. This premium valuation compares to revenue multiples of 2.1 times for Zumiez (NASDAQ:ZUMZ), 1.6 times for Urban Outfitter (NASDAQ:URBN) and 1.1 times for Chico's FAS (NYSE:CHS). These competitors trade at 29, 23 and 16 times earnings, respectively.
Currently the company does not pay a dividend.

Investment Thesis
Shares of Francesca's have already returned 59% so far this year. Despite Friday's 23% return shares still trade 20% below the peak of $33 in March of this year. Shareholders participating in Francesca's public offering in July 2011 have still enjoyed a good ride. Shares went public for $17 per share and now trade around $27 per share, marking a 60% return in merely a year.
Based on the guidance for its full year of 2012, the valuation multiples for Francesca's are coming down to 4.3 times annual revenues and 31 times 2012's expected earnings.
Investors react very positive on the back of the earnings report. Shares lost more than 30% in the month of May amidst disappointing earnings releases from other retailers including Fossil (NASDAQ:FOSL) and Abercrombie & Fitch (NYSE:ANF). The earnings report took away market worries about the developments in Francesca's stores.
I still won't consider an investment in Francesca on the back of its premium valuation. Net profit margins have been declining over the last two years coming down from 13.4% in 2009 to 11% in 2011. Future earnings growth has to come from expansion of the number of stores and same store sales growth. At today's valuation of 31 times this year's expected earnings I am not an aggressive buyer.
Disclosure: I have no positions in any stocks mentioned, and no plans to initiate any positions within the next 72 hours.