We're very pleased to announce that E*Trade now carries Seeking Alpha headlines on its stock and research pages, for both its clients and public access. Here's a screenshot - click to enlarge: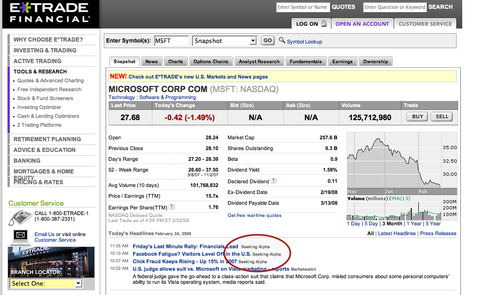 Try it yourself by getting a quote from the E*Trade homepage. E*Trade thereby joins other Seeking Alpha partners - such as Yahoo Finance, Reuters and Barron's Online - in recognizing that alongside traditional news, today's investors want to read what other serious investors and sector experts have to say about a given stock or ETF that they follow or own.
Here's E*Trade's press release on its addition of Seeking Alpha, which is part of a larger upgrade of services and resources for E*Trade's clients.

We're thrilled to open this new channel of distribution for our contributors. And thanks to all of our readers and contributors for making Seeking Alpha the must-read investment site we have become.