Too Precious to Fail…Europe's Bailouts at €500 billion and Counting
The market anticipated this weekend's bailout announcement: Spain's stock index, the IBEX, rose quite strongly all last week, while the bounce in the rest of Europe's stock markets - especially the 'core' markets - was comparatively weak:
---
Click to enlarge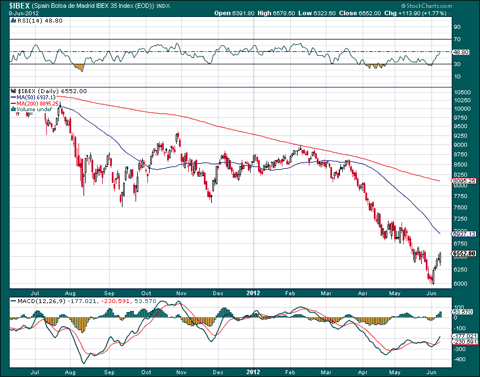 Madrid's IBEX had a good week in anticipation of the bailout, rising by more than 550 points.
---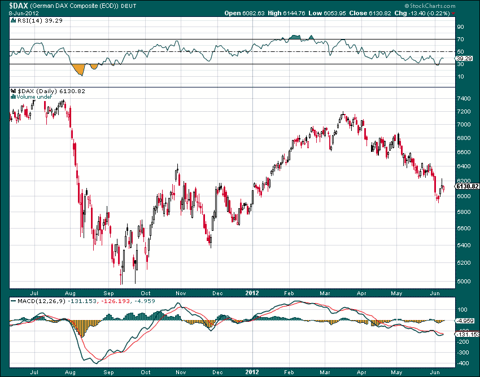 The DAX in Frankfurt only managed a comparatively small 150 point bounce (incidentally both indices traded at roughly the same level at their recent low, so one can more or less compare the moves in points directly).
---
The Spanish banking system's progressive move from "extend, pretend and pray for better times" to a no longer concealable state of insolvency has been documented extensively in these pages over the past two years. It has now finally become accepted by all and sundry, including the chief abetter of the extend and pretend tactic, namely Spain's government.
It appears that we were not far wrong in suspecting that the Rajoy administration must have very vehemently insisted on some form of face - saving compromise behind closed doors: it is to receive special treatment instead of a full-scale bailout with the loss of fiscal sovereignty this would entail. Other countries that have become wards of the EFSF, or rather wards of the 'Troika', probably are none too pleased that they had to submit to a far more rigorous regime.
However, Spain had the better cards, due to its size and due to the timing: with the Greek elections close, the eurocrats probably felt that something had to be done quickly to forestall a burgeoning financial market panic. Moreover, the fractionally reserved banking system's paralysis is seen as the chief weakness besetting euro-land and there has recently been talk that the link between the banking and sovereign debt crises should somehow be severed (with banks the biggest holders of sovereign debt this seems an unlikely prospect).
"Euro zone finance ministers agreed on Saturday to lend Spain up to 100 billion euros ($125 billion) to shore up its teetering banks and Madrid said it would specify precisely how much it needs once independent audits report in just over a week.

After a 2 1/2-hour conference call of the 17 finance ministers, which several sources described as heated, the Eurogroup and Madrid said the amount of the bailout would be sufficiently large to banish any doubts.

"The loan amount must cover estimated capital requirements with an additional safety margin, estimated as summing up to 100 billion euros in total," a Eurogroup statement said.

Spain said it wanted aid for its banks but would not specify the precise amount until two independent consultancies - Oliver Wyman and Roland Berger - deliver their assessment of the banking sector's capital needs some time before June 21.

"The Spanish government declares its intention to request European financing for the recapitalization of the Spanish banks that need it," Economy Minister Luis de Guindos said at a news conference in Madrid. He said the amounts needed would be manageable and that the funds requested would amply cover any needs.

A bailout for Spain's banks, beset by bad debts since a property bubble burst, would make it the fourth country to seek assistance since Europe's debt crisis began.

With the rescue of Greece, Ireland, Portugal and now Spain, the EU and IMF have now committed around 500 billion euros to finance European bailouts.

Washington, which is worried the euro zone crisis could drag the U.S. economy down in an election year, welcomed the announcement."
(emphasis added)
So €500 billion is beginning to sound like quite a chunk of money - and let us not forget who is actually paying for all this: it is not some anonymous entity, it is what remains of the ever more shrinking class of producers of wealth. Governments may be the conduit for all this bailout largesse, but they have no resources of their own - they must confiscate them from their citizens. It is little consolation that Turbo Timmy who was involved in a similar raid on his own citizenry is reportedly 'pleased'.
It remains to be seen whether financial markets will find this latest instance of legerdemain a reason to celebrate, but they certainly might for a little while. Then again, the first doubts are already surfacing in view of the looming election in Greece and the remaining funding needs of Spain's government this year:
"The 17-nation currency area agreed to lend Madrid up to 100 billion euros ($125 billion) for its bank rescue fund, more than an initial audit suggests it is likely to need, in an attempt to reassure investors and erect a new firewall in the crisis.

But the euro zone's latest line in the sand, after bailouts for Greece, Ireland and Portugal since 2010, could be swept away as early as next Sunday by angry Greek voters, rekindling market turmoil that would hit Spain and Italy first.

Rajoy said his reforms had spared Spain a full rescue for its public debt but some analysts say the bank aid may only be a prelude to an eventual bailout of the state. After less than six months in office, the conservative premier is desperate to avoid that stigma, while other European leaders are just as desperate to avoid the cost, which would stretch the euro zone's rescue funds to the limit.

Unicredit chief economist Erik Nielsen said once the banks had been recapitalized, "they have basically addressed the three key weaknesses: banks, regions, and structural weaknesses". Others are less confident.

"The burden of recapitalizing insolvent banks or loss-making acquisitions of solvent banks will fall on Spanish citizens," said Karl Whelan, economist at University College, Dublin. "For this reason, this weekend's announcement may well end up shutting Spain out of the sovereign bond market."

The euro zone's fourth largest economy is beset by recession and mass unemployment and still has a weight of national and regional debt to roll over later in the year, although it has got through 58 percent of its borrowing for 2012.

Moody's Investor Service said last week the debts of euro area sovereigns dependent upon official funding present "non-investment grade risks", prefiguring a likely cut in Madrid's credit rating. Fitch Ratings slashed Spain by three notches to BBB last week - just above junk status.

The government still needs to refinance 82.5 billion euros of debt maturing by the end of the year, with a big hump at the end of October, and Spain's overspending regions have a further 15.7 billion euros of debt maturing in the second half of 2012.

"We're very close to junk bonds and we'll end up in the junk," Jose Carlos Diez, chief economist at Intermoney in Madrid, said on Spanish television.

"In this situation, the key is to look at the reaction of investors and see if capital flight stops … If the process doesn't stop, there will be more funding problems and what we will see is a bailout that is starting small become a big one."
(emphasis added)
It is remarkable that a transfer of €100 billion is these days regarded as a 'small bailout'. The point we made regarding the timing of the announcement has also been confirmed by the press - apart from the threat of a confrontation with Greece after the coming election, there were a few other elections entering the calculations as well:
"Despite Rajoy's denial that he was pressured, Germany and France, Europe's two leading powers, as well as the European Central Bank, the European Commission and the IMF leaned heavily on Madrid to request aid before the Greek general election.

A senior German official said Berlin had warned the Spanish government if it did not seek help for the banks now, it risked having to apply for a full-fledged country bailout later. "Spain is better off in a safe shelter," the official said, adding that the timing before the Greek vote was vital.

Chancellor Angela Merkel publicly praised Rajoy's fiscal and labor market reforms and said Spain did not need to implement any deeper austerity measures in return for help.

French President Francois Hollande, keen to avoid euro zone panic as he seeks a parliamentary majority in elections this Sunday and next, also applied pressure for a swift bailout.

"France was keen to see an agreement this weekend, to resolve the situation as soon as possible, but I was not the only one to say that," Economy Minister Pierre Moscovici told Reuters hours after a tense 2-1/2-hour conference call of finance ministers over how to help Spain.

U.S. President Barack Obama telephoned Merkel, Hollande and other senior European leaders last week to press for urgent action to stem the euro zone crisis, which poses a threat to the U.S. recovery and hence to his re-election. Japan, Britain, Canada and the International Monetary Fund all weighed in."
(emphasis added)
Election, election, and re-election, all smoothing the passage of €100 billion down the bailout birth canal. The question is of course whether it will be enough - recall that the bailout cost of Ireland's banks continued to swell way beyond the figures at first estimated. Ireland's situation is directly comparable to Spain's because its banks were also rendered insolvent by the bursting of a major property bubble they had financed. Spain is in the same situation, only the problem is proportionally bigger. As Luxembourg's finance minister Luc Frieden sagely remarked in an interview with broadcaster RTL on Sunday:
"If Spain got into a catastrophic situation, you could forget French and German banks".
That was of course the main motivating force behind all the bailouts so far. Only in Spain's case the problem is of a truly mind-boggling size - especially the big French banks are said to be exposed to the rafters. Not to forget, right after Spain there is still Italy waiting in the wings - and that would probably be a decisive step too far.
---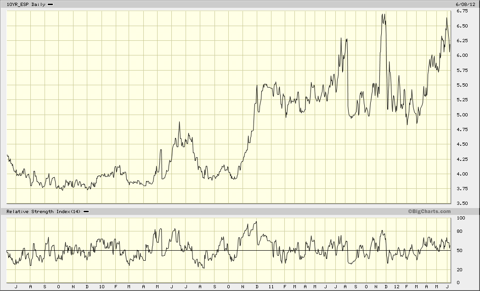 Spain's 10 year government bond yield over the past three years.
---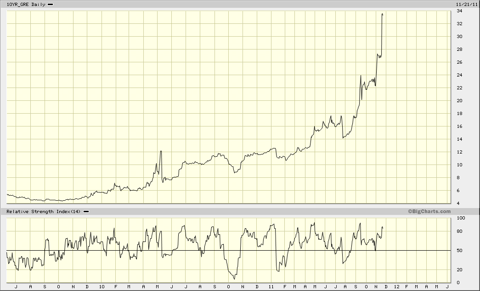 Greece's 'old' 10 year yield until the repudiation of the old bonds in the 'PSI' deal. Look closely at the progression in 2010: the double-top, pullback and finally the break-out. An omen? - click chart for better resolution.
---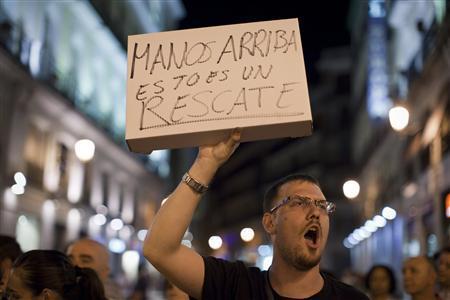 A protester in Spain - the sign reads: 'Hands up! It's a rescue!'
(Photo credit: Reuters)
---
Addendum:
Here is the official statement of the euro-group on the bailout. It seems the IMF will also be involved in policing the implementation.
Charts by: StockCharts.com, BigCharts.com