By John J. Critchley, Jr.
The avalanche of bad news keeps coming for JPMorgan Chase (NYSE:JPM). Today, Bloomberg, in an extensive report, reports that the vaunted CEO apparently did not apply the same sort of risk oversight on the CIO department than he did to other parts of his banking fiefdom. (here)
The once golden boy of investment banking has taken a few body blows with these and other recent revelations concerning the massive losses incurred by Bruno Iksil, a trader in JPM's London office. Tomorrow, Dimon is scheduled to testify in Washington in front of a Senate committee. Will he survive? What will become of one of the too-big-to-fail banking behemoths?
A Bearish Options Play
Do you believe there are more shoes to drop and the fallout from the London Whale's losses will only escalate? The banking giant is still only down -0.92% year to date even with all the recent bearish news that has come to light over this disastrous failure in risk management. The stock has rallied over 18.7% off its recent low of $27.85 hit in the immediate aftermath of the trading losses revelations. Are you in the camp that believes that there will be a retracement and breach of these lows in the next six weeks?
If yes, let's look at a bearish options play:
The 30-day implied volatility (July options) appears to be quite reasonable at the 39% level considering all the news swirling around JPM and the upcoming earnings event in mid July. These options are trading significantly lower than 52 week 30 day IV highs of 70% reached September of this past year and present some enticing short term option value.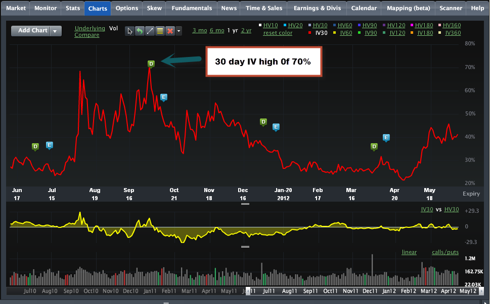 Source: Livevol(NYSE:R) Pro (livevol.com)
Trade Idea

To take advantage of abnormally elevated downside implied volatility skew and to benefit from any further downward pressure in JPM stock in the next couple of weeks and before earnings in July.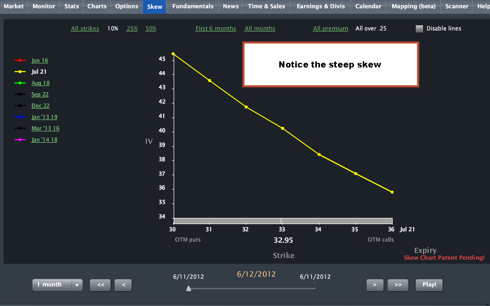 Source: Livevol(R) Pro (livevol.com)
The Play
a) Buy July '12 33-28 put spread for $ 1.46. Receiving about 9.6% in implied volatility skew ( buying 39.2 IV vs. selling 48.8 IV).
Net debit: $1.46.
Risk: The underlying closes over $33 on July expiration and you lose the entire premium/debit paid.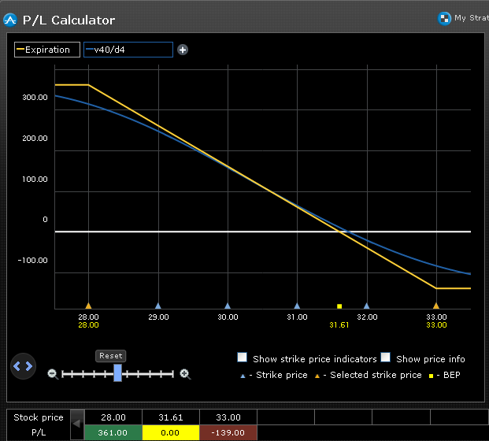 Source: sogotrade.com
Stay tuned ...
Notes: Prices quoted where the prices at time of submission and do not reflect current market prices. You are solely responsible for your own trading and investments decisions and the ideas presented in this article are trade analysis, not recommendations.
Disclaimer: We are not liable for any trading decisions made by any reader. NO advice is given or implied. The information offered in this article is for demonstration purposes ONLY and should not to be either construed as an offer or considered to be a recommendation to buy or sell any options.
Your use of this information is entirely at your own risk. It is your sole responsibility to evaluate the accuracy, completeness and usefulness of the information. You must assess the risk of any trade with a professional broker, or financial planner, and make your own independent decisions regarding any trades mentioned herein. This is not a solicitation to buy or sell any options, or to purchase or sell any credit spreads. Trading options only carries a high degree of risk, is not suitable for all traders/investors, and you may lose all of your premium money invested in the options. If you have never traded options before, we strongly recommend that you read a little background information made available by the government. Only you can determine what level of risk is appropriate for you. Also, prior to buying or selling an option, a person must receive a copy of Characteristics and Risks of Standardized Options.
Past performances DO NOT guarantee future results. Please consult with your own independent tax, business and financial advisors with respect to any trade. We will NOT be responsible for the consequences of anyone acting on this purely demonstration material.
Disclosure: I have no positions in any stocks mentioned, and no plans to initiate any positions within the next 72 hours.