As investors rush into government debt driving yields to record lows, they have shunned strong long-term investment opportunities. I believe there is a bubble in liquidity. Investors want securities that they can liquidate at the push of a button in a deflationary market. Investors are shunning long-term investments from houses to dividend paying equities in favor or cash and long-term bonds.
The market sell-off has been swift and strong since peaking in April. From a short-term perspective, the market is trending near its 200 day moving average, which could put continued pressure on prices. From a medium-term perspective, I believe that the economy and world markets will continue to be hamstrung by significant debt loads that took decades to build. While markets remain relatively inexpensive, there are significant headwinds that will temper enthusiasm.
The de-leveraging process that started in 2008 is proving to be long and painful. Central bankers all over the globe are doing their part to ease debt loads by keeping interest rates low. These low rates are hurting savers and retirees by forcing them into risk assets, including stocks and high yield bonds.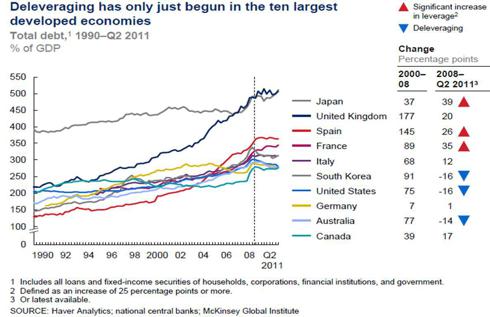 Retirees and investors seeking yield should build diversified portfolios with equities that will provide yield, but also perform during an uncertain, low growth period. Given the debt loads of the developed economies, world markets will likely experience more frequent recessions.
Opportunities Abound for Long-term Investors
But the news is not all dire; investors can find attractive long-term investment in equities that provide strong current yield. To augment my current income, I look for opportunities to sell covered calls against these positions. The annualized yields for this strategy can be quite attractive for investors willing to hold onto these names. I am buying equities and trying to forget about the day-to-day market moves.
The overall market is trading around 13.0x earnings. The market has made significant progress in working down its valuation from the bubble years of the Technology Bubble. Today investors are blowing another bubble in risk-free assets, namely government securities. Investors should steer clear of perceived safety and build a highly diversified portfolio of income producing assets.
Equity Screener:
Price to Earnings ratios of less than 20.0x - focused on equities with modest valuations.
Market Capitalization of greater than $1 billion - large capitalization equities typically have better access to capital markets.
Dividend Yields of greater than 2.5% - focused on equities that provide strong current income.
Equity betas of less than 1.0x - focused on equities that are less volatile than the overall market.
Waste Management, Inc. (NYSE:WM)
Market Capitalization: $15.1 billion
Price to Earnings Ratio: 16.1x
Dividend Yield: 4.40%
Beta: 0.66
Molson Coors Brewing Company (NYSE:TAP)
Market Capitalization: $7.1 billion
Price to Earnings Ratio: 10.7x
Dividend Yield: 3.30%
Beta: 0.71
Chevron Corporation (NYSE:CVX)
Market Capitalization: $198.9 billion
Price to Earnings Ratio: 7.4x
Dividend Yield: 3.60%
Beta: 1.0
Southern Company (NYSE:SO)
Market Capitalization: $41.5 billion
Price to Earnings Ratio: 19.1x
Dividend Yield: 4.1%
Beta: 0.28
Philip Morris International, Inc. (NYSE:PM)
Market Capitalization: $143.2 billion
Price to Earnings Ratio: 16.6x
Dividend Yield: 3.70%
Beta: 0.87