Executive Summary
Social Media is a fast growing industry all around the world. Social Media companies may differ in terms of business models, but a major portion of revenues comes from third party advertising. The total number of active subscribers plays an important role in the success of any social media company. In addition, a strong business model that can monetize the user base effectively and efficiently is a necessity too. Therefore, in this investment thesis, we have tried to differentiate winners and losers, based on the strength of their business models.
Below is a brief investment thesis on our recommended long and short positions followed by an in depth analysis on each name:
| | | | | | | | |
| --- | --- | --- | --- | --- | --- | --- | --- |
| Thomson Reuters | Price | Revenue (2012E) (Millions) | EPS (2012E) | # Shares (Millions) | P/E | P/S | EV/S (TTM) |
| Groupon | 10.63 | 2,400.24 | 0.2 | 645.8 | 53.15 | 2.86 | 3.05 |
| LinkedIn | 93.08 | 902 | 0.66 | 103.3 | 141.03 | 10.66 | 14.67 |
| Zynga | 6.16 | 1448.81 | 0.27 | 736.65 | 22.81 | 3.13 | 2.48 |
| Facebook | 26.81 | 4,960.98 | 0.54 | 2,138.08 | 49.65 | 11.55 | 15.15 |
| Pandora | 10.97 | 275.57 | -0.03 | 166.65 | NM | 6.63 | 5.75 |
| Google | 580.57 | 35,338.30 | 43.27 | 326.03 | 13.42 | 5.36 | 3.62 |
| Average | | | | | 56.01 | 6.70 | 7.45 |
Groupon
Groupon posted its first pre-tax profit in the last four quarters. The pretax profit was mainly driven by lower marketing expenses (20% of sales in 1Q2012 vs. 70% of sales in 1Q2011), as the company took advantage of its growing brand equity. The growth in revenue was driven by an expansion in the active subscriber base along with a higher take rate. During 1Q2012, the company added 4 million customers to its existing subscriber base of 37 million customers and recorded an increase in pay rate from 40% to 41.3%.
Groupon's superior business model simultaneously generates value both for the customers and merchants in the form of savings for consumers and brand awareness for merchants' products, respectively. Merchants get a chance to market new products and liquidate excess inventory while customers get the benefit by buying items at significantly reduced pricing (30-50% discount).
Groupon active customers use its deals regularly, and spend beyond the deal values. Thus, luring more merchants to contracts with Groupon, helping the company in expanding deals on an increasing number of items. Expansion in the availability of deals on more products drives additional subscribers, hence enabling Groupon to sustain growth.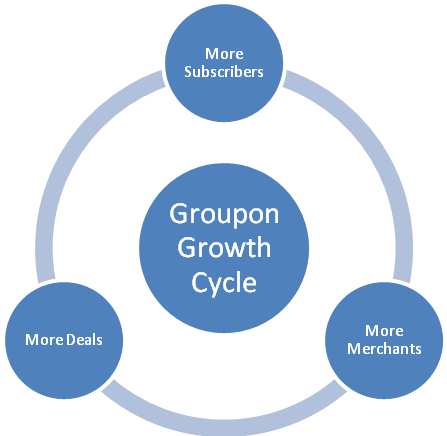 Moreover, Groupon is optimally positioned in a highly competitive environment, where a few large Internet retailers like Amazon (NASDAQ:AMZN) and a large number of small players compete fiercely. However, Groupon's competitive advantage lies in its expanding customer base. A large subscriber base has created positive network effects and a strong brand name for Groupon, resulting in the creation of barriers for entry for the new comers.
| | |
| --- | --- |
| | P/S |
| EBay | 4.15 |
| Amazon | 1.87 |
| Google | 4.65 |
| Priceline.com | 6.73 |
| MercadoLibre | 9.87 |
| Average | 5.45 |
| | |
| Groupon | 3.37 |
Groupon has lost 50% of its value in the past 6 months as investor sentiment loosened from the 4Q2011 earnings revision and insiders selling their stakes after the expiration of the IPO lockup period. However, fundamentals are strong and the stock is trading at a 38% discount to its competitor's average p/s ratio. Therefore, we recommend a long position in Groupon. Major risks to our valuation are an increase in refunds from healthcare and travel segments which will put downward pressure on earnings.
LinkedIn
LinkedIn's 1Q2012 revenue increased 101% YoY, with the number of registered members soaring. Introduction of new services and improvement in the existing services resulted in a 58% QoQ increase in the number of registered members; thereby increasing LinkedIn membership to 160 million by the end of 1Q2012. In addition, the website experienced a 37% YoY increase in the unique visitors. LinkedIn also experienced a boost in corporate customers because of a growing member base and increasing user engagement (corporate customers 1Q'12: 10,403 - 1Q'11: 4,774). In the first quarter of 2012, 64% of the revenue came from field operations.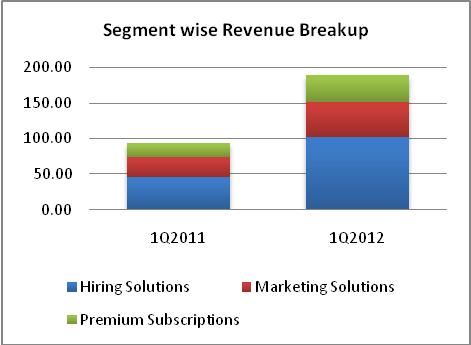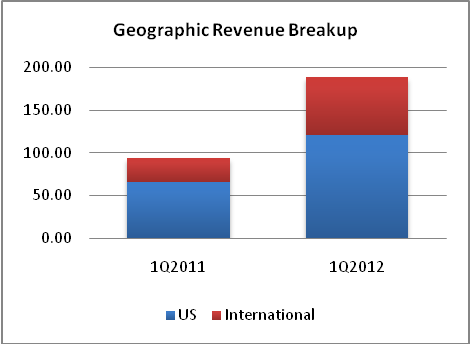 LinkedIn expects high growth from field sales in the coming years and, as a result, the headcount of sales and marketing division has increased by 114%. Furthermore, the company is heavily investing in product development to continue providing new services and improving existing ones. The introduction of Talent Pipeline, as part of LinkedIn Hiring Solutions, has helped the Mountain View based company in strengthening its ties with corporate customers.
LinkedIn has recently experienced a data breach which resulted in the password theft for an unknown number of accounts. The data breach signifies possible weaknesses in the security measures the company uses for the protection of its user accounts. Such data breaches can negatively impact the growth in user base and can possibly harm the reputation of the company. LinkedIn was found to use ordinary encryption measures to protect user information, but the company is actively improving the security systems by using advanced encryption methods to prevent future date breaches.
As a result of strong growth in all business segments, along with an impressive expected growth, the stock is trading at a P/E of 140x. We believe LinkedIn has the potential to sustain its growth and consistently outperform analyst expectations, as the company is continually investing in product development and sales force. Possible risks to stock price are declining growth in user base, low user engagement, and major disruption in services.
Zynga
Zynga primarily generates revenue from selling virtual goods in the games, with a small portion of revenues coming from advertising. The company posted a loss of $85.35 million in 1Q2012 compared to a profit of $1.3 million in the same period a year ago.
Even though Zynga experienced a 23% YOY (1Q2012) jump in Monthly Active Users (MAUs) it failed to monetize the growth, as the Average Booking per User rose only by 7% YOY. In addition, the recent acquisition of OMGPOP (developer of the game Draw Something), is proving costly as the MAUs for the game, Draw Something, are showing a declining trend.
In fact, all the top games of ZYNGA, except Texas Hold-Em Poker have recently started to show a declining MAU trend. Furthermore, the ratio of Daily Average Users over Monthly Average Users (DAU/MAU), which indicates the engagement level of users, has gone down than the key rival's King.com.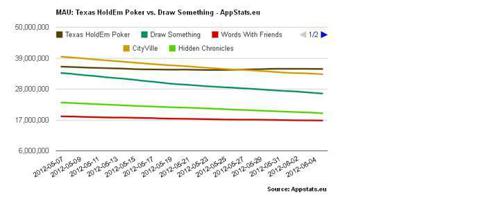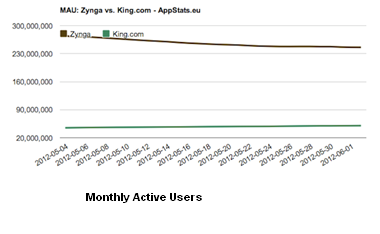 The downward trend in MAU and lower DAU/APU signifies additional pressure on Zynga's future earnings. We expect earnings in the next quarter to further decline and recommend investors to sell shares.
Pandora
Pandora provides internet radio services and has 70% share of the total U.S. internet radio industry. The company makes money via advertising and paid subscriptions on its website, mobile and other platforms while paying the content acquisition costs (royalties) to the music companies for user played radio content. The growth in 1Q2012 revenue was primarily offset by an increase in content acquisition costs.
Moreover, Pandora has been unable to monetize its large user base of 150 million, and the sustainability of its business model is questionable, given the historical financial performance. We expect the growth in earnings to decline further and recommend selling the stock. Risks to Pandora include a falling active user base, decrease in the number of listening hours, less spending by clients on advertising, and increasing content acquisition costs.
Facebook
Facebook has fallen by 31% since its May 18 debut due to the uncertainty attached with the future of Palo Alto based company. Investors have been concerned about Facebook for being unable to monetize its large mobile user base. Nevertheless, the company announced that it has allowed marketing companies to begin working on mobile advertisements. Introduction and implementation of a strong mobile monetization plan will definitely help in generating a stronger and consistent revenue base. At a current price of $26.10, its valuation is lower than many of its peers.
Conclusion:
We believe that investors should construct a long short portfolio in order to make the most of the social media boom. The valuations of certain social media stocks, having weak business models, are relatively high. Such stocks like ZNGA and Pandora can be shorted against an overweight position in LNKD, FB and GRPN. Our recommended longs have proven their business models with an enormous opportunity to monetize their large subscriber base. The growth can be bought cheaper by investing in these names.
Such a hedged portfolio can outperform both in the boom and bust scenarios.
Disclosure: I have no positions in any stocks mentioned, and no plans to initiate any positions within the next 72 hours.