Microsoft's (NASDAQ:MSFT) bid for Yahoo (YHOO) is all about online advertising. Steve Ballmer, Microsoft's CEO, has said that in a few years online advertising will account for as much as 25% of Microsoft's revenue. Ballmer is hoping that acquiring Yahoo will help Microsoft catch up to Google (NASDAQ:GOOG). However, acquiring Yahoo will not give Microsoft the revenue nor the search market share it is seeking for, as Yahoo's strength is in display advertising not search advertising.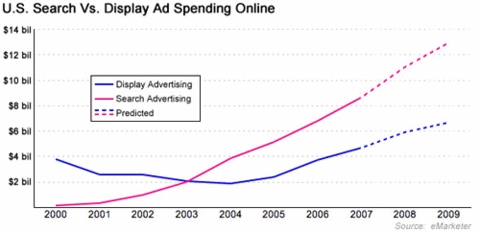 Microsoft Seven Times Bigger Than Google
Microsoft's share of the display advertising market is already about 7 times larger than Google's. Yet, Microsoft's online business racked up a loss of $248 million during the quarter ending in December 2007. Microsoft and Yahoo combined will have a market share of about 25% versus Google's 1%.

Where The Money Is
Google accounted for 65.98% of U.S. searches, while Yahoo and Microsoft combined accounted for 27.84% of U.S. searches in January 2008. It is search advertising that is propelling Google. The revenue that Microsoft is seeking is in search advertising not in display advertising which the Yahoo purchase brings.

Focus On Search
Microsoft should be looking to really acquire Yahoo's search and related advertising business as that is where the growth is. Display is experience some softness in pricing as more and more and networks spring up daily targeting niche verticals. However, in the long run Microsoft should benefit for Yahoo technologies and properties that are strong in display as that is where users will be hanging out. Further, Microsoft's relationships with Facebook and Digg should add to this. Hence that is why Google is busy working on applications and initiatives such as Open Social that will keep users hooked on Google.