Microsoft (NASDAQ:MSFT) is talking about launching a proxy bid for Yahoo (YHOO). They (and their bankers) know that this is a bluff and would not succeed. The reason? In a word, arbitrage.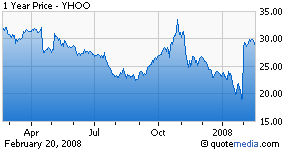 The current stock range of $29-30 does not represent a significant discount to the current bid on the table (and, due to the stock aspect of the current bid, depending upon Microsoft's stock price, it actually could represent a premium). Now, place yourself in the shoes of a large institutional investor in Yahoo.
You own shares. Lots of them. You have a couple of choices:
1) Hold on to the shares in anticipation of a long proxy battle with the purpose of voting "Yes" to the deal. This course of action would get you....$29 to 30 for your shares. This course of action does not present upside (assuming that the proxy is determined to succeed) because the stock price is determined by the deal. And, the current arbitrage is minimal, i.e the stock is trading close to or above the deal value.
2) Sell your shares right now for...oh, wait....$29 to 30. No lengthy battle.
Why would any institution choose option 1 instead of option 2? The only way would be if they intend to try and get more from Microsoft for their shares...in which case, they would vote NO to the deal.
Now, as the institutional investors capitulate, new investors are buying in at...$29 to 30 per share. Do you think that they would vote yes to a deal that values their shares at $29-30 per share? I wouldn't.
So at such point in time that a proxy vote takes place, the only shareholders still in Yahoo will be those that would vote NO. The current stock price does not represent enough of a discount (or any possibly) to the deal terms for any investor to stay in the stock in order to vote yes.
Disclosure: Author is a YHOO shareholder