Let us look at the spread between the euro currency, using the CurrencyShares euro Trust (NYSEARCA:FXE), and the U.S. Treasury bond, using the iShares Barclays 20+ Year Treasury Bond (NYSEARCA:TLT) ETF's.
FXE is CurrencyShares euro Trust with total assets of roughly $290 million per the more recent SEC filing 10-Q
TLT is the iShares Barclays 20+ Year Treasury Bond with total assets of roughly $3 billion per the more recent SEC filing form N-CSR
The chart displays the price difference between the TLT and FXE. This would be the equivalent of being long TLT and short FXE in a paired trade. There is a limit on how far the trade can expand or contract assuming that neither issue goes to 0 nor exceeds 200. Given the more recent financial market action this assumption might be worth reviewing.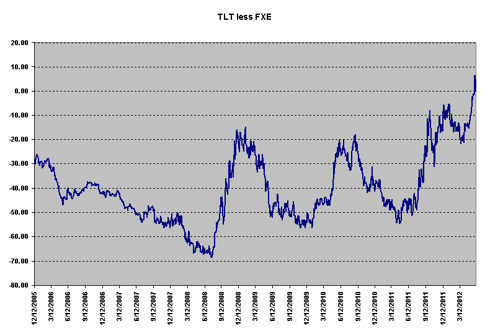 (Click to enlarge)
Notice the spikes in the spread.
On July 21, 2008 the spread was -68.55. The FXE closed at 159.35 with the TLT closing at 90.80. By December 4, 2008 the spread had narrowed to -15.73 with the FXE at 128.03 and the TLT at 112.30.
On October 27, 2011 the spread was -31.05 with the FXE at 141.35 and the TLT at 110.30. On June 1, 2012 the spread was +6.81 with the FXE at 123.55 and the TLT at 130.36.
On June 11, 2012 the spread had fallen to +1.61 with the FXE at 124.17 and the TLT at 125.78.
Time will tell if longer-term U.S. Treasury issues continue to outperform the euro currency. The valuation appears to be nearing its limits. However, if the euro sank to par with the dollar and the TLT was flat then the spread could increase to nearly 130. If the TLT increased in price then the spread could increase even more.
Given that the spread traded at a -68.55 valuation, going to a +68.55 valuation might be possible, but is it probable? And if it happened what would it mean good or bad times for the world and U.S. economy? It might signal tough economic times for all.
Ways to play a decline in the TLT less FXE spread:
Short TLT (currently 125.55) and go long FXE (currently 124.16).
Or use options. The September 2012 series may provide adequate time.
Long FXE 126 Call @ 2.42 and Long TLT 124 Put at 5.45.
Or buy the 126 call 124 put straddle on FXE (roughly 5.80) and TLT (roughly 10.00).
Disclosure: I have no positions in any stocks mentioned, and no plans to initiate any positions within the next 72 hours.