When I buy stuff online, I often use Google (NASDAQ:GOOG) Shopping to look at prices. Then, even if there is a better price elsewhere, I often go to Amazon (NASDAQ:AMZN) to buy, because saving a few bucks off Amazon's price is not worth the hassle of dealing with an unknown vendor.
However, Google is now testing a new tool in Shopping and Ads, which looks at customer service and shipping information and assigns a trust rating to merchants. More or less, that's what Amazon does. Therefore, Google's effort has the potential to undermine Amazon's command of ecommerce.
Tech companies like Amazon and LinkedIn (LNKD) are holding on to high P/E ratios through the mercy of the market's schizophrenic perspective. On the one hand, the market likes these companies based on their earnings growth histories, which are impressive. On the other hand, the market is pricing these companies at huge forward-looking growth premiums. For Internet stocks, this is problematic because history and future are mostly independent in the context of disruption.
Before growth started to slow recently, Amazon demonstrated steady, superior earnings improvement, thanks to the relentless focus of Jeff Bezos and team. Amazon accomplished this by changing the way consumers think about shopping. It bid down the established retailers and forced producers to compete for user reviews, disrupting both the qualitative and quantitative framework. Here's the steady, strong growth I'm talking about: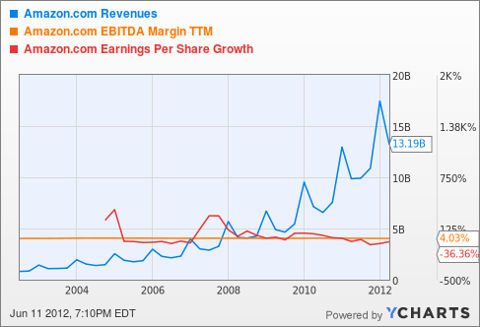 AMZN Revenues data by YCharts
And here's LinkedIn's impressive growth: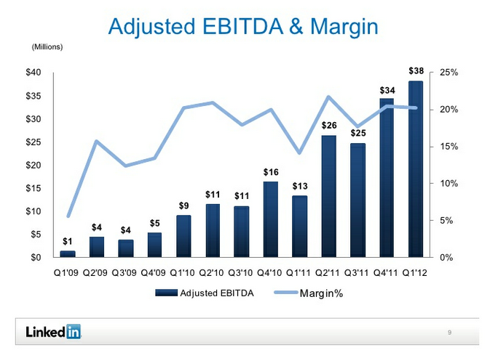 If you're impressed by the history of a stock, give it a premium for that. If you think the growth will be huge, speculate on that. But when you combine the two and merge them into a monolithic confidence, you're just buying into hype.
Another reason Amazon and LinkedIn are overpriced is: they appeal to a more old-school investor, who doesn't quite understand the business model of say, Zynga (NASDAQ:ZNGA), but doesn't want to get left behind in the Internet age of investing.
The market's overconfidence in conservative technology tickers is anything but conservative. Google's new service is one of many threats that will bring Amazon investors back to their senses.
Sell Amazon, short LinkedIn. LinkedIn was the first website to post a lot of peoples' resumes, but it won't be the last. Google's move into Amazon territory reminds us that LinkedIn can be squeezed by competition at any moment. At least Amazon has some barriers to entry...
A competitor for LinkedIn is anyone who offers recruiters a way to find employees using a semblance of social features. Competition could arise through a sub-service of Sean Parker's Airtime, which introduces video chatters based on common interests (instant interviews with specialized candidates). A competitor could be something like Elance or Work Market, should employers continue to look for alternatives to full-time hires. A low-end competitor could be Branch Out (a freer version of LinkedIn). Microsoft (NASDAQ:MSFT) has been busy emulating Google lately, but when they fail in that maybe they'll start competing with LinkedIn.
The point is it's easy to compete with LinkedIn. There is no complexity to give it a moat.
And LinkedIn shouldn't be compared to Facebook (NASDAQ:FB). Human beings enjoy looking at yearbooks; that's what Facebook came from. Do we really enjoy leafing through resumes? Of course not. There is no instinctual compulsion to drive LinkedIn's relevance. Neither is there a fundamental innovation to draw people in. Zynga put a layer of social over a previously non-social experience; that's true innovation. LinkedIn formalized what has always been a social construct: the resume. There was no true innovation; it was in the right place at the right time, but that can only get one so far.
LinkedIn, as a service, is a commodity being priced as a technology. It's a power point presentation in a world of power point presentations, but it's being valued like high art. That's a shortable mispricing. It won't surprise me at all to see LinkedIn's trajectory mimic Groupon's (NASDAQ:GRPN) by next year.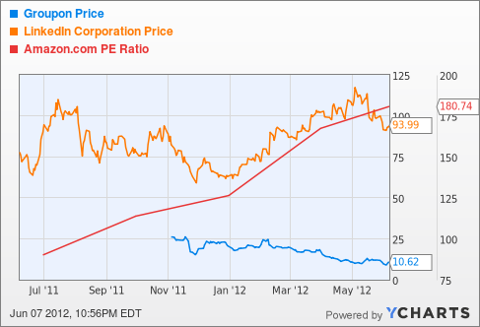 Disclosure: I have no positions in any stocks mentioned, and no plans to initiate any positions within the next 72 hours.