News Sunday, that a bail out fund was going to have up to €100B available to rescue Spanish Banks gave the market a boost. Though the headlines were large, and the details lacked specificity, it did give the euro a nice rally. The EURUSD gaped higher, from 125.14 to 1.2575 and then sprinted to 1.2665. Opening gaps on Sunday evening are always interesting and usually these gaps are filled rather quickly.
Indeed such was the case in the 24 hours that followed. A market that behaved so well early, quickly reversed direction, and is currently trading under 1.2460. This market action is surprising when consideration is given to the record short positions in the euro. But had the news really been constructive, a real solution to the Spanish real estate problems, the market would have given us a much stronger rally.
While the Spanish initially celebrated what they thought was a bail out without austerity as prescribed in the other rescue packages such was not to be the case. Today the Spanish 10-year bond hit a euro area record high, 6.83%, as Germany's Merkel said the Spanish Banking Sector must reform if it is going to be the recipient of rescue funds.
Spanish Premier Rajoy's victory lap proved to be a short one. In addition to the banking reforms, Jeremy Warner in the Telegraph says:
"To Mr Rajoy, however, the Spanish aid is no more than "the opening of a line of credit for our financial system," which because Spain has been such an exemplary to others in accepting austerity without complaint, has been offered more or less unconditionally. I suspect Mr Rajoy is in for a bit of a shock once he sees the fine print, but for him, the important thing is getting it across to his electorate that Spain is not being bailed out. Honor has to be seen to be maintained.

Unfortunately, the reality is altogether different. This is not a direct line of credit to the Spanish banking system, but a sovereign loan which expands the national debt by getting on for 20pc. The fact that all of it is going to be used to prop up the banking sector is no more than cosmetic for an underlying truth - that it is Spanish taxpayers who are left with the liability. Spain is being forced to borrow from Europe to bailout its banks because markets won't provide the money directly to Spain.

In so doing, the Spanish rescue may well suffer from the same fate as the three previous sovereign rescues. Because the bailout money takes on the position of preferred creditor, it subordinates other bondholders, thereby making it even harder to raise money from the capital markets."
This is not to say there are some Spanish banking reforms needed to clear the large supplies of unsold inventory. Encouraged by Spanish real estate laws, contracts are binding, often even surviving bankruptcy. Casa banks, even though some are bankrupt, are still trying to collect delinquent loans. Consequently there is a large inventory of real estate involved in various stages of legal activity, hanging over the Spanish market.
The Spanish banks' inventory of over priced real estate is a major problem, and their continued efforts to prevent access to clear titles remains a big impediment to clearing inventory.
It will be interesting to see a list of the German's recommendations for banking reforms. If there are enough Germans stuck with bad Spanish real estate purchases, this might help with the inventory problem.
We are still wary of the gigantic euro short in the futures market, but there seem to be no European leaders with a plan. It would not surprise me if future euro summit meetings become more than a little testy.
The EURUSD acts like it wants to trade lower, but I am inclined to watch.
Click to enlarge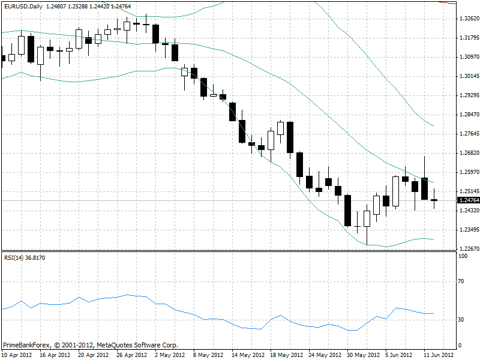 Disclosure: I have no positions in any stocks mentioned, and no plans to initiate any positions within the next 72 hours.