Warren Buffett is well known for placing a large emphasis on the "moat" in his investing selections. For small and mid cap sized companies establishing a moat often means identifying a new niche in the marketplace and then developing the tools to dominate that niche. One company that seems to have done that in the Specialty Casualty Insurance market is Navigators Group (NASDAQ:NAVG). NAVG specializes in the area of marine insurance dealing with products such as cargo liability, blue and brown water hull liability, and liabilities relating to off shore energy production. NAVG comments on this specialized focus in its most recent 10-K regulatory filing:
We have chosen to operate in specialty niches with certain common characteristics which we believe provide us with the opportunity to use our technical underwriting expertise in order to realize underwriting profit. As a result, we have focused on underserved markets for businesses characterized by higher severity and low frequency of loss where we believe our intellectual capital and financial strength bring meaningful value. These types of exposures require substantial technical expertise.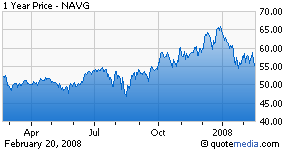 While many companies may claim competitive advantage, NAVG has backed up its claim with superior financial results in recent years driving earnings from just $0.8 in 2003 up to $5.62 in 2007. Underwriting income per share has more than doubled over that time period. The company has benefited from an industry trend toward higher premiums since 2001. But overall the underwriting practices have been disciplined and the results have been strong. Quoting from the most recent earnings release of Feb. 13:
Navigators' Chief Executive Officer Stan Galanski commented:
Our strong underwriting results continue to benefit from favorable loss emergence patterns across all business units. Our underwriters understand that our top priority is always underwriting profit, not premium growth.
With insurance related investing it is always important to consider possible catastrophic events that could sink financial results. NAVG lists a hurricane in the Gulf of Mexico as the largest foreseeable single risk. The company got hurt to some degree from Katrina and the other Gulf hurricanes of the past 2-3 years, but the impact was much less severe than experienced. by other some other companies such as Montpelier Re (NYSE:MRH). NAVG is also continuing to increase its business diversity both in terms of products and geography even while keeping its marine focus. This increasing diversity should further lessen the risk from any single catastrophic event.
Another salient issue of late for insurance companies is investment portfolio risk. Investors in AIG (NYSE:AIG) found this out in the last two weeks when the company disclosed new risks related to credit default swaps. On the NAVG conference call on Feb. 14 there was a lot of discussion on their investment portfolio. The analysts on the call specifically congratulated the company on the amount of disclosure in this area. NAVG appears to have very conservative investment practices with the large majority of investments in treasuries and high grade municipal bonds. True there is still some cloud hanging even over munis that could remain until the whole issue of credit risk is resolved.
NAVG is a largely under-followed and unknown company covered by just handful of analysts. It is trading at a price/earnings ratio around 9.7 and a price to book of about 1.5. Given the excellent recent growth history, we think this is a great value.
In 2007, our two top picks in the specialty insurance area were Midland (MLAN) and NAVG. Midland has since received an attractive take-over offer from Munich Re. While we never invest on take-over considerations alone, we think NAVG could represent the type of small, solid, growing company that could be an attractive take-over target.
Disclosure: We own shares in Navigators group in both our individual accounts and accounts managed by Freedom Mountain Investments.