Flash NAND Decline Provides Upside Surprise for Apple
While the price decline of Apple's (NASDAQ:AAPL) components is well noted by many analysts, I believe the precipitous drop in NAND flash memory and its effect on Apple's margins has been vastly underestimated.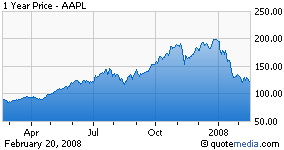 According to a February 1 article by Dan Nystedt, IDG News service, 4GB flash memory has declined over 73% since August 2007. According to the DRAM exchange website, this trend continues, especially for larger 8, 16 and 32GB modules. In fact, pricing on the those modules is especially cheap. Here is where the story gets interesting for Apple. Not only do they reap the benefit of huge decreased pricing, the difference between the 8GB and 16GB modules is only $11, even though the iPhone models differ by $100. Similar savings are seen in the 16GB and 32GB iPod touch. So Apple is gaining huge margins by introduction of the larger sized iPod touch and iPhone.
What does this mean? Well according to Mark Hachman at PC Magazine in a story on Apple memory pricing, Apple bought $1.2 billion in NAND flash memory in 2007. So if we have seen just a 50% (not 70%) cut across the board for flash memory pricing for Apple, this would mean an increased profit of about 60 cents per share over the year or 15 cents per quarter. In addition, if Apple can move the public to their higher flash memory ipods and iphones, the margins become incredibly rich. All this makes for a great upside surprise for Apple in 2008.
Disclosure: Author has a long position in AAPL
This article was written by
Rick Hyde works in the aerospace and defense industry. His investment philosophy is buying growth at a reasonable price. He is also a retired military officer, former independent financial planner and held several positions in the IT and Defense industries. Rick is a graduate of the US Military Academy, with a graduate degree from Cornell University and an MBA from Colorado State University. Rick resides in Northern Virginia with his wife and two teenage sons.