I should begin by noting that I'm not particularly interested in investing in natural gas. I think the rise in natural gas prices, coupled with natural gas' role in other, non-energy endeavors - namely fertilizer production - make it a sub-par source of energy relative to nuclear power in the long run. I realize this may not be apparent now and the market may not reflect it now, but I'm convinced it will - and my job as an investor is to find where value will flow in the future, and position myself accordingly.
However, with that said, hydraulic fracking is a textbook example of a low-cost disruptive innovation - a new way of doing things that lowers cost significantly, thus opening up new customer bases and allowing firms that leverage this new technology to disrupt incumbents. Disruptive innovations are always valuable opportunities, and so from this perspective, the whole natural gas sector is of potential interest. So, if I were a wealthier individual who sought to diversify beyond my core holdings in gold and uranium, I may consider investing in natural gas because fracking is still unlocking value. But since I'm reserving myself to invest in what I regard as the best of the best opportunities, gold and uranium are what I will focus on.
With that foreword out of the way, I'd like to share my top picks for creating a well-rounded natural gas portfolio:
Teucrium Natural Gas Fund (NYSEARCA:NAGS). Natural gas prices have started to rise after briefly dipping below $2 in the United States. Current US prices are approximately $2.30. The chart below puts price in context.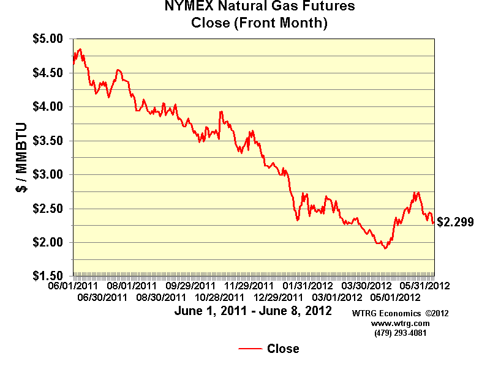 As the US marches onwards to exporting liquefied natural gas, I believe prices will continue to rise. I consider a rise to above $4 to be a worthwhile speculation. Exporting liquefied natural gas is the main opportunity that I think the entire natural gas portfolio should be structured around. Which leads to my next pick ...
Dominion Resources (NYSE:D). Dominion is a firm positioning itself to be a player exporting liquefied natural gas. The firm's conflict with certain environmentalist groups will need to be watched, as it could interfere with its ability to gain the permits needed to run a port to export LNG. Dominion currently boasts a dividend yield of over 4% and a beta of just 0.46. As I expect the natural gas sector to be very volatile, this kind of stability is a good mix to make the overall natural gas portfolio a bit more tame.
Kinder Morgan (NYSE:KMI). Fracking is what's pushed natural gas prices down so much, and what is enabling the US to become an exporter of liquefied natural gas. However, it's also exposing the weaknesses in the US infrastructure (in fact infrastructure is a sector I think will be very hot soon, and is an opportunity I plan to research and write more about). After its acquisition of El Paso Corp, which was finalized on May 24, KMI became the largest pipeline company in the world. Infrastructure is going to be vital to transporting natural gas to export stations, and so I think Kinder is well-positioned for what's coming in the natural gas sector.
Clean Energy Fuels (NASDAQ:CLNE). While the price of gasoline has fallen of late, I don't think this is here to stay. Rather, the facts show that oil production has plateaued, which is going to send the price of gasoline for conventional cars higher. Below is a chart of world crude oil production, courtesy of IndexMuni.com.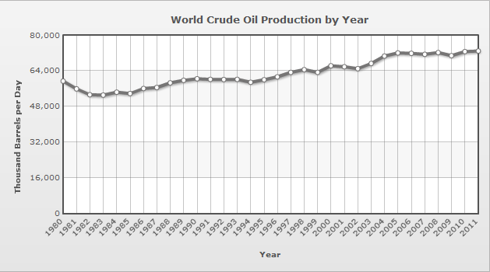 I've already stated a number of times why I regard electric vehicles as better than natural gas vehicles - see my most recent commentary on the subject - but if there is one company I think is worth speculating on in this sector, I think it is Clean Energy Fuels. CLNE runs the largest network of natural gas re-fueling stations, and is backed by legendary energy entrepreneur T. Boone Pickens. As such, it's my favorite way to play an increase in transportation via natural gas vehicles. See my previous coverage for a deeper look.
Gasfrac (OTC:GSFVF). One final opportunity I think is worthy of inclusion, and one that may be the most speculative, is Gasfrac. This company has an exciting story: the company has pioneered a way to frack for natural gas without using water. As this is a completely new process, I think it could be a vital technology that allows the firm to disrupt the already disruptive industry of fracking. Water-less fracking is sure to appease many environmentalists and may offer opportunities to drill for natural gas in areas that water-based fracking firms cannot compete for. That the company won the 2011 World Shale Gas Award for Technological Innovator shows the technology is well-received within its industry. This is a stock with significant upside potential, probably more so than any other stock mentioned here. It currently has a market cap of just $232 million, which makes it even more speculative. Coupled with some of the larger stocks presented earlier in this post, though, the result may be a balanced portfolio.
Disclosure: I have no positions in any stocks mentioned, and no plans to initiate any positions within the next 72 hours.