In May, oil recorded its biggest monthly drop in more than three years. Stock prices of oil producers and companies providing oil services, including offshore drilling, plummeted along with the plunge in oil prices. Some market observers conclude that oil prices will rebound, which will help companies providing offshore drilling services maintain strong profitability in the next two years, at least. Others are bearish about the sector, arguing that offshore drilling companies stand to lose given that oil prices are likely to continue their descent.
As contract rates for offshore drilling are set in advance for a number of years, declining oil prices will not have an effect on the existing contracts. However, contract renewals could be affected. Still, demand for offshore drilling services is unlikely to wane even if oil prices remain at current levels or somewhat lower. According to some estimates, offshore drilling is profitable if oil prices stay above $60-$70 a barrel for ultra-deep operations, and about $40-$50 a barrel for other deepwater operations. Despite the expected weakness in the overall economic activity in the coming quarters, oil prices are unlikely to sink much further. Moreover, as deepwater contracts are signed at day-rates eclipsing $600,000, there are indications that the offshore drilling market will remain tight at least through 2014.
Here is a glance at key dividend payers in the sector. These stocks have seen major declines in prices over the past month or so. Still, a few of the key market players boast attractive dividend yields.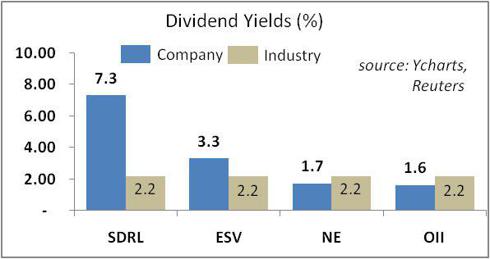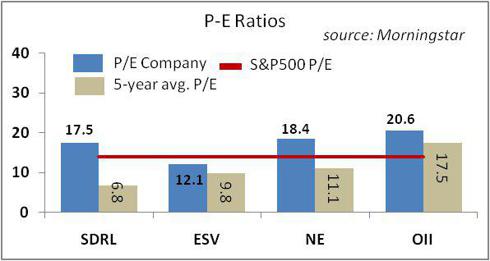 Seadrill (NYSE:SDRL) is a $16 billion offshore drilling company based in Bermuda, with headquarters in London, UK. The company operates a fleet of 66 units that comprise drillships, jack-up rigs, semi-submersible rigs and tender rigs for operations in shallow to ultra-deepwater areas. High oil prices have significantly boosted demand for the company's services. Its revenue has nearly tripled since 2006. Earnings per share (NYSEARCA:EPS) have increased by 15.6% per year over the past five years. As offshore profitability is dependent on oil prices, sustained high levels of oil prices will guarantee a continued EPS expansion in the future. Analysts forecast that the company's EPS will grow, on average, by more than 10% per year in the next five years.
Seadrill pays the highest dividend yield in the offshore drilling sector. Its dividend yield is 7.3% and the payout ratio is 123%. The company significantly leverages its balance sheet to take advantage of growth. The company's free cash flow is drained because of large capital expenditures; however, Seadrill typically recovers its investment in less than seven years. The company is committed to growing profitability over time in order to be able to return to shareholders as much cash as possible. In addition to regular quarterly dividends, the company often pays special dividends. The dividend has been on a rollercoaster, rising and falling on numerous occasions during the past decade.
Ensco (NYSE:ESV) is a $10.3 billion company and the world's second largest offshore driller. It operates a fleet of 77 rigs, including seven drillships, 13 dynamically positioned semisubmersible rigs, seven moored semisubmersible rigs, 49 jackup rigs, and one barge rig. Ensco's revenues have increased at an average annual rate of 21% per year over the past decade. Its revenues have shrunk by an average rate of 7% a year over the past five years, as gross and operating margins declined in the 2009-2011 period. Analysts forecast a rebound in EPS in the next five years during which EPS will grow a robust 15% a year.
Ensco pays a dividend yield of 3.3% on a payout ratio of 41%. The company's dividend has risen 15 times from the rate paid in 2009, growing by an average annual rate of 70% over the past five years.
In addition to these two offshore drillers, Noble Corporation (NYSE:NE) and Oceaneering International (NYSE:OII) pay dividends, albeit with low dividend yields. Noble Corporation currently yields 1.7% on a payout ratio of 33%, while Oceaneering International pays a yield of 1.6% on a payout ratio of 32%. Transocean (NYSE:RIG) does not pay any dividends. The industry as a whole pays a relatively modest yield of 2.2%, on par with the yield on the S&P500 index.
Despite its high dividend yield, Seadrill is not a popular industry play among fund managers. Ensco has a larger following, with David Einhorn reporting an ownership stake in the company in the first quarter. Ken Fisher acquired a minor stake in Ensco in the same quarter. Guru fund manager Andreas Halvorsen gave his vote of confidence to Noble Corporation, purchasing a large stake in the past quarter. Steve Mandel and Ken Fisher are major investors in Oceaneering International, while Ken Heebner, George Soros, and Leon Cooperman are investors in Transocean (see George Soros' energy bets).
Disclosure: I have no positions in any stocks mentioned, and no plans to initiate any positions within the next 72 hours.