You know they say a picture is worth a thousand words...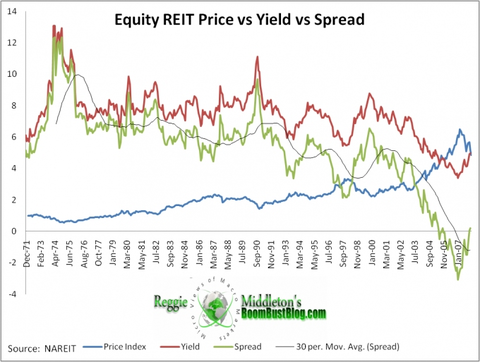 The skinny black line represents the value (spread between price and yield, unadjusted for inflation) in investing in REITS over the last 33 some odd years. As you can see, the spread between price and yield went negative about the beginning of '06, right about the time that asking commercial rents dipped below existing commercial rents that had just shot through the membrane of a bubble. Is it a coincidence? I don't believe in coincidences! The last 24 months has seen REITs the most expensive they have been in over 30 years!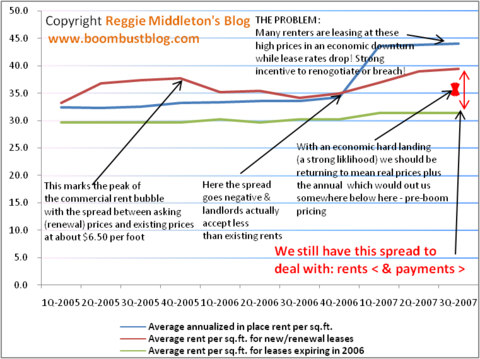 That first bright yellow line you see are the implied cap rates of these gems. Too close to, if not below, the risk free rate. These guys are far from risk free. Looking at the first chart, try to figure out the risk premia received over treasuries historically. We are far from that.
Now, the second yellow line is what I see as either distressed sales or defaults coming up this fiscal year.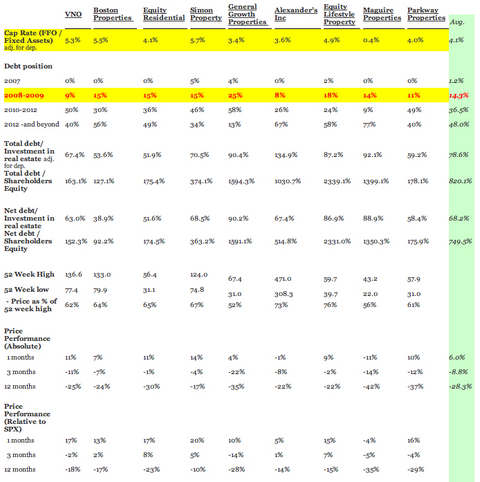 It appears as if someone was studying their charts (fundamental, not technical), because the AAA spreads are going through the roof!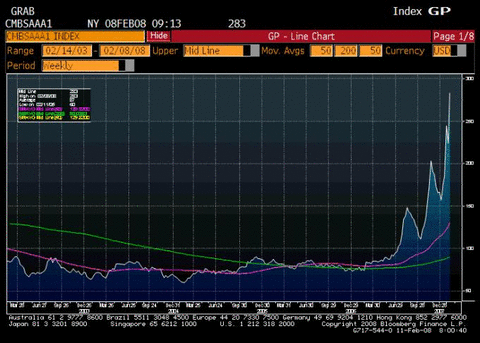 The A, BBB, and BIG spreads are even uglier. Much uglier! So where does that leave BSC, MS, AGO, MBI, and ABK as well as all of those other CMBS structured product mavens (LEH has been giving commercial loans up tll last quarter or so)? I'll let you come to your own conclusions.