When looking for a durable competitive advantage one of the easiest places to find them is in brewers. As with tobacco, when people pick a brand - they often pick it for life. Whether you drink Bud or Canadian, Stella or Carling, your idea of that 'summer beer' or 'patio beer' is important mental real estate for these corporations. How successfully they grab your attention and money should be examined by investors looking to add these companies to their portfolio.
As with a similar analysis I have done on the medical equipment industry, the focus will be on which of the two investments is better for the average retail investor; weighing growth and execution, valuation and technical analysis in a quick, 'back of the envelope' way.
Growth and Execution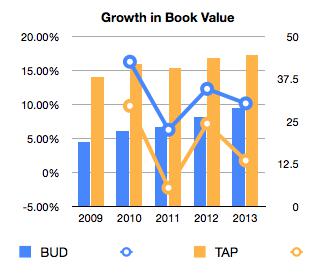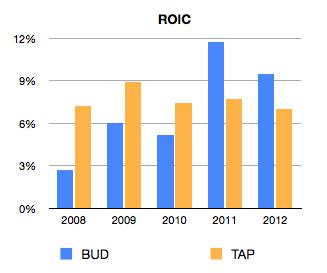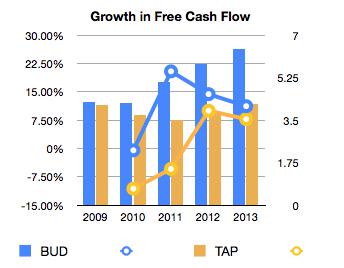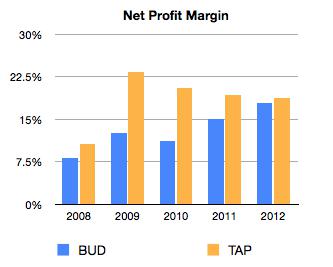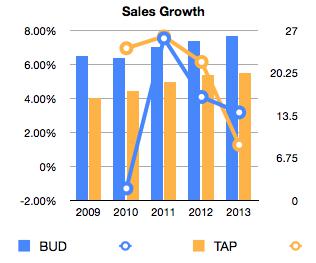 Growth and Execution can't be judged on these 5 metrics alone, but they are perhaps the 5 best universal metrics for any company. ROIC gives us the economics of the business, Profit Margin is a great indication of management efficiency, sales growth and growth in free cash flow are obvious. Growth in book value is how Buffett measures his success in running Berkshire - so why would we not do the same in judging the success of other potential investments?
Valuation
Professor Damodaran at Stern is amazing in that he provides all his models free online. Highly suggest checking them out as he is a serious valuation guru.
The following three images show the valuation process for BUD.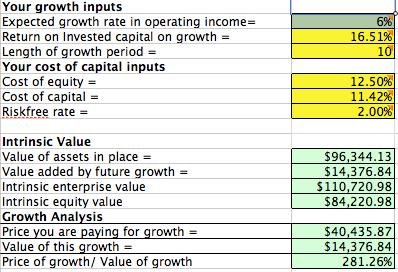 The following three images show the valuation process for TAP.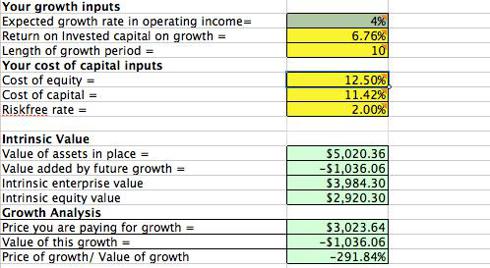 Even if my inputs are off slightly, the base case is that TAP actually has a value destroying proposition (with ROIC not expected to exceed cost of capital). BUD has value to be created but not at the price currently quoted. Based on the intrinsic value reached, the appropriate share price is likely within the $52-$53 range as opposed to it's June 12th closing price of $69.
Technical Analysis
Although I would never recommend buying a company with a value destroying proposition (unless it was in a special situation of severely undervalued assets) here are the technicals for both BUD and TAP: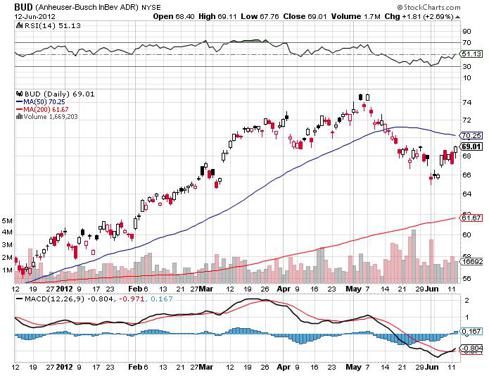 I wouldn't be buying this dip. You can get greedier and hold out for a return to the 200 day MA at the very least, if not a return to the calculated intrinsic value.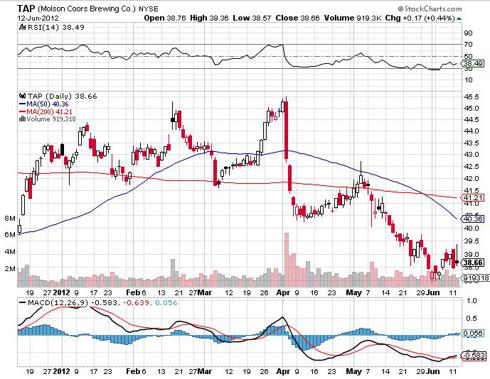 TAP is looking like a classic falling knife. Based on the previous analysis I would not be buying this value-trap. That is one hell of a scary looking chart with the death cross happening just before the beginning of June.
Additional Notes
BUD has appreciated 80% over the past 5 years while TAP is down -10%
BUD yields around 2% by paying out 35% of it's earnings (although for 2011 this was 53%) and TAP yields around 3% by paying 35% of it's earnings.
I enjoy Budweiser and Canadian pretty equally (in a bit of a Budweiser phase currently). The occasional Rickards Red is good (NYSE:TAP) though not nearly as classic as a pint of Alexander Keiths IPA (NYSE:BUD).
Conclusion
Don't base your investment decisions off of your beer preference
Would not recommend buying or holding TAP. An intermediate term short strategy would be interesting though not for me.
BUD is an interesting buy in the low 50's. Up in this valuation range it is a hold. If the trend continues be very careful at $78 (50% above my calculated intrinsic value).
Disclosure: I am long AIG, MCF, GRVY.
Additional disclosure: My opinions are my own.