June 2012. With Europe's debt crisis continuing to bleed, and share prices in a precipitous decline as of late, the good ol' boys and girls at some investment houses now believe it's long overdue to start buying some tasty equities. I agree, depending on which one's you buy of course. To that end, Morgan Stanley (MS) reviewed the biggest companies in the investment universe, as measured by market capitalization. Yes indeed, the wonderful world of Mega-caps!
First off, mega-caps are not necessarily everyone's cup of tea. Many investors will argue that many small-caps performed better than mega-caps lately, even though small caps are typically harder hit by bleak regional economic prospects in comparison to mega-caps, which enjoy a global presence and are better at dealing with currency fluctuations.
Small-caps on average also sport higher relative debt levels, however one aspect has clearly been in their favor and that's the vast amount of takeovers still taking place in the small-cap space. To illustrate, here is the performance of the MSCI Europe small-caps versus de MSCI Europe large-caps.
8 Points :
Morgan Stanley kindly reviewed which of the world's 100 biggest mega-caps are best to have in your portfolio at this time. As a good broker should, MS also listed the 10 companies you should actually be avoiding. You may very well be surprised when confronted with the results.
Average investors typically need to pull their money from one investment before they are able to invest somewhere else, and the 100 biggest mega-caps account for roughly 1/3 of the total MSCI World Index. So, in order to determine which stocks are best, the following points were reviewed:
1) What level of growth is implied in the share price compared to what [Morgan Stanley] analysts believe actual company growth will be. Companies with the biggest differences in growth, in a positive sense, are listed at the top. Funny enough, Telefonica (NYSE:TEF), a Spanish broadband and telecommunications provider in Europe, the United States and Latin America, is listed at the very top.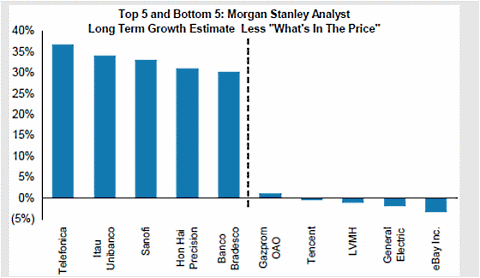 2) A five factor-model based on:
Price-to-book
Year-over-year changes in return on equity
Earnings revisions
Dividend yield
6-month price momentum
These shares are ranked and the top shares were included.
3) Bull-Bear ratio. Morgan Stanley, as one of only a few brokers, makes both a bull and bear-scenario. After all, recent history shows that you never know how events are going to pan out exactly and to what effect it has on business and the global economy. Companies with plenty of potential left in their "bull" case are listed at the top.
4) Morgan Stanley's own analysts reports. Where the bull-bear ratio is taken as a contra-indicator, they do take the view of their own analysts as a parameter for their review.
5) The valuation of stocks versus the market, also in relation to how these valuations have been in the preceding period.
6) The percentage of revenue coming from emerging markets. With the recent downturn in emerging markets growth it may not always be seen as an advantage, but everything is relative and at the moment growth in emerging markets is still significantly higher than most of Europe or the U.S.
7) Free cash flow yield.
8) Finally, the annual increase in investment. There's a clear preference for "capex-light" companies.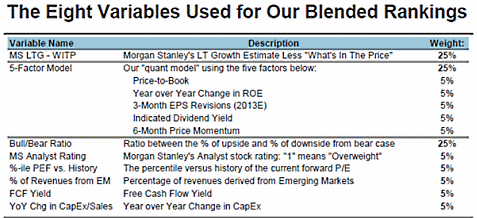 The resulting list with recommended companies is certainly impressive and may be an eye-opener for many U.S. investors, although especially retail investors may shy away from some of the banks: Wells Fargo (NYSE:WFC), French drug maker Sanofi (NYSE:SNY), Hyundai Motor (OTCPK:HYMLF), China's principal offshore oil and gas producer CNOOC (NYSE:CEO), London-based HSBC (HBC), Chevron (NYSE:CVX), JP Morgan Chase -- one of the largest U.S. financial institutions and a major derivatives markets player - (NYSE:JPM), German health-care and chemical conglomerate Bayer (OTCPK:BAYRY), Fast expanding Bank Of China (OTCPK:BACHY), and finally health-care juggernaut Novartis (NYSE:NVS).

As "icing on the cake," unless you are a shareholder, Morgan Stanley also provided a list of 10 mega-caps you should be avoiding: Bristol-Myers Squibb (NYSE:BMY), L'Oreal (OTCPK:LRLCY), Procter & Gamble (NYSE:PG), Amazon (NASDAQ:AMZN), Abbott Laboratories (NYSE:ABT), Unilever (NYSE:UL) (NYSE:UN), Roche Holding (OTCQX:RHHBY), Ambev (ABV), Coca-Cola (NYSE:KO), and we end with Korea's POSCO (NYSE:PKX).

Some companies, like Unilever, L'Oréal, Roche and Abbott, were somewhat surprising, and many may disagree with Morgan Stanley's findings. On the other hand, I personally enjoy these differing views amongst equity and derivatives investors.
One example, I purchased a nice chunk of ArcelorMittal stock (NYSE:MT) on the Amsterdam market last week below €11 euro. Even though it's not included in Morgan Stanley's Top 10, it proved an irresistible buying opportunity based on ArcelorMittal's discounted cash flow [DCF] analysis and a dividend of 5.5% YOC. A March 2009 moment revisited.
When investing you should always try to abide by key rules:
1) Buy low, sell high, use TA.
2) Continuously assess valuation, company & sector fundamentals, and company strategy (a solid management team matters!).
3) Form an investment thesis beforehand and stick to it.
4) Don't let emotion lead your investing (as we are all wrong part of the time).
To each their own. Invest wisely!