Capstone Turbine Corporation (NASDAQ:CPST) develops, manufactures, markets, and services turbine generator sets and related parts for use in stationary distributed power generation applications. Its stationary distributed power generation applications include cogeneration combined heat and power ((CHP)), integrated ((CHP)), resource recovery, and secure power, as well as combined cooling, heat, and power; and its products are used as battery charging generators for hybrid electric vehicle applications.
It is scheduled to report its Q4 2012 results on June 14, 2012, after the market closes.
Recent EPS Actuals vs. Estimates
The company has failed to meet analysts' estimates in the last two quarters. In the last quarter it reported ($0.03) loss per share, failing to meet analyst estimates of ($0.02) loss.
The consensus EPS is ($0.02) loss based on 5 analysts' estimates, up from ($0.04) loss a year ago. Revenue estimates are $29.93M, up from $22.76M a year ago. The median target price by analysts for the stock is $2.00.
Average recommendation: Buy
Source: Marketwatch
Analyst Upgrades and Downgrades
On Feb 10, 2012, the company was upgraded from Accumulate to Buy at Ardour Capital.
Key Metrics
Market Cap: 265.92M
52-week trading range: 0.85 - 1.75
Price/Sales: 2.57
Price/Book: 6.38
PEG Ratio: -0.29
Total Debt: 13.51M
Annual dividend yield: N/A
Return on Equity: -95.13%
Return on Assets: -24.56%
Latest Developments
Technical Insight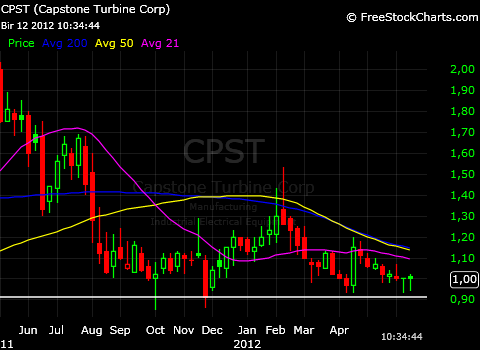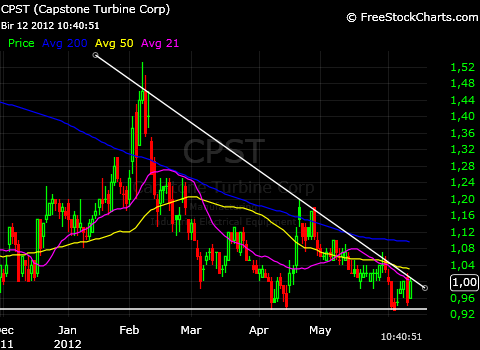 Above are the weekly and daily charts for CPST. It is currently trading below 21-, 50- and 200-week and day moving averages. However, it seems to have a strong support at around $0.92. It also seems to be forming a triangle on daily chart and might break out of it soon. Earnings release may well be the catalyst here.
Disclosure: I have no positions in any stocks mentioned, and no plans to initiate any positions within the next 72 hours.