Chances are if you are going to undergo some type of surgical procedure, a product related to Boston Scientific (NYSE:BSX) may be involved. The company provides products/procedures for cancer, chronic pain, digestive orders, heart conditions, lung and airway issues, urology related conditions, vascular disease and women's health.
In Boston Scientific's Q1 2012 earnings call, the company reported revenue of $1.866 billion which was down 3% over the prior year's comparable quarter. The company noted the Peripheral Intervention, Urology and Neuromodulation segments performed well and delivered mid- to high single digit growth in the quarter. However, global pricing pressure was experienced for interventional cardiology and cardiac rhythm management product segments. The adjusted earnings-per-share was reported as $0.15 for the quarter and was driven by higher gross margins due to the launch of PROMUS Element coronary stent system in the U.S. and Japan, to implemented cost controls and to a lower-than-expected tax rate. The company indicated it is experiencing strong sales of the Epic self-expanding stent outside of the U.S. and recently received FDA approval for sale Epic inside of the U.S.
Boston Scientific announced it closed the acquisition of Cameron Health, which is developing a subcutaneous implantable cardioverter defibrillator (S-ICD). The S-ICD is an investigational device and not currently for sale in the U.S.
Competitors to Boston Scientific include Johnson & Johnson (NYSE:JNJ) and St. Jude Medical (NYSE:STJ).
A significant amount of stock option volume was observed for Boston Scientific via PowerOptions tools on Friday Jun 8, 2012 as shown below:
The 2013 Jan 7.5 call option had over 30,000 options traded on Friday with an open interest of 56,909. Boston Scientific's stock price hasn't touched $7.5 in almost a year as shown below: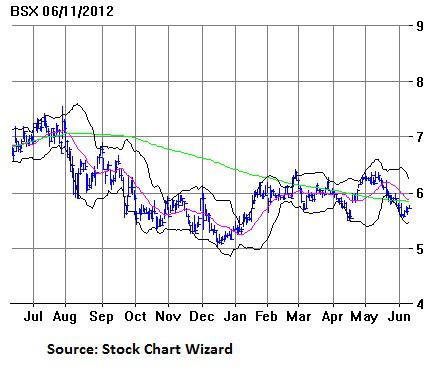 The outlook for Boston Scientific has been bearish for several years, but with the acquisition of Cameron Health and the company's newly released products, the outlook could change to bullish. A bullish investor for Boston Scientific might consider entering a married put position, as it provides unlimited upside with limited downside. A married put position may be entered by purchasing a put option against a stock. A specific married put position to consider is the 2013 Jan 6.0 which can be purchased for $0.84 and provides a maximum potential loss of 8.3%. A profit/loss graph for one contract of the Boston Scientific married put is shown below: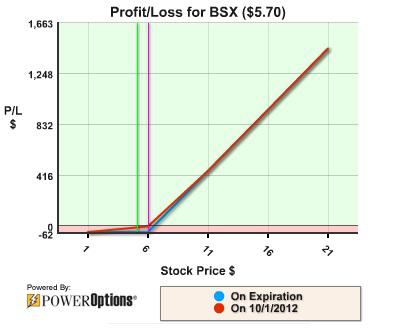 Income methods as described by RadioActiveTrading.com may be applied to the married put position if the price of the stock increases above $6.
Disclosure: I have no positions in any stocks mentioned, and no plans to initiate any positions within the next 72 hours.