We took a look at the past movements of the big names reporting earnings for Q2 in first weeks of July. Our thesis was to discover if the companies had any positive or negative patterns for their run-ups into Q2 earnings due to cyclicality or past positive performance. The companies we covered in the report are Alcoa (NYSE:AA), PriceSmart (NASDAQ:PSMT), Marriott (NYSE:MAR), Texas Industries (NYSE:TXI), Progressive (NYSE:PGR), Infosys (NASDAQ:INFY), Google (NASDAQ:GOOG), JPMorgan Chase (NYSE:JPM), and Mattel (NASDAQ:MAT).
Here were our findings for average gains the companies made from June 10 - July 8 for past 10 years: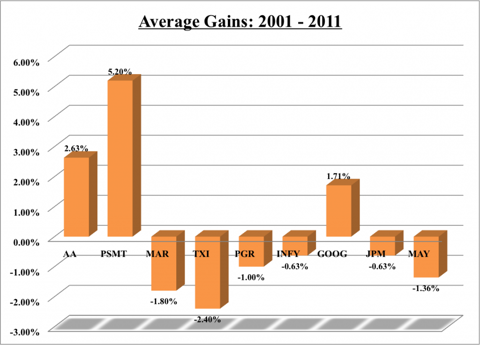 Here is what we found for max drawdowns vs. max ups in % gains for these periods. This information is useful to see what stocks move a lot and are unpredictable vs. what stocks have more predictability: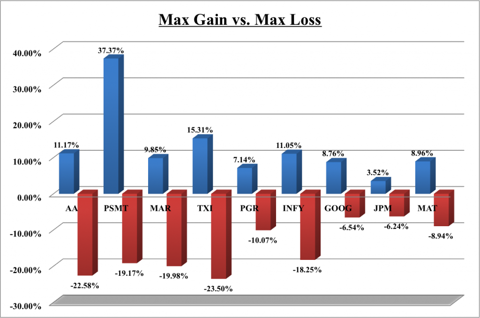 Here is our take on what we would do:
Google -
The company is the one with the most growth expectations in sales at around 20% YoY out of this group, and it also has solid EPS growth over 10%. The company has done very well in this period of time leading into Q2 earnings, and we believe that the stock's recent weakness may be providing an opportunity. Their max draw of 7% brings the price to around $530, and we like selling the $500 puts to take on a very conservative bullish position. The company has struggled as of late due to weakening Android/cell phone issues as well as general market malaise, but there is still great growth here in this stock that is being overlooked.
PriceSmart -
The other company showing a lot of growth in this quarter coming up is PSMT. They are looking at nearly 20% sales growth as well as 10% growth in earnings, which is a strong result given a quarter that seems to look weak overall. The company has also done very well in Q2 earnings. They have only declined 4 times out of the past 11, and they are very undervalued to our current price target of $88. We like picking up this stock as we head into the next round of earnings.
Progressive and Mattel -
Both of these companies are definitely ones that we are looking at as some weaker stocks that we would look to potentially place some bearish positions on. Both companies are expected to report negative EPS and revenue YoY, and they have both averaged a negative result in the past ten years. Neither company has gained more than 9% into earnings, and we believe insurance companies are going to struggle. MAT is in consumer discretionary, which is another pretty weak area during current times. We like looking at bear call spreads on both. The 23/24 level looks solid for PGR and 34/35 bear call spread on MAT.
Texas Industries -
This company has been wild into earnings. They have moved less than 4% only three out of the past eleven years. The company, additionally, is looking at a big quarter with over 40% growth in EPS. They have moved over 10% in five out of the past six years during this area. The company has been very volatile, and we see them as a solid candidate for a reverse iron butterfly on a move to $30 or $35 in the near-term. A strangle would work well with $30 put and $35 call. Expect this stock to move a lot into earnings.
Disclosure:
I am long JPM.