Only individuals who are bullish on General Electric (NYSE:GE) should consider employing this strategy. If you are not bullish on this stock, then it would be in your interest to look for alternative plays.
Reasons to be bullish on General Electric
GE capital will resume the transfer of funds (in the form of dividends) to its parent company General Electric. GE Capital Now boasts a 10.4% Tier one capital ratio and reported stable Y-O-Y (year over year) profits. GE Capital made a special dividend payment of $4.5 billion to General Electric and is scheduled to follow up with quarterly payments of $475 million every quarter.
It announced two acquisitions in the mining industry. It will acquire Australian Industrea, a mining equipment maker for $700 million and privately held Fairchild international.
It has extremely strong levered free cash flow of $43.3 billion.
A five year dividend average of 4.10%
A free cash flow yield of 12.26%
A decent yield of 3.6%
A good current ratio of 2.5
Year over year projected growth rates of 20% and 13.99% for 2012 and 2013 respectively
Net income increased from $11 billion in 2009 to $14 billion in 2011.
Cash flow per share increased from $2.18 in 2009 to $2.27 in 2011.
Annual EPS before NRI increased from $1.16 in 2009 to $1.29 in 2011.
A good payout ratio of 52%
A 3-5 year projected EPS growth rate of 12.2%
A good quick ratio of 2.43
A decent interest coverage ratio of 2.41
It has been paying dividends since 1889.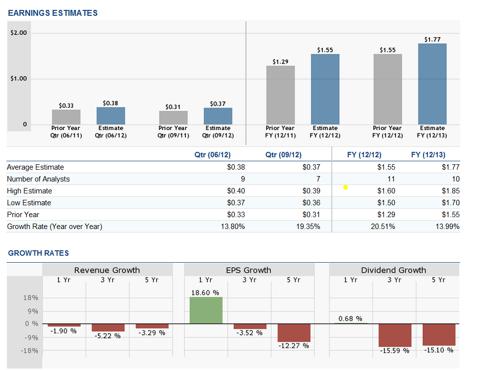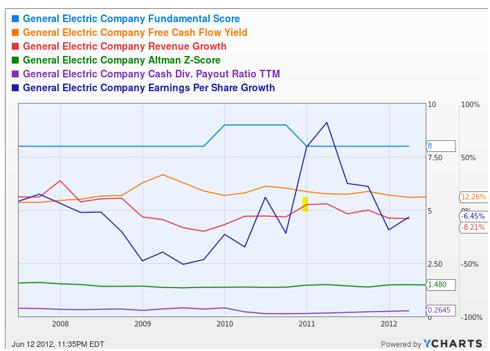 Suggested strategy for General Electric
The stock could test its lows again as the markets and the situation in Europe are rather volatile. A sign that a correction is nearing its end is when a market tests its recent lows on low volume. Thus the stock has the potential to trade in the 18.00-18.25 range.
Part I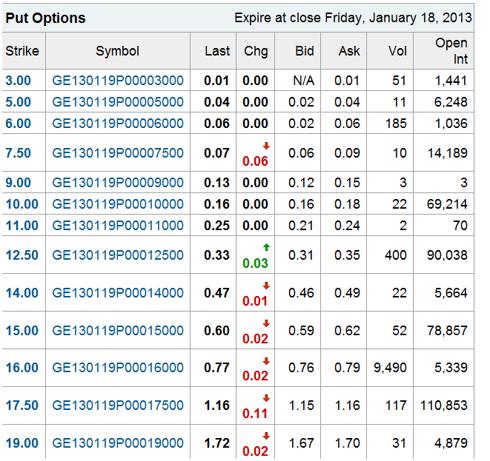 The Jan 2013, 19 puts are trading in the 1.67-1.70 range. We would wait for the stock to trade down to the 18.75-19.00 ranges before selling these puts. If the stock dips to the stated ranges, these puts should move up in value by another 15 cents or so. For this example we will assume that the puts can be sold for $1.85. For each contract sold, $185 will be deposited into your account.
Part II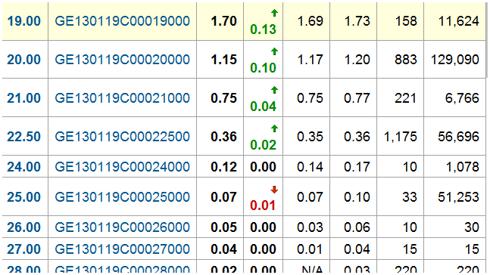 The Jan 2013, 22.50 calls are trading in the 35-36 cents range. If the stock dips to the stated levels one should be able to buy these calls for 25 cents. At this price, you could buy seven calls for each put sold and still have $5 left over. If the stock should take off, the holder of these calls could be rewarded handsomely.
Risk factor
If the stock trades below the strike price, the shares could be assigned to you. In this case, your final price will depend on the number of calls you purchased. Your final price could range from 17.40 if you purchased one call only to 18.95, if you purchased seven calls.
Interesting companies
For investors looking for other ideas, detailed data has been provided on one additional company. Our latest article could also prove to be a source of some new ideas: Corning Inc: A Play With Potential That Is Trading below book.
Company: BB&T Corp (NYSE:BBT)
Basic Key ratios
Operating Margins = 39%
Profit margin = 19.9%
Quarterly earnings growth rate = 91.6%
Quarterly revenue rate = 21.7%
Beta = 1.09
Percentage short of float = 1.9%
Growth
Net Income ($mil) 12/2011 = 1289
Net Income ($mil) 12/2010 = 816
Net Income ($mil) 12/2009 = 853
EBITDA ($mil) 12/2011 = 2759
EBITDA ($mil) 12/2010 = 2229
EBITDA ($mil) 12/2009 = 2144
Annual Net Income this Yr/ Net Income last Yr = 57.97
Cash Flow ($/share) 12/2011 = 2.37
Cash Flow ($/share) 12/2010 = 1.73
Cash Flow ($/share) 12/2009 = 1.73
Sales ($mil) 12/2011 = 9998
Sales ($mil) 12/2010 = 11072
Sales ($mil) 12/2009 = 10818
Annual EPS before NRI 12/2009 = 1.15
Annual EPS before NRI 12/2010 = 1.16
Annual EPS before NRI 12/2011 = 1.83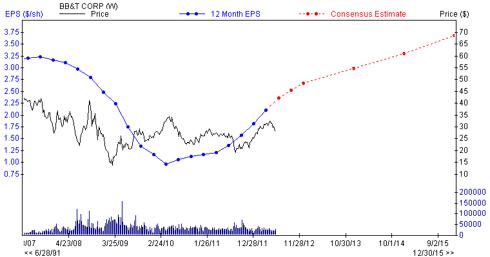 Dividend history
Dividend Yield = 2.80
Dividend Yield 5 Year Average = 4.00
Dividend 5 year Growth = - 14.5%
Dividend sustainability
Payout Ratio = 0.31
Payout Ratio 5 Year Average = 0.58
Performance
Next 3-5 Year Estimate EPS Growth rate = 10
ROE 5 Year Average = 8.85
Retention ratio = 69%
Current Ratio = 0.85
Current Ratio 5 Year Average = 0.9
Quick Ratio = 0.82
Interest Coverage = 2.50
Conclusion
The beauty of such a strategy is that provides you with a means to significantly leverage your position without any out of pocket cost. If the stock takes off, then you could make out like a bandit. The risk you take is that the stock trades below the strike you sold the puts at and at that point the shares could be assigned to your account.
Investors willing to take on a bit more risk might find this article to be of interest: Alpha Natural Resources Vs. Arch Coal: Is There A Clear Winner.
Sources: EPS and Price Vs industry charts obtained from zacks.com. A major portion of the historical data used in this article was obtained from zacks.com. Earning and growth estimate's data sourced from dailyfinance.com. Option tables sourced from yahoofinance.com. Ycharts data sourced from ycharts.com.
Disclosure: I have no positions in any stocks mentioned, and no plans to initiate any positions within the next 72 hours. We might sell puts on GE over the next 3-4 trading days.
Disclaimer: This list of stocks is meant to serve as a starting point. Please do not treat this as a buying list. It is imperative that you do your due diligence and then determine if any of the above plays meet with your risk tolerance levels. The Latin maxim caveat emptor applies - let the buyer beware.