A little noticed event Wednesday, namely Questcor's (AMEX: QSC) announced completion of the repurchase of 2,155,715 shares of outstanding Series A Preferred Stock from Shire Pharmaceuticals, Inc. (NASDAQ: SHPGY), for cash, may have cleared the way for a possible takeover of Questcor by a larger Bio/Pharma rival, specifically Shire itself.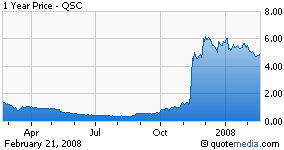 As was stated Wednesday in the company release, the Series A Preferred Stock had "required Questcor to obtain the holder's separate vote in the event of a merger and acquisition transaction."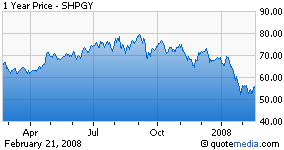 Thus, had Shire attempted a takeover of Questcor, the shareholders of Shire, in addition to the shareholders of Questcor, would have had to approve the takeover. That indeed would have been a huge and drawn out mess.
The buy back of the Series A Preferred Stock now opens the door to the possible takeover, with ONLY Questcor shareholder approval needed.
We believe this takeover is a high probability event, based on Shire's needs, company strategies, and stated goals.
Shire Pharmaceuticals plc is a global specialty biopharmaceutical company that has a focused strategy to develop and acquire products for specialty physicians. Shire's therapeutic focus is on central nervous system, gastro-intestinal, human genetic therapies and general products. Shire's merger and acquisition efforts are focused on products in niche markets with strong intellectual property protection either in the US or Europe.
Consistent with this strategy, the Company completed the acquisition of Transkaryotic Therapies Inc. on July 27, 2005.
In addition, in April 2007 Shire completed the acquisition of New River Pharmaceuticals by way of a short-form merger for $64 per share, or approximately $2.6 billion.
The acquisition of New River Pharmaceuticals gave them full ownership and control of VYVANSE, which will produce first full year drug sales of about $350 million for that drug.
The company openly states: "Looking forward, we will continue to execute our strategy, which has provided good returns for shareholders, by building on the success of our growing specialist drugs portfolio focused on the treatment of symptomatic diseases."
Questcor, would seem to fit right in with all of those stated company goals and interests, and be a perfect takeover target.
First, Questcor specializes in products within the niche market of the central nervous system.
Second, Questcor, with its' drug ACTHAR, has strong intellectual property protection in the United States.
Third, the size of the projected ACTHAR yearly sales of $125 million fits nicely within the Shire portfolio of 18 drugs, which amounted to $2.43 billion in sales last year, or an average of $135 million each.
Next, Questcor has large positive cash flows and large projected future earnings.
And finally, Shire's ownership of the Series A Preferred Stock over the years, has given Shire a close working and business knowledge of Questcor.
Now, how does one value any takeover of Questcor by Shire?
Although, any takeover valuation can only be an artful guess, one does have the last Shire acquisition as a guide.
From the most recent acquisition of New River Pharmaceuticals that Shire made, Shire paid exactly 7.5 times first full year expected sales of the New River drug portfolio. Thus, based on our current 2008 full year revenue estimate for Questcor (from the drug ACTHAR) of $125 million (and not even accounting for the Questcor pipeline), one gets a takeover in the $937.5 million range. Accounting for the roughly 75 million current fully diluted outstanding shares of Questcor, that price would work out to exactly $12.50 per share.
Disclosure: Author's financial firm, Independent Financial Consultants [IFC] is long QSC and SHPGY.