Affymax (NASDAQ:AFFY) received FDA authorization to commercialize Omontys back in March. Omontys is an injectable treatment for anemia from chronic kidney disease in adult patients on dialysis. Omontys will thus be the only alternative for treatment of anemia, other than Erythropoietin (EPO), marketed by Amgen (NASDAQ:AMGN), Johnson & Johnson (NYSE:JNJ) and others under several brands (Aranesp, Epogen, Procrit, etc).
Omontys has as its main advantage the fact that it needs less frequent dosing; about once monthly versus weekly or even more regularly for EPO. This makes it particularly appealing for peritoneal dialysis patients, since they either have to inject themselves with EPO regularly, or have to go to a dialysis center just to get the shots, also regularly. Both are a considerable nuisance. It's not so much of a factor for patients in hemodialysis, since they get their EPO with the dialysis treatment. The less frequent dosing is also an advantage for dialysis centers.
Omontys has another advantage. It's quite likely to be less expensive than EPO to manufacture. But this will be less relevant for the thesis I'll present here.
On its own, Omontys would already be an interesting drug for a large established drug maker, such as Affymax partner Takeda Pharmaceuticals (OTCPK:TKPHF). After all, it would represent an easy and cheap entry into a very large market (estimated at $7.9 billion in 2009, for dialysis and non-dialysis applications).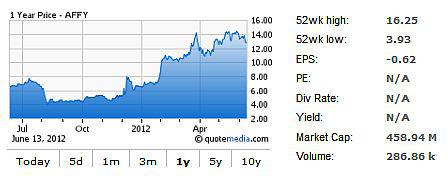 However, I will put forward a more speculative guess. Omontys is particularly interesting for a company supplying peritoneal dialysis supplies. That is so because its main advantage is much more evident within the peritoneal dialysis patient population - indeed, it's likely that most of that population will ask to be switched into such a treatment, given the much lower nuisance factor and pain associated with it. So any large pharmaceutical company supplying the peritoneal dialysis market should be interested in Affymax. And what's one of the largest such companies? Baxter (NYSE:BAX).
Conclusion
Given Omontys main advantage and Baxter's market presence, Affymax is the perfect takeover target for Baxter.
Disclosure: I have no positions in any stocks mentioned, but may initiate a long position in AFFY over the next 72 hours.