910 M Batteries
Even with all that free Arctic air, millions of spinning silver platters don't have much value without trillions of read / write functions constantly editing the content, that's where the "users" come in.
The letter to investors and the S1 filing are part of what seems to be an illusion. That is to say that although the 910 M users are not customers in the traditional sense of the word, they are useful nonetheless. The "users" are slaving away feverishly at editing what is probably not only one of the world's largest databases, but a dynamic and constantly adapting one, a "real-time" database on consumer preferences. The database is for sale of course, but not to the "users."
Here is the Facebook (NASDAQ:FB) business model summed up in just four words: Labor=Free. Product=Expensive.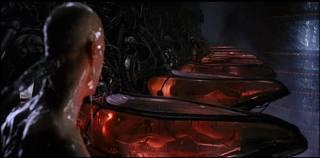 Maybe one day, someone will make a movie about a future where people's consciousness is in an artificial reality, a virtual reality of software code, that keeps those "hooked up" to the system passive while they are actually being used as an energy source for computing (like editing marketing databases). This activity could be taking place in a dark cold place where there is little life, and involve tens of thousands of computers that basically has its own sort of consciousness. maybe the opening would show vertical lines of green streaming code on a black background. The movie could be called something inventive and unique, and kind of eerie sounding like "The Facebook" and perhaps the scarier sequel (that deals with investors) could be called something catchy like "The Fleecebook." The lead role might be a "hacker" who steals software, and tries to get people who are otherwise free into "The Facebook" which is a gigantic piece of software, created to keep "users" from experiencing reality. The objective would be an old one; profit. but in the new alternate reality that the hacker creates, the "users" would think the "The Facebook" was a "service" for "social change."
Hitachi Books a profit, buys in and provides guidance on intrinsic value
HGST was founded in 2003 as a merger of the hard drive businesses of IBM and Hitachi. Hitachi (HIT) paid IBM (NYSE:IBM) US $2.05 billion for its HDD business.
In March 2012 Western Digital (NYSE:WDC) acquired HGST, for $4.8 billion, (~400 M more in cash than was originally announced on March 7th of 2011), with HGST operating as a wholly owned subsidiary of Western Digital for the short-term.
When Hitachi sold its HDD unit to WDC they booked a 2.4 B profit as a result of the transaction and took the 10% of WDC that they agreed to when the merger was first announced on March 11th, 2011.
According to the press release:
"Under the terms of the agreement, WD acquired Hitachi GST for $3.5 billion in cash and 25 million WD common shares valued at $750 million, based on a WD closing stock price of $30.01 as of March 4, 2011."
and
"Hitachi, Ltd. will own approximately ten percent of Western Digital shares outstanding after issuance of the shares"
As of May 4th, and the company's 10Q filing with the SEC, WDC had taken back approximately 9 M shares in the 9 days following the earnings release - the number of shares outstanding at that time was 260 M.
Effectively, HGST was willing to pay $30 per share for the company when its financial profile looked much different. For example, at the time Hitachi signed up for the deal, 10% of WD represented about 750M equity stake, but the tangible equity in the company at the time, was much smaller (WDC had virtually no intangible or goodwill items on its own books). Today it represents about the same, only the assets of HGST are included (virtually 100% of the intangibles on WDC's books are those of HGST), and the market outlook is much stronger.
It is also interesting to note that between March 7th or 2011 when the merger was first announced and the closing of the deal about a year later, the cash part of the deal increased by 400M or 11.4%. This must mean that HIT's value increased by at least a commensurate amount during the time frame when the transaction was delayed for regulatory concerns. Could the additional 400M in value be attributable to HIT's long term agreements (LTAs)?
The transaction also indicates that HIT recognized at least a 50% premium over book in WDC in March 2011 (even if its stock wasn't trading at that) and when the company was much smaller (smaller revenues, profits and less the HGST bolt-on), because they were taking 10% of a future combined company which did include 2B in intangible just for HGST (the smaller of the two concerns).
The 1.5 B repo announced on May 21 has the possibility to take back as many as 50 M shares at the closing price of $30.11 on June 1st, 2011 (when this article was written), or a full 20% of the shares outstanding as of May 4th, 2012, effectively increasing the pro rata share for HIT to 12% of the business. The same effect would be true of course for all owners of WDC shares.
The new WD will operate with WD Technologies and HGST as wholly-owned subsidiaries. Aggregate revenues of the two companies in 2011 were $15 billion. A projection of 18B for FY 2013 doesn't seem unreasonable.
Everybody Run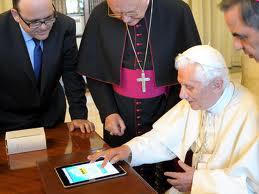 On September 17th, of 2010 the article "640K ought to be enough for anybody…" WDC vs. STX was published after analysts' comments prompted a sell off in the shares of HDD manufacturers when it became evident that tablets would be popular. Amvona had a position on tablet computing that went back to January 28th, of 2010 when the article "Would the Pope buy an iPad?" was published, and the follow up published on August 26th, 2010 entitled simply "Update: It turns out the answer is Yes!"
In could be said that the analysts' theories about HDDs at the time (late 2010) could be summarized in only seven words: "On the count of three everybody run" - it's the sort of thing value investors like, especially when most didn't even wait till two.
The Amvona articles although affirming the potential of tablets as early as January 2010, did not agree with the thesis that it would spell the end for HDDs. On August 10th, of 2011 the results of that disagreement were published in the article "Update: "640K ought to be enough for anybody…" WDC vs. STX."
Now about two years after the original article was published, analysts are still using the same story to spook investors out of the shares of HDD manufacturers. Nonetheless in an HDD world that seems to be falling apart (part deux), why not look to Book Value and the balance sheet for security? The earnings coefficient is a moving target after all - but one of course that the market prefers, unless investors gets a little skittish (not that they ever would). This is evidenced in the fact that Seagate (NASDAQ:STX), despite having a lower P/E ratio has recently fallen faster than WDC - the answer may lie in the premium over book. Until recently STX was trading at about a 3x premium over assets, while WD was around 1.5 x. Further STX P/E ratio was only lower than that of WDC because of its superior position coming out of the Thai floods, and not because they are a better run company, on the contrary WDC has historically operated on higher margins, and presumably will return to that position. So the P/E factor, again is temporary and plastic, with STX's evident lead, only temporary, which leaves the more stable, tangible, truer and slower moving balance sheet coefficient - the price to book to ratio.
Of the 4.8 B paid for HGST, 2.4 B was booked by HIT as "profit" as stated above, this is approximately the same figure WDC then added to the company balance sheet in the "Goodwill" and "Intangibles" lines after the acquisition closed. Any amount over tangible equity that a company pays for another company must be booked to these accounts.
If a similar premium was used to book WDC's intangibles based on the HGST transaction (the most recent and relevant comparable data), the entry would be about 5 B - this is a rational calculation of real equity in WDC whic is not on "the books."
Hitachi was a smaller company than WDC in every respect (with about half the revenue of WDC in 2011) at the time of the acquisition.
The market rewards scale. For this reason, larger concerns command a higher premium to book or equity.
It is interesting to note that in March of 2011 when HDD pricing was not so benign, but rather declining, that HGST a company only half the size of WDC was valued at a 50% premium to book, in the same way HIT viewed WDC, except HIT may have appreciated the missing intangibles (arguably ~5B) on WDC's books.
We know at least something about how HIT valued WDC because of the share component of the transaction. Presently HDD pricing is much more favorable to manufacturers, and although it has come down somewhat since the floods in Thailand, it remains approximately 70% above pre-flood levels, where prices appears set to stay.
The total addressable market continues to climb as well, and is expected to exceed that which existed in March of 2011. In addition the competitive landscape has shrunk from 5 to 2 players after the acquisition of Samsung's and LaCie's hard drive businesses by Seagate Technologies. Toshiba still exists and now has the former HGST's 3.5" mfg. capacity, but the Toshiba operation is too small to have a material impact, and the future of the 3.5" form factor to dim to be considered a "competitor."
Yet, as of close of market on June 1st, 2012 shares in WDC could effectively be purchased for less than book value alone. Although it appears that at the closing price of $30.11 there is a 6% premium over book, this is not accurate, because 2 months into the quarter the company would have already earned at least 435 M, which would have increased shareholder equity to 7.9 B or $30.38 per share at 260 M shares. However, if the share count were say, 230 M in the period ending June 30th, 2012 (given the repo), and the equity 8.1 B (660 M in FQ4 earnings) the book value per share would be approximately $35.29. this scenario is exceedingly likely, and if correct means that the buyer on June 1st, was actually paying closer to .85 x book for the shares - with the vast majority of that value purely tangible.
Here are the figures in chart form:
| | | |
| --- | --- | --- |
| Book Value | $7,900,000,000 | $8,100,000,000 |
| Share outstanding | 260000000 | 230000000 |
| book value per share | $30.38 | $35.22 |
Here is a look at the growth in per share book value for WDC in recent years:
| | | | |
| --- | --- | --- | --- |
| Growth in Per Share Book Value | | | |
| Year | Increase | Book Value | Share Outstanding |
| 2006 | | | 219000000 |
| 2007 | | $7.84 | 219000000 |
| 2008 | 56% | $12.20 | 221000000 |
| 2009 | 18% | $14.38 | 222000000 |
| 2010 | 44% | $20.65 | 228000000 |
| 2011 | 15% | $23.76 | 231000000 |
| 2012 Q3 | 20% | $28.52 | 260000000 |
| 2012 Q4 Est. | 24% | $35.29 | 230000000 |
| 12 month forecast | | $45.36 | |
| | | | |
| Avg: | | 33% | |
The aggregate growth rate in per share book value has been approximately 33% since 2007. The FQ4 estimate, with reduced share count puts book value at $35.29. The one year estimate at the same share count puts book value at $45.36. This is also the recent one year price target suggested by Bank of America (NYSE:BAC) Analyst Scott Craig who thinks WDC in one year should be worth no more than just its equity, which is nearly all tangible - meaning the company (with its 40+ year operating history) would be worth nothing as a going concern - or 50% less (premium to book) than HIT thought the firm was worth 15 months earlier on March 7th, 2011.
If the shares traded at just a 50% premium to book in one year, which is what HGST sold for despite being a much smaller company in a less favorable environment, the shares would be worth $68 per share in one year's time. However, STX which is also a smaller company and historically not as well run, recently sold for over ~3.6 x book. Even after the recent market rout, STX still sold recently for 2.76 x book. If WDC, as a larger and potentially much more profitable company sold for just half of what STX was trading for just three weeks ago, the shares would be valued at almost $80 per share. It is likely that the reason the market is not noticing this, is because of a focus on the price-to-earnings ratio, for which STX has a better showing. However, what is also likely, is that the market is over looking the fact that for two of the last four quarters the earnings of WDC were impaired by the Thai floods to a far greater extent than the operations of STX - so STX's superior P/E showing over WDC is only temporary, and not the historical norm.
Analyst Errors
On May 1st, 2012 the article Silver Platters, Annie Oakley and "The Sidelines" was published. The article pointed to what appeared to be a remarkable error in earnings estimates for WDC by Bank of America Analyst Scott Craig in his research report on April 27th, 2012. Even more remarkable was a follow up comment made by Bank of America on May 22nd, 2012 - one day after WDC announced a 1.5 B repo. program - which makes yet another error when it overstates the size of the repo. by about 27%.
Strategic concerns
Recently the CEO of WDC John Coyne had the following to say about the HGST acquisition:
"With a significantly broadened customer base and expanded resources, the new WD is in a strong position to seize the growth opportunity in stored digital content," said Coyne. "We have acquired a strong presence in the traditional enterprise market, substantially increased our presence in the industry's fastest-growing segments - cloud and mobility- and improved our capability to address new market initiatives such as enterprise SSD, storage solutions for small business and low-profile HDDs and hybrid drives for Ultrabooks. As a result, WD is better positioned than ever for success."
Interestingly, nowhere is "PCs" or "PC flow" mentioned.
Logical Errors
Here are the supposed concerns of analysts which echo the same concerns raised in Q1 of 2010:
Tablets and ultra books don't need HDDs
Hardware manufacturers like Dell aren't doing great which must mean lower HDD sales.
Neither is actually a concern for HDD manufacturers because:
Tablets must have external storage (external HDD or backup to the cloud) and many Ultrabooks will continue to use HDDs
The very nature of the discussion (which everyone seems to be in agreement on) involves the diminution of traditional hardware and hardware manufacturers such as Dell. Even if Tablets and Ultrabooks cannibalized all of the traditional PC boxes, they would still be getting sold with very limited SSD memory, and the whole affair would have no impact on whether storage demand increased or decreased overall.
According to Richard Rutledge, SVP of Marketing at WDC:
"We are interested in hybrid drives. What you will see in an Ultrabook is an SSD, typically around 24GB along with a regular hard drive, typically 500GB and up. What will happen is your data will be cached to your SSD. So we will have an mSATA port based SSD along with a regular HDD. After that technology gets adopted in the mainstream, we can do a lot of interesting things, by bringing the SSD on the HDD..."
and on SDD Rutledge had this to say:
"According to our research from the 500,000 petabytes of data that was transferred last year, only 20,000 petabytes were using flash drives. That amounts to a mere 4 percent overall data transfer share. So that's an interesting statistic that flash is only 4 percent of the overall storage. The current SSD products we have under the WD brand were got from a company we acquired called Silicon Systems. They are focused on the embedded industrial market places, which are the closest markets to the enterprise which equates to High duty cycle, high reliability and very long life cycle. And that was the strategy.

With regards to consumer market, we are very much in support of this dual hybrid drive. We have teams working on SSD products, but we won't announce products before we are shipping. Safe to say we are investing."
Analysts also indicate that they are worried about future of HDD pricing - but the comment that ignited the initial sell off in WDC shares had to do with LTAs (see Silver Platters, Annie Oakley and "The Sidelines") - which is a contradiction, because Long Term Agreements "lock-in" pricing (in some cases for up to two years), such that they are no longer fluid. Those LTA are "seriously accretive" according to WDC. STX has LTAs as well and indicated that pricing was "benign" in the latest CC. There are three factors working against further price declines:
1. The new Duopoly
2. Long term agreements (LTAs)
3. The growth in demand generated by enterprise storage (The Cloud)
Disclosure: I have no positions in any stocks mentioned, and no plans to initiate any positions within the next 72 hours.