QIAGEN (NASDAQ:QGEN) established a Service Solutions Center in Singapore that will serve the Asia-Pacific region.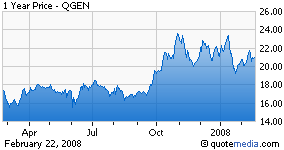 The new facility brings to seven the number of Service Solutions centers throughout the world: Valencia, CA and Germantown, MD in the US; Hilden, Crawley and Paris in Europe; and Tokyo in Japan.
The company says that its support network will be able, by the end of 2008, to provide a comprehensive set of services at any time in any place in the world. The round-the-clock operation is expected to begin soon.
The new Singapore facility will provide services for clients throughout Asia, including Australia. It will be staffed with employees who speak Korean, Mandarin, Cantonese, Malay and English.
In December 2007, QIAGEN also opened a molecular diagnostics R&D center in Singapore, a joint venture with Bio*One Capital. The center is developing molecular diagnostic tests. In January 2008, QIAGEN was awarded a contract from the Singapore Ministry of Health to supply kits to test for avian flu. The company has over 50 employees in Singapore.
QIAGEN said that its revenues in Asia are growing at a 50% annual rate, making it the fastest growing segment of its business. QIAGEN, which began its Asia division in 2005, now has seven offices in Asia (excluding Japan). The division has 370 employees and, together with Japan, now contributes 15% of QIAGEN's revenues.
QIAGEN provides sample and assay technologies and products, including over 500 proprietary, consumable products and automated solutions for sample collection, nucleic acid and protein handling, separation, and purification and assays. Its customers include academic institutions, biopharmas, testing facilities and molecular diagnostics labs.
Disclosure: none.